Best Interior Designers
in Ernakulam Since 2004
D`LIFE is one of the best interior designers in Ernakulam since the year 2004 for customized home furnishing. This company has 3 showrooms in the city and thus easy for clients to walk-in and explore various options of house or flat interior works in Ernakulam. The first showroom was established in the year 2004 with a small team offering home interiors design and implementation services in Kochi. The first showroom was near Ernakulam South Railway Station. It was later shifted to a bigger showroom at Vyttila offering the best opportunity to experience unbeatable quality of customized furniture. Second showroom functions at Kakkanad, near Info Park in Seaport-Airport Road. Our 3rd branch cum showroom is very close to pillar number 377 of Cochin Metro Railway line, Edappally. Different shapes and styles of modular kitchens, bedroom interiors, living and dining room interiors are set up in each showroom.
Buy Direct - 30% Discount
on Packages
100% Customized Interiors By Professionals
Visit One Of Our Experience Centers In Ernakulam
Vyttila
51/24A-2,1st Floor
Tharayil Tower, Above Indusind Bank Poonithura,
Vyttila-682019 Ernakulam
Kerala, India
Call: +91 956 723 1111
Kakkanad
Ground floor, Chakolas heights,
Near Entrance gate of Infopark at Seaport Airport Road,
Kakkanad, Cochin – 682037
Kerala, India
Call: +91 755 899 1111
Edappally
31/361 A1, First Floor,
Bharatans Arcade, Near Metro Pillar Number 377,
Edappally Toll, Cochin –682024
Kerala, India
Call: +91 755 984 1111
Design, Production & Execution By Just One Company
Talk to our Interior Designer
& Get an Estimate
Detailed Drawing
and Approval
Production at Own
Factories
Material Delivery
& Execution
On Time Project
Hand Over
We provide home interior designing and furnishing works in Ernakulam (Kochi) and the nearby areas. Each branch of this company serves specific areas of the city. The localities such as Trippunithura, Piravam, Kakkanad, Muvattupuzha, Perumbavoor, Chottanikkara, Varappuzha, Thodupuzha, Thalayolaparambu, Vazhakkala are being handled by the company's Kakkanad branch. Whilst, the areas like Kaloor, Kalamassery, Aluva, Angamally, Paravoor, and Chavakkad come under Edappally branch. The Vyttila branch handles the rest of the city, majorly Kadavantra, Marine drive, Chittoor, Fortkochi, Palluruthy, Elamakkara, Kundannur, Maradu, Kumbalangi, Cherthala, etc.
Modular Kitchen Design & Implementation
D'LIFE is the largest interior design company in Ernakulam (Kochi) providing 100% customized modular kitchen and other furniture. We design, manufacture and implement the most modern modular kitchen in Ernakulam with latest accessories in top quality. Interiors contracts can include modifications of electric and plumbing connections to facilitate modular kitchens. Our designers will visit the house/ flat, take measurements and plan the space for furniture and cabinets. This company has a 125,000 square feet factory with the capacity to make complete furniture for 200 home interior projects per month. These factories are well equipped with imported machinery to produce modular kitchens and furniture with perfect finish.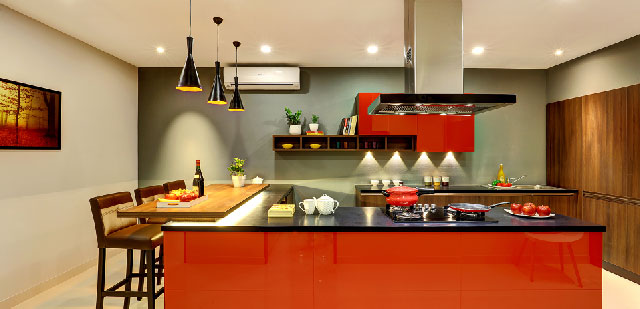 Reflects your lifestyle and values
We understand that for the creation of a space that will delight you, and your family, it is essential that the client is at the heart of the creative process. For D'LIFE we always make sure we passionately work closely with our clients and ensure that each space is created with their requirements and style to reflect the lifestyle and value the client carries. If you are looking for interior designers in Ernakulam, get in touch with us and let us deliver the space that really works for you. Our team has been in the residential interior design industry for years, and we know how to bring the best for your home.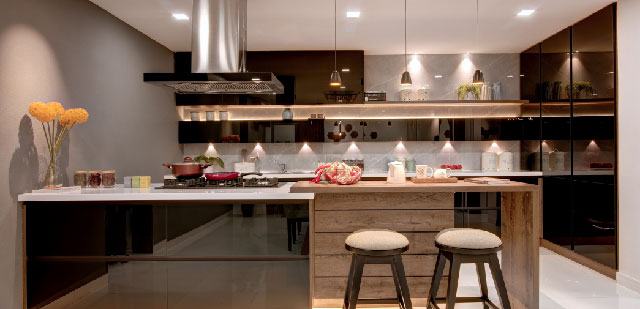 How we work
A true depiction of our client's vision and aspirations must appear in the final product for any of our projects to be successful. We can create the concept design, which will include floor plans and furnishings, once your brief has been approved. Following this, we will start the manufacturing process at our factory to turn the design into the final product. Our implementation team will then be responsible for delivering, installing, and setting up the final product in accordance with your vision and to the highest standards. Our client's satisfaction and the quality of our work are paramount, which is why each step of the process is carefully monitored to ensure that the vision set out by the client at the beginning of the project remains intact and is met with excellence.
Talk to Our Designer
FAQ
The ideal time for hiring an interior designer for your home interior project is when you begin the base painting of your home. The earlier the better!
Our team of interior designers in Ernakulam take complete control of the process, right from the initial consultations to designing, production and the handover. Whatever you need, we're here!
Costs vary depending on the scope of projects. Our interior design package for 3bhk apartments in Kochi starts from 6.8Lac. Customers can consult our interior design team in Ernakulam and get a free estimate based on their project requirements.
We do have 3 experience centres in Ernakulam. At Edapally, Kakkanad and Vyttila. Our experience centres are available to anyone to walk up to and have a discussion. We also have created a sample home interior at our experience centres for our customers to view and feel the quality and finish of DLIFE products directly.
Or, if you have a project in mind, you can directly connect with our support team at +91 956 723 11 11 to discuss further.
We always start with an initial consultation where we call or meet you on-site and discuss your requirements to learn about your project. After that, we'll provide an initial estimate with a detailed structure. Once you are ok with the estimate, we will provide you the 2D and 3D designs to help you visualize how your space is built with your desired colour pallatte. When the designs are finalized, we send the drawings to our state-of-the-art factory to manufacture the furnishings and decor.
Absolutely! Our interior designers in Ernakulam are highly experienced and are professionals who we trust. We are known for providing 100% customized contemporary furnishing and decor and have been providing beautifully crafted residential interior design projects since 2004. With us, you get the opportunity to fulfill all of your desires and even the minute requirements. Let us know what you have in mind and we can discuss your options!
From the time of the design confirmation, we generally estimate it will take as little as 35-45 working days to handover your project. We will let you know the expected date prior to starting the work.