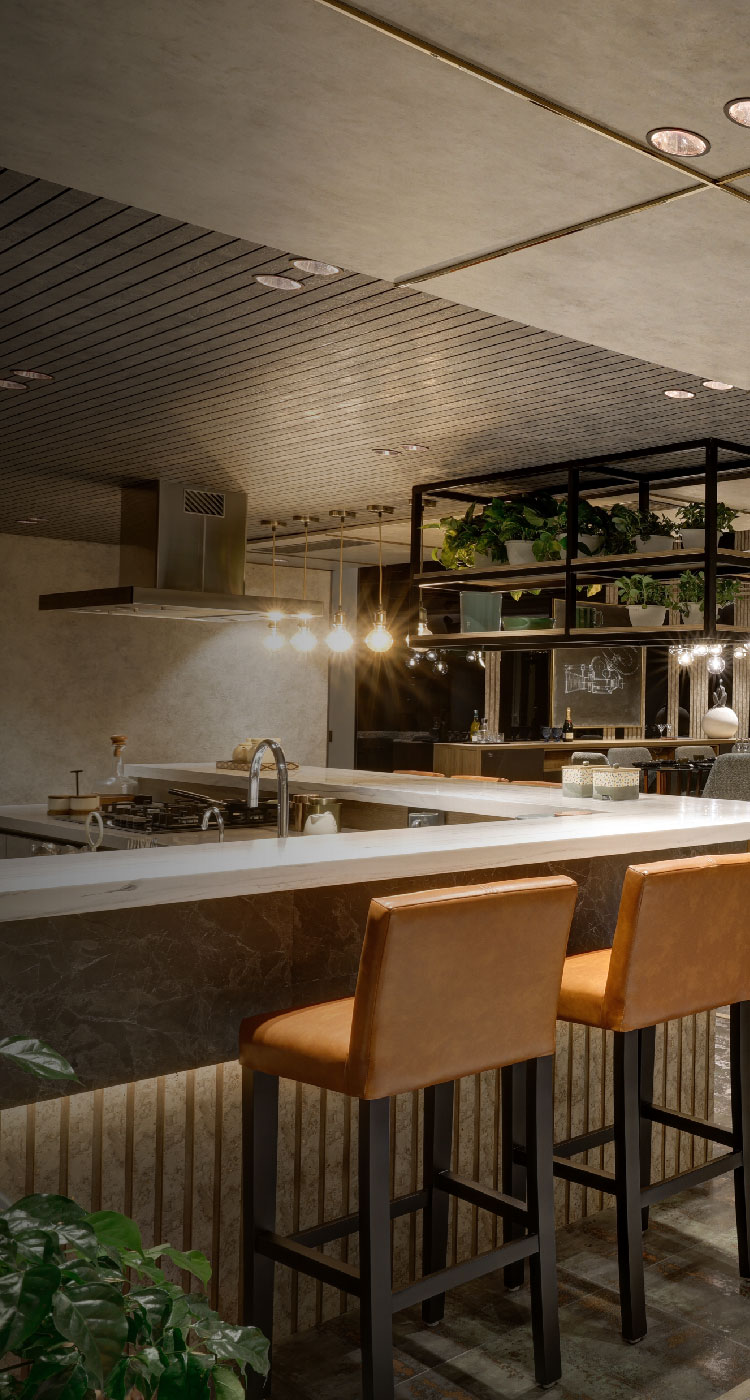 D'LIFE - The Best Interior
Designers in Chennai
Are you finding it difficult to locate the best interior designers in Chennai to make your home ready to live comfortably? D'LIFE is equipped with experienced interior designers who work cross functionally and skillfully to deliver projects in a professional manner. Our prestigious experience centers in Anna Nagar and ECR strategically positioned to cater to the interior needs of the premium segment in the region. Focusing on end-to-end interior furnishing and customization, our team completes the entire process from estimation to execution in the most professional manner. Thus, our efficient team ensures complete customer satisfaction through careful attention to detail. With stunning latest designs for modern-style living rooms, stylish bedrooms and aesthetic modular kitchens, we stand out with scintillating deliveries within the stipulated time frame. With thousands of designs to choose from, D'LIFE Home Interiors provides contemporary style design, production and execution services to clients.
Buy Direct - 30% Discount
On Packages
100% Customized Interiors By Professionals
Visit One Of Our Experience Centers In Chennai
D'LIFE Home Interiors
No. 33, Dev's Ark,
F Block, 2nd Ave, Anna Nagar,
Chennai, Tamil Nadu 600102 – India
Call: +91 755 900 33 33
D'LIFE Home Interiors
C-2, First floor, Times Square,
East Coast Rd (ECR), Uthandi,
Chennai, Tamil Nadu 600119 – India
Call: +91 807 890 8888
Design, Production & Execution By Just One Company
Talk to our Interior Designer
& Get an Estimate
Detailed Drawing
and Approval
Production at Own
Factories
Material Delivery
& Execution
On Time Project
Hand Over
Walk into the Experience Centres in Anna Nagar and East Coast Road managed by our experienced interior designers. Here, our in-house team of interior designers in Anna Nagar and ECR work with a great deal of passion and creativity. Experience centres are equipped with 5000 square feet floor area to view, feel and make the right decision. It is an extension of a high-tech space designed as a showroom that houses plans and strategies for 100% customized home interiors in Chennai. We have work stations and discussion rooms filled with innovative and inspiring ideas in every air molecule. Our experience centers are strategically located to take care of clients anywhere in Chennai. Thus, we ensure easy access for all the residential areas of Nungambakkam, T. Nagar, Adayar, Tambaram, Chromepet, Chengalpattu, Sholinganalur, Pallavaram etc. We have an experienced team of interior design experts and project managers who are deft at advising and assisting the clients through the whole process.
Contemporary Style Interior Design and Execution
First of all, the design by D'LIFE is always in accordance with the latest trends in contemporary style. Our interior designers in Chennai consider the interests and requirements of the clients in great detail. They visit the site and discuss with clients to choose the best possible design style. Also, the design is always considering the practicality and specifications for smooth execution. Systematic manufacturing and assembling procedures ensure the best output to match the designs as per the client requirement. Therefore, a client is sure to achieve the results as per the plan and discussions with the designer. In addition to this, there is a wide scope for selection of colors and finishes suitable for modern apartments or houses. We listen to your wants, needs, and aspirations to provide the support needed to ensure your new home meets your objectives. All our products are exclusively manufactured at our state-of-the-art factories spanning 1,25,000 sq. ft. for the timeless aesthetics.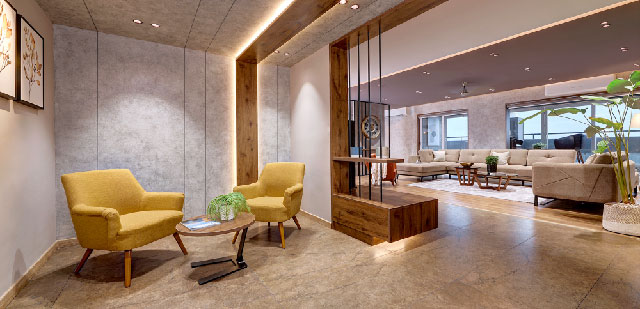 From Conceptualisation to Completion
D'LIFE has been designing interiors for modern and contemporary homes since 2004. From upper middle class family homes to luxury residential projects, we deliver bespoke high-end designs across South India. From concept to completion our team gives confidence to the clients through diligence, design skills and regular interaction. We understand that each client is unique and every project is different. Therefore we always assign our best interior designers in Chennai to every client. Ability to understand the requirements and skills to put them into a plan in the most practical manner is surely rewarding.  Systematic manufacturing and assembling procedures ensure the best output to match the designs as per the client requirement. Therefore, each client is sure to achieve the results as per the plan and discussions with the designer.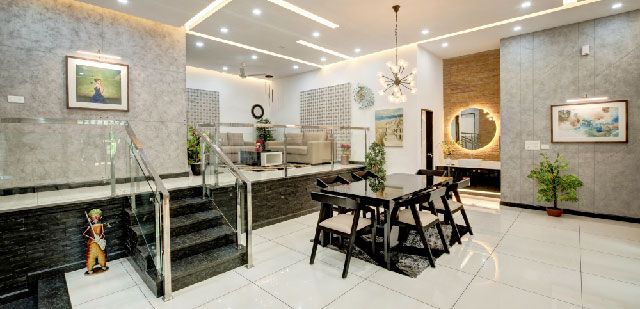 All Interior Solutions Under One Roof
It is inconvenient for everyone to coordinate with various suppliers to arrange the design, furniture works, soft furnishing and interior decoration. Design by an architect and execution by another contractor often leads to difficulties and finishing issues. Therefore, our best home interior designers in Chennai provide the complete solutions for home interiors under one roof. For each project to come to life, our talented team of designers works collaboratively with our project execution team to realize clients' aspirations. With a single point contact and facility for escalation in the event of problems, this system offers comfort and convenience for the client. We create exceptionally personalized livable residences and are able to offer our clients complete turnkey solutions from conception, and manufacturing, through to completion. We offer a solution to your interior requirements from start to finish. Once we receive your initial inquiry, we will be in touch throughout the project, sharing with you our progress as we go.
Talk to Our Designer
FAQ
We offer complete home interior services in Chennai. We are dedicated to providing services that meet our client's potential and meet our client's requirements and styles. Our interior design services include spatial planning, concept generation, 2D and 3D designing, procurement, manufacturing, installation at site and styling.
You can visit our Chennai experience centre at Anna Nagar or ECR to meet our design team. Our team of interior designers in Chennai are the very best in the industry, specializing in designing beautiful functional interiors that are personalized to your requirements, lifestyle and taste.
Be it a 3BHK apartment or a villa, the cost of interior design and execution in Chennai depends on the requirements and complexity of a project. We offer complete woodwork and decor for your 3BHK apartment, that is elegant, supremely comfortable and functional for our clients. You can contact us with your layout or plan and we will be more than happy to provide you with an estimate based on your requirements and the level you wish to customize your project.
Once the designs are finalized, it will just take 40 working days to complete the project.
At D'LIFE, we use the highest quality materials and manufacturing techniques to produce our furnishings and even offer lifelong service support. We're so confident in the quality of our bespoke fitted decor, furniture and personalized storage solutions, that we offer a 10-year product warranty.
D'LIFE has a minimum budget requirement of 6.8*Lac. Our interior design services are affordable and the design packages we offer include complete woodwork and decor ensuring our clients are completely happy with their dream interior. If you already have a project in mind, please contact us and find out more about our packages, process and what we can do for you.
Yes. DLIFE Chennai has a team of experienced designers who can handle projects of any size, from small apartments to large villas. We offer customized solutions to meet the specific needs and preferences of their clients.
You can communicate your design and finishing preferences to our team through email, video conferencing, or by sharing relevant documents online. We will ensure that your instructions are followed closely and that the project is completed to your satisfaction.
We undertake complete home interior works in Chennai including bedroom, living, dining and kitchen, be it small or big, villas, apartments or individual spaces. We are passionate about delivering functional and beautiful spaces, and we will bring your vision to life from concept through to completion that is tailored to your design needs.