Interior Designers
in Kottayam
D`LIFE Home interiors showroom in the 'City of Murals' started its operations in the year 2012. Since then, D`LIFE has been accepted as the best interior designers in Kottayam. The company achieved this stature by ensuring customer satisfaction in each project. Our team of consultants and interior designers in Kottayam follows a systematic procedure starting from inquiry till the project handover, making sure that customers are delighted with products and services. At the showroom, we have a wide display of modular kitchen sets with accessories, bedroom furniture like cots, wardrobes etc. living and dining room furniture like dining table set, sofa set for the clients to view and select. It is a one-stop shop for all your customized furniture requirements.
Buy Direct - 30% Discount
on Packages
100% Customized Interiors By Professionals
Visit Our Experience Centre in Kottayam
D'LIFE Home Interiors
1st floor, Home Basics Spice Building
Puthupally Road, Kanjikuzhi,
Kottayam, Kerala, India
Call: +91 75589 92222
Design, Production & Execution By Just One Company
Talk to our Interior Designer
& Get an Estimate
Detailed Drawing
and Approval
Production at Own
Factories
Material Delivery
& Execution
On Time Project
Hand Over
D`LIFE provides services across the district and nearby areas through our Kottayam branch located at Kanjikuzhy. This top interior design company in Kottayam provides services in both urban and rural areas of the district. Major localities where we provide home furnishing works are; Changanassery, Vaikom, Pala, Ettumannoor, Erattupetta, Kanjirappally, Ponkunnam, Ranni, Kozhancherry, Adoor, Aranmula, Pathanamthitta, Thiruvalla, Chengannur, Konni, Adoor, Kumbanad, Pulladetc. Apart from Kottayam district, the branch provides services in Kumily, Idukki, Thodupuzha and Erattupetta. Customers can easily visit the showroom and check the display products or contact us to get an estimate based on your requirements. If you are away or not comfortable in visiting the showroom, you can contact us via phone or email; our expert team will contact you immediately upon receiving an enquiry.
Products & Services by D'LIFE Kottayam
D'LIFE is expert in home furnishing, modular kitchen and interior decoration works as per the requirements of clients. Our interior designers in the Kottayam showroom study the needs in detail, measure the space accurately and create the most suitable solution. We have a very efficient team and excellent coordination to handover the projects within 35 – 40 working days from the date of design finalization. Production of customized furniture is in own factory and installation at the client's site takes place as per specific planning.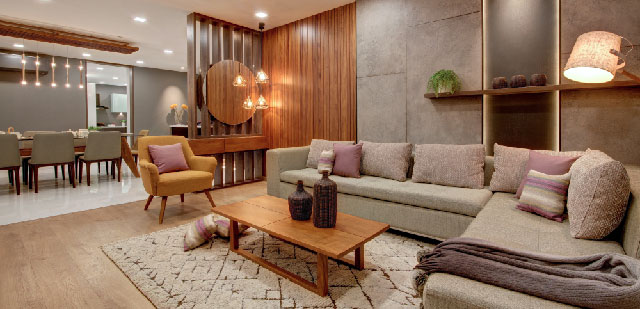 For All Your Home Interior Needs
At D'LIFE we create exceptionally personalized livable residences and are able to offer our clients complete turnkey solutions from conception, and manufacturing, through to completion. For each project to come to life, our talented team of interior designers in Kottayam works collaboratively with our project execution team to realize our clients' aspirations. We offer a solution to your interior requirements from start to finish. Once we receive your initial inquiry, we will be in touch throughout the project, sharing with you our progress as we go.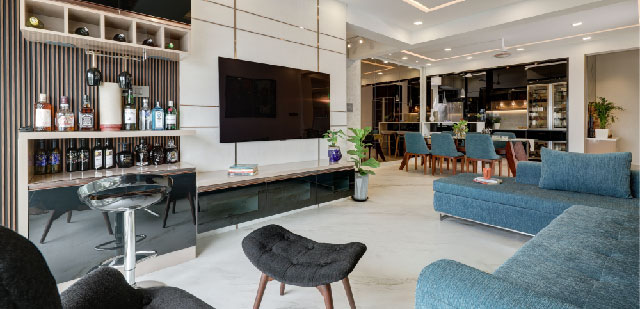 Visualize your space
We listen to your wants, needs, and aspirations to provide the support needed to ensure your new home meets your objectives. All our products are exclusively manufactured at our state-of-the-art factories spanning 1,25,000 sqft for the timeless aesthetics. If you are ready to discuss your interior options, get in touch with us now. Throughout the interior design process, we provide you with the best services, which involve transparent costs, high-quality furnishings and decor, keeping your budget in mind, and making sure your dream home meets all your requirements.
Talk to Our Designer
FAQ
The interior design process starts with a phone call with our client relations team. In this call, we briefly talk about your design project, budget, requirements, and how you want to accomplish it. If we feel like we are a good fit, our interior designer will get in touch with you.
D'LIFE is an award-winning residential interior design company in Kottayam, specialized in residential interior designs. We offer end-to-end design services right from the planning and design to production and execution at site. We'll handle through the ins and outs at every stage and ensure our clients have a stress-free experience.
Our home interior package for a 3BHK home starts from 6.8Lac*. The cost varies depending on the scope of the project, we offer custom design packages that are tailored to your needs and budget.
The timeline for an interior design project is 35-40 days. For a more detailed explanation of our process, please contact our client relations team.
We specialize in contemporary interior design with strong attention to detail and quality. Our team of designers focuses on creating functional spaces that reflect the client's personality and lifestyle while incorporating the latest trends in furniture and decor.
Yes, we do provide 3D renderings. This allows clients to see what the finished space will look like before any work is done.
During the consultation process, the interior designer will discuss your needs and preferences, assess the space, and provide design recommendations. They may also show you examples of work samples, and previous work and provide a quote for the project.
It's not necessary to be present during the entire interior design project, but it's important to be available for design meetings and consultations. Even if you are abroad, you can easily connect with our interior design team in Kottayam via email, WhatsApp or other online mediums.
We have years of experience creating beautiful home interiors and our passion for excellence has led us to win numerous industry awards across India. We strive to ensure that every interior project is a smooth and stress-free experience for our clients which helps us get the highest prize of all — repeat clients and glowing referrals.