Interior Designers
in Kannur
D'LIFE is the most reliable name for customized home interior design and execution in Kerala. With over 19 years of experience in this field, by handing over more than 9000 projects, we hold a powerful reputation in South India. Innovative ideas and exemplary craftsmanship of our expert interior designers in Kannur guarantee the best results. From space planning, concept design, procurement, production to handing over beautiful dream residential interiors, this team undertakes complete responsibility. Own factory, state of the art machineries and highly skilled man power enable the clients to achieve durable furniture with best finish. Executing each project at site with practical and inspiring schemes on time and on budget ensure customer satisfaction.
Buy Direct - 30% Discount
on Packages
100% Customized Interiors By Professionals
Visit Our Experience Centre In Kannur
D'LIFE Home Interiors
Sree Devee Narayana Business Centre,
Kannapuram, Cherukunnu PO, Kerala 670 301
Call: +91 949 624 6666
Design, Production & Execution By Just One Company
Talk to our Interior Designer
& Get an Estimate
Detailed Drawing
and Approval
Production at Own
Factories
Material Delivery
& Execution
On Time Project
Hand Over
D'LIFE office is conveniently located in Kannapuram, Kannur to take care of the home interior requirements of people across the district. Clients from Kasargod, Payyanur, Taliparamba, Pariyaram, Azhikode, Irikkur, Manjeshwaram, Kanhangad, Thalassery, Iritty etc can also reach this office to meet our interior designer or a consultant. Our team of design consultants and interior designers in Kannur possess an exceptional attitude for customer service and passion for creating fabulous interior décor. These qualities help them guide each client and provide multiple solutions including modular kitchen and complete home interiors. Therefore, it is worth spending time to visit us and understand the materials and style before you decide on an interior contractor.
Why is D'LIFE Kannur's Favorite Interior Design Company
We're all about creating seamless interior design experiences and our team of interior designers is dedicated to enriching lives through our designs. It is embedded in our design choices and visual generosity. Unlike others, we prioritize the needs and preferences of our clients, ensuring that their vision is brought to life. Our attention to detail and commitment to quality have earned us the trust and loyalty of our customers in Kannur. D'LIFE's home interior design process is a collaborative journey between our team of experts and our clients, where we work together to create a space that reflects their personality and style. We believe that every home should be unique and functional, which is why the people of Kannur consider us as their favorite interior design company.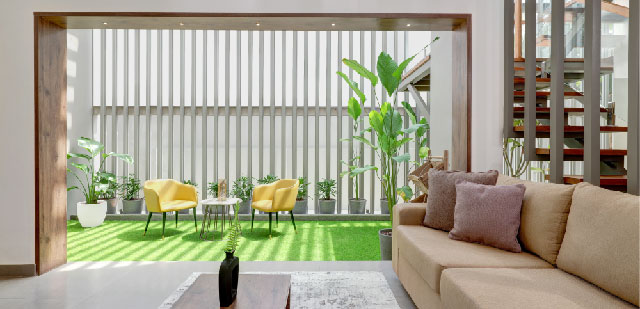 Making the most of your space
We believe that every home interior project we undertake is a unique opportunity to create spaces that are beautiful and functional. With a diverse list of clients, around the town, our interior designers in Kannur have a deep understanding of our client's needs, tastes, and requirements. Our goal is to enhance the way each of our clients lives by making the most of their spaces that have well-designed interiors. All our interior projects are tailored and timeless and elegant that depict the true portrait of how you live, love and who you are.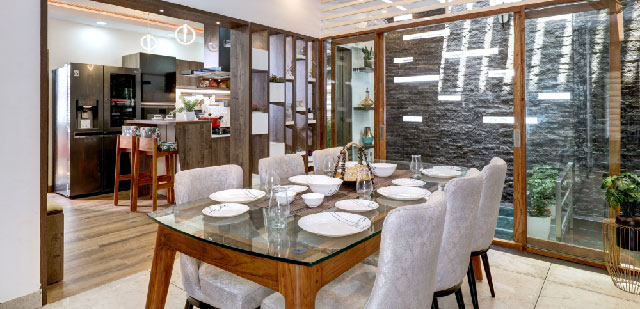 Tailor the perfect look
Being an award-winning interior design firm in Kannur with exclusive showrooms in Kerala, we always aim to create the perfect look and create interiors that are as unique as you are. With DLIFE, each project carries an attention to detail with exclusive fabrics, cabinetry, lighting, bespoke handcrafted furniture and unique decor elements. The design proposals we put forward are as unique as the clients, be it for a 2BHk apartment, a holiday home, or a villa project. We make your space shine with contemporary elements that are especially streamlined and luxurious.
Talk to Our Designer
FAQ
D'LIFE offers the best solutions in interior design and decor for clients in Kannur. We have been in the interior design industry since 2004 and have been creating exceptional, beautifully designed spaces which reflect the requirements and aspirations of our clients. Being the most reliable design company, we undertake projects from concept to completion- an exclusive and personal service which includes consultation, space planning, design, production and installation, which makes the whole interior process enjoyable and satisfying for each client.
The cost of furnishing a 3BHK home in Kannur starts at 6.8 lakhs.
Once you are assigned an interior designer, our interior designer will have a meeting with the client to discuss the project. When all aspects, including the requirements, taste, and needs, are discussed, the designer will then come up with a concept design. When this is agreed upon, the designs are sent to production at our factory. After manufacturing and multiple quality checks, the products are sent to the project site for installation.
Absolutely not. At D'LIFE, we charge only a minimal initial deposit that enables us to press on with our design work, and all other payments are invoiced after the design is presented and as per a specific schedule of the work, giving you the maximum peace of mind.
After the free consultation and the designs have been finalised, we can complete your home interiors in Kannur within 35–40 working days.
Yes. We develop 3D renders as a key design and communication tool. This enables our clients to understand the design more accurately.
We only undertake residential interior designs in Kannur at the moment. If you have a project in mind or just a query to find out if we can help, get in touch today at +91 9567231111 or [email protected]
Yes. Our team of designers will work with you to ensure that your existing furniture or artwork blends seamlessly with the new design, creating a cohesive and stylish look for your home in Kannur.
Yes, these are available upon request. You can also walk into the DLIFE experience centre in Kannur to see our products and their finishes. Our experience centre also has intern designers who would be happy to assist you in choosing the right design and layout for your home's interiors. Additionally, you can also schedule a consultation with our expert interior designers in Kannur by calling +91 9567231111 for a more personalised experience.
When you hire a professional interior design company like DLIFE, there is no need to personally supervise anything. We take care of everything from start to finish, ensuring that your vision is executed flawlessly and within the agreed budget.