Interior Designers
in Mangalore, Udupi and Manipal
Founded in 2004 D'LIFE is a leading interior design company in South India that blends high-quality craftsmanship and state of the art technologies with timeless designs. Adopting an expert understanding of requirements, our interior designers in Mangalore, Udupi and Manipal offer expert services for highly discerning clients. Through persistent efforts to ensure customer satisfaction, we have grown into an award-winning interior design firm with a clear difference in the process and results. Our passion for perfection combines creative vision and premium materials to deliver highly personalized interior solutions.
Buy Direct - 30% Discount
On Packages
100% Customized Interiors By Professionals
Breadth of Service in Mangalore
Mangalore
Flat no 203, Elegance Apartments,
NH 66, opp. Planet SKS, Kadri Hills,
Bejai, Mangaluru, Karnataka 575 004.
Call: +91 949 606 2222
Design, Production & Execution By Just One Company
Talk to our Interior Designer
& Get an Estimate
Detailed Drawing
and Approval
Production at Own
Factories
Material Delivery
& Execution
On Time Project
Hand Over
We provide home interior designing and furnishing works in Mangalore, Karnataka and the nearby areas. Our showroom cum office is at one of the upscale and the busiest places in Mangalore. It enables potential clients to easily walk in and experience the new dimension in home furnishings. We are conveniently located near Kadri Hills, Bejai so that the people from nearby areas like Kadri, Kudupu, Lalbagh, Maroli, Shakti Nagar can also visit the showroom. This experience centre features a display of the most modern modular kitchens, wardrobes, cots, dining etc. Thus, the visitors have the opportunity to view and experience the quality and finish of the products. This facility enables the clients to make informed decisions regarding complete home interiors, décor and various movable furniture.
Award Winning Interior Design Company In Mangalore
Whether you are looking for a bespoke kitchen interior, bedrooms design, customised living room design, dining room, entrust our interior designers in Mangalore Karnataka to exceed every expectation. Get in touch with our professional team of design experts and interior decorators through phone calls or online consultation to get a personalized solution for the home interiors. They will plan, curate and design every detail to finesse your dream home to perfection. We offer full in-house, turn-key service with a diverse range of designs and within a broad range of budgets for our highly discerning clients. This service is available all over Mangalore district, Udupi and Manipal areas.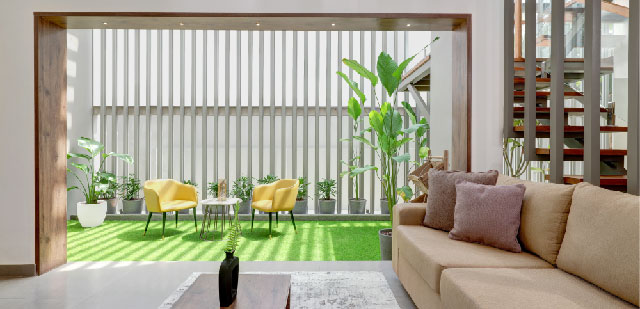 Further into our process
Our multi-award-winning interior design service is available for projects across Karnataka. Whether it's for a kitchen or a complete home interior, we offer custom furnishings and bespoke finishes. Our preferred approach is to work with clients at an early stage of their interior design process, taking homes from concept to completion. From concept to installation, we strive to exceed expectations and deliver exceptional results. We pride ourselves on our attention to detail and commitment to quality, ensuring that every project is delivered to the highest standard. With a team of experienced designers and craftsmen, we are able to create unique and personalized spaces that reflect the individual style and taste of our clients.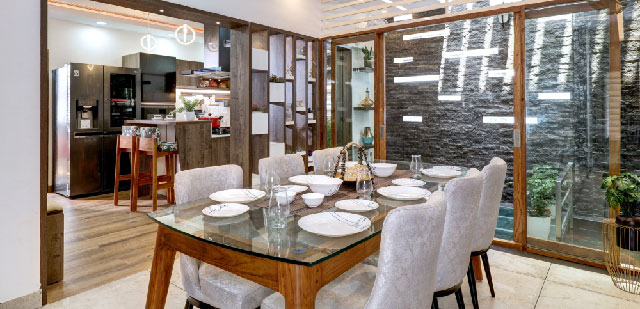 The highlights of our design service
We specialize in creating the finest luxury interiors, and when it comes to creating dream homes, we hold no boundaries. Along with our services, we also offer lifetime service support to ensure that our clients are always satisfied with their investment. In addition to this, all our woodwork includes a 10-year warranty, making it the perfect choice for those looking for long-lasting and durable furniture pieces. Whether it's a contemporary penthouse or a small family home, we pride ourselves on delivering exceptional quality and craftsmanship that exceeds expectations.
Talk to Our Designer
FAQ
D'LIFE Home Interiors is a multi-award-winning interior design company in Mangalore specialising in creating functional and aesthetically pleasing customised residential spaces that reflect clients' personal styles and preferences. We have an experienced team of interior designers and project managers who ensure that the projects are done on time with the finest quality and finish. We also have a state-of-the-art factory equipped with German machinery to manufacture our products and a logistics and installation team that ensure your home is delivered within the timeframe and as per your expectations.
Other than Mangalore, we do have experience centres in Bengaluru, Mysuru, and other major locations across India.
We use the finest quality materials. We believe that using quality materials not only ensures a beautiful finished product but also guarantees longevity and durability.
Our interior design package starts at ₹6.8Lac. This includes comprehensive design consultation, 3D visualisations, material selection, manufacturing, project management, and installation.
During the initial consultation, we try to understand your requirements, your design concepts, and your budget. Once we get to know everything about your needs, we will provide you with a detailed plan that outlines the entire interior design process.
You do not need to be involved throughout the design process. Once you decide on the materials and finishes, we will handle the rest. As a full-on interior design company, we take full responsibility for managing the project from start to finish, providing regular updates along the way. Our goal is to make the interior design process as seamless and stress-free as possible for our clients while creating a beautiful and functional space that exceeds their expectations.
When it comes to the difference between D'LIFE interior designers in Mangalore and other interior decorators, it's simple: we prioritise our client's needs above all else. We take the time to understand your vision for your space and work closely with you every step of the way to bring that vision to life. As for our design style, we specialise in contemporary home interiors. Whether you're looking for a complete home makeover or just want to refresh a few key areas, DLIFE is here to help you create the space of your dreams. So why wait? Contact us at +91 956 723 1111.
We are into contemporary home interior design styles. The contemporary home design integrates aesthetically pleasing aspects with elegance and sophistication. Our team of interior designers in Mangalore who are specialised in contemporary design styles will work with you to create a design that is tailored to your unique requirements and preferences
Our focus is solely on residential interior design projects in Mangalore, and this ensures that we give our undivided attention to every detail of your home.
We do provide lifetime after-sale services, and on top of that, we offer a 10-year warranty on all our projects, giving you peace of mind and assurance that your dream home will stand the test of time.