Interior Designers
in Nagercoil
Since opening the doors to our experience centre in Tamil Nadu, D'LIFE has turned exclusive spaces into exceptional residential homes for clients. From initial discussion to final sketch, manufacturing, and installation, we transform the needs and ideas of our clients into practical and aesthetically beautiful residences. We work with a team of experienced consultants, interior designers, project coordinators, and technicians, offering a full interior solution from concept to completion. This means we start from scratch to finish, with our in-house interior designers in Nagercoil. Whether the project is big or small, our interior designers in Nagercoil will change the way you see your home, creating a space that reflects the highest standards of design and craftsmanship.
Buy Direct - 30% Discount
On Packages
100% Customized Interiors By Professionals
Visit Our Experience Centre In Mangalore
D'LIFE Home Interiors
G2, 14E, Rajas Mall,
Rajakkamangalam Rd,
Chettikulam Junction,
Nagercoil, Tamil Nadu 629001
Call: +91 807 857 8888
Design, Production & Execution By Just One Company
Talk to our Interior Designer
& Get an Estimate
Detailed Drawing
and Approval
Production at Own
Factories
Material Delivery
& Execution
On Time Project
Hand Over
Our experience centre in Nagercoil is strategically located so that clients from Marthandam, Colachel, Thuckalay, Kulasekharam, Boothapandi, Mahveriva, Vellimalai, Muhilanvilai, Kanyakumari, Kadiapattinam, Aralvaimozhi, etc. can easily reach us. Driven by a design philosophy of providing exceptional service and fabulous interior decor, we have been able to create long-term relationships with our clients, and bring in word-of-mouth recommendations to generate repeated work. Our Nagercoil experience centre features a living, dining, bedrooms and kitchen design and a team of highly skilled and experienced interior designers who offer a wide range of services to cater to the requirements of our clients. We also have a concise collection of unique finishes, which include laminate, fabrics, and a huge variety of panel options.
Award-winning Interior Design Company in Nagercoil
DLIFE's award-winning interior design team in Nagercoil approaches each project as a design journey. When taking up a project, we consider the client's personal needs, preferences, and lifestyles to create the perfect home. Our work ranges from turnkey interior design projects to creating design schemes for newly builds and always making the design narrative a collaborative journey. The team approaches each project as a design journey where all functional and aesthetic requirements are met with a combination of creativity and patience. Our interior designers in Nagercoil have also developed a diverse portfolio of exceptional residential interior design projects that incorporate the needs of clients while creating functional and timeless interiors.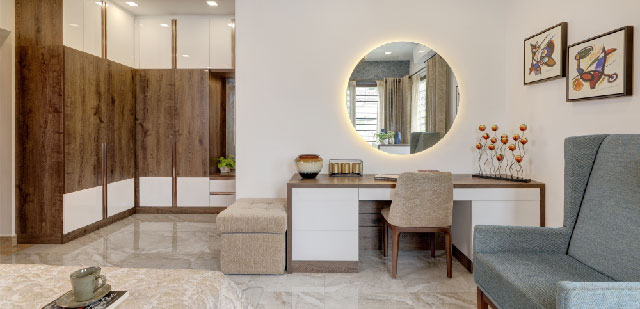 Complete Interior Design Solutions by Just One Company
At D'LIFE, every project starts with a conversation. Our interior designers in Nagercoil understand our client's vision by knowing their lifestyles, and passions, and inspire you. Our clients usually seek to capture something of themselves in every space of their home, and when we start to understand your dreams, we present designs, ideas, and materials that help you form the cornerstone of our project. To help our clients visualise a space, our interior designers in Nagercoil use state-of-the-art 3D rendering techniques. Once the project progresses from the design phase and goes to the execution phase, we will oversee all third-party appointments, such as electrical and structural, and get consent for all the work on your behalf. Once the home interior project progresses, we will provide you with complete visibility and make sure the project timeline and expenditure are met, resulting in style-driven homes meticulously designed with a refined aesthetic. With our flair for style and eye for detail, we make sure to transform your homes into unforgettable spaces.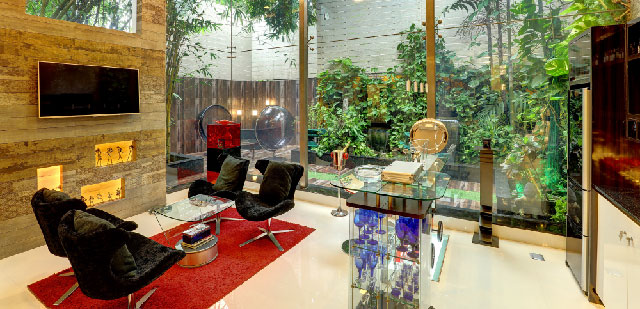 Courteous and Reliable
At D'LIFE, we pride ourselves on providing our clients with reliable and highly professional design services in Nagercoil tailored and made to suit their personal requirements. We understand design and recognise the value of people, and we are proud to have a diverse and multi-disciplined team of experts who are always ready to push boundaries for clients in pursuit of their dream homes. We create spaces that make our clients comfortable and are inviting, while also being mindful of the budget, timeframe, and also sustainability of the materials. Our team approaches each home interior project in Nagercoil with an in-depth understanding of the client's taste and requirements and ensures that all stylistic and functional requirements are met and are perfectly positioned.
Talk to Our Designer
FAQ
You can contact us at +91 9567231111 or through the email mentioned on our website to get in touch with our client relations team to discuss the details of the project. If you seem to be okay with the materials, finishes, and budget, we will assign a dedicated interior designer who will then guide you through the process.
Home interior works in Nagercoil can be completed within 35–40 working days once the designs for the project are finalised by the client.
Yes, the interior designer will be happy to consult with you and guide you through an email or video call. From afar, your interior designer can showcase products, drawings, etc. This is a great option for those who are unable to meet in person. It allows for flexibility and convenience while still receiving expert advice and design services.
If you're ready to get started on your dream custom home, interior designers in Nagercoil can offer services such as space planning, furniture selection, colour consultation, lighting design, and project management. We can help you create a cohesive and personalised interior design that reflects your style and meets your functional needs.
Our interior design package starts at 6.8 lakhs. This includes furnishings and decor for a 3-bedroom home.
Yes, our interior designers in Nagercoil can work with a specific budget and help you make the most of your money.
While it is not necessary to be present during the interior design process in Nagercoil, it is recommended to be available for consultations and decision-making. If you are far away, our team will contact you through WhatsApp or email and provide details about the project and its updates on a daily basis.
Yes, we provide 3D renderings of the designs to help clients visualise the final result.
No, unfortunately, we do not work on commercial projects such as offices, retail stores, and restaurants.
Hiring an interior designer in Nagercoil can help you save time, money, and energy by providing expert guidance and creating a cohesive and functional space that meets your needs and preferences. Additionally, an interior designer can also help you avoid costly mistakes and ensure that your home is not only aesthetically pleasing but also safe and as you desire.