Interior Designers
in Bangalore
The tedious search for the best interior designers in Bangalore ends at D'LIFE. This company with a legacy of offering finest home interiors in South India for the past 19 years is the choice of a growing number of clients. D'LIFE combines innovation, freshness and life into interior designing and execution. With a telling presence as the best interior designers in Bangalore we have completed more than 9000 projects in various locations in South India to date. We design, produce and implement premium home interiors to the satisfaction of clients. Thus, transform the bare space in an apartment to an amazingly modern, fresh and trending home.
Buy Direct - Get 30% Discount
on Packages
100% Customized Interiors By Professionals
Visit One Of Our Experience Centers in Bangalore
Design, Production & Execution By Just One Company
Talk to our Interior Designer
& Get an Estimate
Detailed Drawing
and Approval
Production at Own
Factories
Material Delivery
& Execution
On Time Project
Hand Over
We provide home interior designing and furnishing works in Bengaluru and the nearby areas. Each branch of this interior design company serves specific areas of the city. The localities such as Koramangala, Bellandur, BTM Layout, Indira Nagar, Bommanahalli, Electronic City, Sarjapur Road, Marthahalli, Jayanagar, Malleswaram etc are being handled by the company's HSR Layout branch. While Hebbal, Govindapura and other nearby locations are being handled by the Yelahanka branch. Marathahalli, Brookefield, Hoodi, Phoenix Marketcity, Doddabanahalli, Koralur, Varthur etc are being handled by the Whitefield branch. While Peenya, Rajajinagar, Yeswanthpur, Jindal Nagar, Malleshwaram are being handled by the Nagasandra branch.
Award Winning Interior Design Company in Bangalore
D'LIFE, gradually acquiring the trust of clients since 2004, has grown as one of the largest customized home interior companies in South India. With the real experience of 9000 completed projects, this company is all set to become the best interior designers in Bangalore. With four showroom-cum-office at Bangalore; 4000 square feet showroom at HSR Layout, Whitefield, Nagasandra and at Yelahanka Bangalore, D'LIFE gives you a live experience of modern stylish modular kitchens and home furnishing. Our talented, highly responsible consultants assist clients by understanding requirements, explaining possibilities in design, materials, and pricing. From cozy living rooms, stylish bedrooms to sleek kitchens and elegant dining spaces, we transform every residential area with our expertise. Using only top-notch materials and cutting-edge technology, our team delivers functional and visually stunning designs that will surpass your expectations.
Our Approach To Interior Design
Our consultants and interior designers in Bangalore office are highly professional and friendly. Discuss with them about your concerns and ideas regarding your furnishing requirements. They would present you with all the different possibilities and help you choose one that best suits your budget. We will extend our full support and resources to make your project unique. There is utmost transparency when it comes to our price, design selection or choice of materials. Being the most reliable home interior design company in Bangalore, D'LIFE avails its services in all major locations in the city. This includes Koramangala, Sarjapur Road, Malleswaram, White Field, Indira Nagar, Rajajinagar, J.P. Nagar, Honnenahalli, Krishnarajapura, Marthahalli etc. Customer satisfaction is our highest priority. You can expect 100% transparency and responsibility in our works and contracts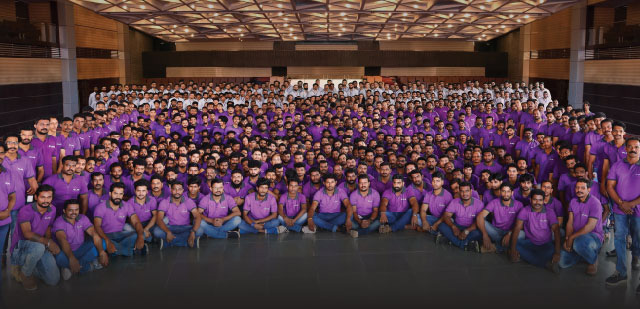 Contemporise Your Home Interiors With Us
What makes us unique from the rest of all is the degree of professionalism and perfection that we offer. Our team consists of the best breed of engineers, and interior designers in Bangalore. They are up to date with the latest trends in interior designs that experience constant evolution. Out of the box approach has given us the mileage to scale heights of success in industry. Visit our HSR Layout, Whitefield, or Yelahanka experience centre at Bengaluru of 4000 square feet each. There, you will get to see and feel what we are up to. Live experience of modular kitchens and furnishing for each room helps to give shape to your imagination
Talk to Our Designer
FAQ
D'LIFE undertakes all types of home interior projects that include design to execution, anywhere in Bengaluru. Our branches in Bangalore deploys a creative team of experienced design consultants, interior designers, and project implementation team. Thus, it is a one stop solution for all the interior works, after flooring. It includes 100% customized modular kitchen, bedrooms, living, dining areas, furnishing and décor.
All our Interior designers are employees under the company payroll and thus very responsible and follow the systems and procedure. We do not hire freelancers and make sure that each designer acts as per the client requirements, in a timely manner. These designers make best efforts using their knowledge, expertise, passion and professionalism to delight every client.
We have four experience centres in Bangalore- HSR, Nagasandra, Whitefield and Yelahanka. All our showrooms are well equipped with fully furnished sample rooms, meeting and discussion rooms. Here the design consultants meet the visitors, guide through the displays, procedure, products and materials details.
First, we meet and understand the requirements in detail and give an initial free estimate. Then, we discuss further on it to finalize the works and proceed to the planning stage. Designer start creating the layout and detailed drawings for further discussions and improvements for each room. Thereafter, we provide the 3D views to help you check and arrive at the final decision.
Time required for design, production and execution depends upon the complexity of the project and status of the site. It depends also upon how fast the client approves the drawings to go for production. We have the capacity to execute the modular kitchen and other interior works within 45 working days from confirmation of the design.
D'LIFE has two large factories, measuring about 125,000 square feet, in Bengaluru and Kochi, equipped with the latest German machinery. We produce all the furniture in these factories, ensuring top quality materials finish. This company does not outsource any of the furniture manufacturing work to others.
Be it a customized 2BHK apartment interior or a turnkey villa interior project, there are several factors that impact the cost of interior design and execution in Bengaluru. Cost depends on the size of the units, requirements, and complexity of your project. Please find here our home interior packages to get a fair idea about the cost of completing a standard size 3BHK project. We further customize as per the requirement of clients and price varies as per the size and number of units.
We have shared all our completed project photos and videos on our websites and social media profiles. You may also visit our experience centers where we have created a sample apartment to view and feel it directly.
Hiring interior designers in Bangalore from a reliable company can help you in many ways. First of all make use of his creativity, expertise, and time to properly plan and conceive what you want to achieve. Working with this blue print, under the supervision of efficient people also helps to avoid expensive mistakes. As it is a long-term investment and reflection of your personality it is always better to hire from a professional interior design firm. It can bring the ultimate "wow" factor you've been looking for in your home.