Best Interior Designers
in Mysore
If you're searching for reliable interior designers in Mysore you've come to the right place. At D'LIFE, we specialize in providing 100% customized home interiors. We offer unique designs and tailored project implementations that have brought happiness into the lives of over 9000 homeowners. Whether you're starting from scratch or revamping an existing space, we're committed to making your interior dreams a reality. Located strategically at the heart of Mysore to serve the varying interior needs of homeowners throughout the city, our experience centre is your one stop shop to kick start your personal vision.
Buy Direct - 30% Discount
On Packages
100% Customized Interiors By Professionals
Visit Our Experience Centre in Mysore
D'LIFE Home Interiors
No 10, Second Floor,
BM Habitat Mall, Gokulam Main Rd,
3rd Block, Jayalakshmipuram,
Mysuru, Karnataka 570012
Call: +91 938 342 3333
Design, Production & Execution By Just One Company
Talk to our Interior Designer
& Get an Estimate
Detailed Drawing
and Approval
Production at Own
Factories
Material Delivery
& Execution
On Time Project
Hand Over
Our experience center in Mysore, BM Habitat Mall, provides interior design services to Hebbal, Bannimantap, Visveshwara Nagar, Bhogadi and nearby areas. Our team of experienced interior designers can help you plan and create your residential space. We offer a wide range of design services from the showroom at Mysore which is equipped with a living room, bedroom, dining room and modular kitchen. Thus, customers can get to know about the materials and quality finishes before they finalize the contract. More importantly, it will help the customers visualise their ideas and get a better understanding of how their dream home will look like.
Award-winning Interior Designers in Mysore
We understand that every design project and every client has unique needs and tastes, so we approach them in a flexible and professional manner. Our services include space planning, interior finishes, living-dining designs, bedroom designs, kitchen designs and execution. Interior designers from the company work closely with the clients to understand their desires and preferences. They also make sure that each project is customized to their specific requirements and style. Functional and aesthetically pleasing spaces are sure to enhance the overall quality of life for our clients.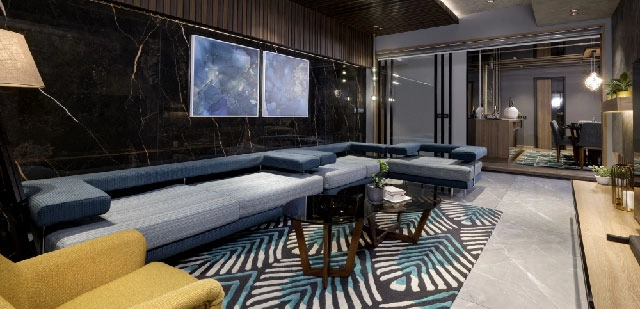 How Do We Work?
We provide an exceptional end-to-end interior design experience for our clients. After your initial consultation with our client relation team, you will be assigned one of our best interior designers in Mysore. Based on your requirements and project scope, he will create a custom proposal and design. Once you approve the design, we send it to our state-of-the-art factory, where we manufacture the furniture using German machinery and production techniques. Each piece of furniture and decor go through several inspections to ensure the best quality standards. Our execution team carefully executes the entire project, within a mutually agreed timeframe to the satisfaction of the client.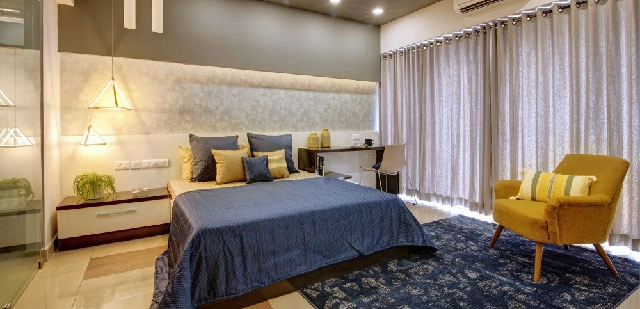 Products and Services Tailored to Your Needs
At D'LIFE, we always aim to help our clients transform their spaces by thinking outside the box with bespoke contemporary residential interior design. We believe that every home should be a reflection of the people who live in it, and we strive to achieve this through our innovative design solutions. With attention to detail in mind, and by streamlining all aspects of the project, we pride ourselves on delivering high-end solutions and finishes by working in close collaboration with our clients. Such a detailed approach to client service has let us deepen connections and foster a sense of belonging for everyone involved. Our design consultants are with you every step of the way. Together we can shape your dream home interiors.
Talk to Our Designer
FAQ
D'LIFE Interior designers specialize in designing functional and aesthetically pleasing complete home interiors for clients. From the initial discussion, space planning, and designing, to manufacturing, and execution at the site, we make sure to provide a seamless and stress-free experience for our clients throughout the entire process.
You can make a walk-in to our Mysore showroom or just contact us at +91 9383423333 and share your home interior requirements. Our team of experienced interior designers will be happy to assist you in creating a beautiful and functional living space that suits your style and budget.
Yes, D'LIFE interior designers in Mysuru provide 3D design visualisation services to help clients visualise the final design before construction or renovation begins.
The timeline for completing an interior design project in Mysore is 35-40 working days. However, the timeline can vary depending on the scope of the project. It's best to discuss the timeline with our design team before beginning the project.
Yes, absolutely. As one of the top interior designers in India, we have been serving clients located around India and abroad and have successfully completed many such projects. Clients can schedule online meetings with our team to discuss their projects. Once the project starts, we will be sharing regular updates about it on WhatsApp, email, or whichever medium is most comfortable for the client.
Yes. Our company is committed to providing excellent customer service and ensuring the longevity of our products. We believe in standing behind our work and offering peace of mind to our clients. We offer lifetime service to our clients. On top of that, all our designs come with a 10-year warranty.