THE BEST INTERIOR DESIGNERS
IN HYDERABAD
With a state-of-the-art experience centre strategically located in Banjara Hills, D'LIFE Home Interiors boasts a team of award-winning interior designers in Hyderabad who have completed over 9000 projects across South India. Our interior designers have worked on projects ranging from villas to luxury apartments. Our design philosophy is centred around creating functional and aesthetically pleasing spaces that reflect the client's personality and lifestyle. Our team has a natural ability for creating elegant interiors which bring gentle hues with contemporary art. D'LIFE home interiors' attention to detail and commitment to quality has earned us a reputation as one of the top interior design firms in Hyderabad.
Buy Direct - 30% Discount
on Packages
100% Customized Interiors By Professionals
Visit Our Experience Centre In Hyderabad
D'LIFE Home Interiors
Second floor, Emperado,
Road No. 12, opp., Mahesh Bank,
Bhola Nagar, Banjara Hills,
Hyderabad, Telangana 500034
Call: +91 949 508 7777
Design, Production & Execution By Just One Company
Talk to our Interior Designer
& Get an Estimate
Detailed Drawing
and Approval
Production at Own
Factories
Material Delivery
& Execution
On Time Project
Hand Over
D'LIFE home interiors in Hyderabad provide home interior designing and furnishing works in localities such as Banjara hills, Mehdipatanam, Madhapur, Saroornagar, Ameerpet, and Miyapur. We provide customized interior designing and furnishing services for residential spaces, including living rooms, bedrooms, kitchens, and dining. Our team of experts uses high-quality materials and the latest technology to deliver functional and aesthetic designs that exceed clients' expectations.
Award-winning Interior Designers in Hyderabad
Our interior design process always starts with a vision. While working closely with our clients, we understand their requirements, tastes, and preferences to create personalized designs that reflect their unique style and personality. Our team of experienced interior designers in Hyderabad and skilled craftsmen work together to bring the vision to life, ensuring that every aspect of the design is executed with precision and excellence to create spaces that are specially tailored to our clients.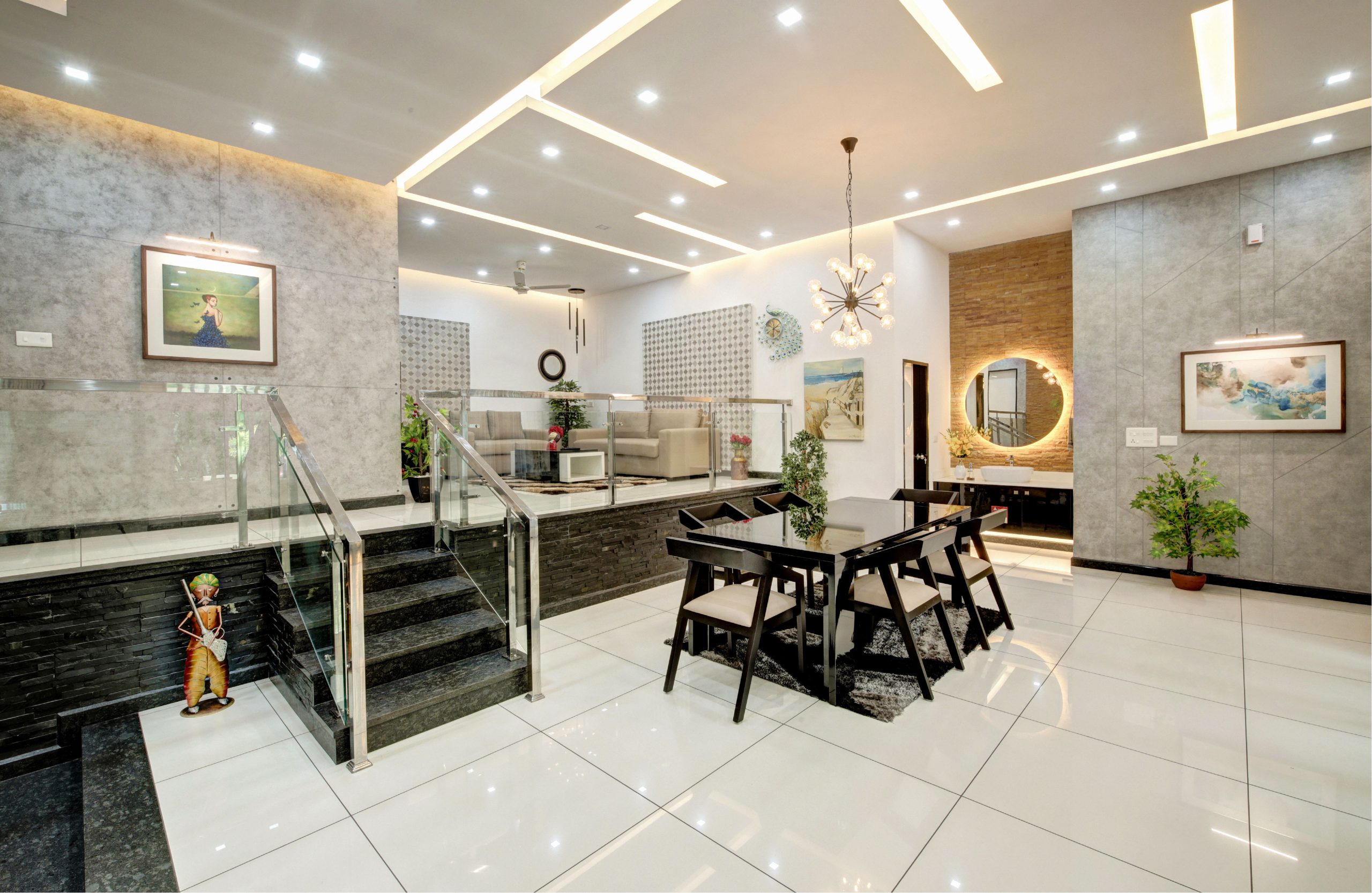 Our Design Process
Being the top interior design company in Hyderabad with a focus on creating bespoke, unique designs that are tailored to fit each client's needs, we create complete residential interior design services from the initial concept right up until installation and handover. At D'LIFE home interiors Hyderabad, we start all aspects of our design process by understanding the client's requirements. We then take their inspirations into our schematic design stage, which contains technical and rendered drawings. Once we convey the vision to our client and get their approval, we send the drawing for manufacturing at our state-of-the-art factory. D'LIFE factory is equipped with the most modern German machinery to achieve furnishings of impeccable quality and finish. The manufactured products are then sent to the delivery location, where our experienced technicians do the installation. D'LIFE's commitment to quality is evident in every step of the process, from design to installation. Our team ensures that each piece of furniture is crafted and installed with precision and attention to detail, resulting in a final product that exceeds expectations and lasts for years to come.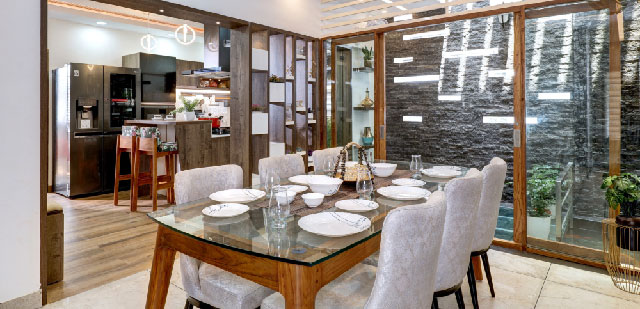 Homes that are a joy to live in
Interior design is at the heart of all our projects. We pride ourselves on taking a personal approach to each project. By combining the right services, trusted suppliers, and best quality execution steps to achieve the best results, our interior designers in Hyderabad are fully equipped to take on any residential project. With our expertise, we can transform any house into a home that brings joy to its residents. We'd love to hear from you about your project. Visit us or please get in touch with our Interior designers in Hyderabad to learn more about our design services.
Talk to Our Designer
FAQ
D'LIFE Interior Designers in Hyderabad are professionals who specialise in designing interior spaces for homes. Once you get in touch with us, we always make sure we understand your needs and preferences and then develop a design plan that meets those requirements while staying within your budget. From the initial discussion, designing, manufacturing to execution at the site and handover, we make sure to provide a seamless and stress-free experience for our clients throughout the entire process.
Hiring the best interior designing company in Hyderabad ensures that you get access to a team of experts who have the knowledge and skills to create a functional and aesthetically pleasing space that meets your specific needs and preferences. Additionally, working with us can save you time, money, and stress by ensuring that the project is completed on time, within budget, and to your satisfaction.
Absolutely. All our experience centers have interior designers who are trained to provide expert advice on how to create beautiful and functional living spaces. They can help you choose the right designs, colors, and accessories to match your style and budget.
D'LIFE home interiors in Hyderabad charges differently based on the scope of the project. However, we do offer interior design packages for our clients starting from 6.8Lac which include woodwork and decor for home interiors. Based on the type of design preferred, the size of the project, and the requirements, clients can customize the furnishings by discussing them with our team of interior designers.
A 3BHK interior design cost starts at 6.8 lac, which includes woodwork and decor for home interiors. Based on the type of design preferred, the size of the project, and the requirements, clients can customise the furnishings by discussing them with our team of interior designers.
To hire a D'LIFE home's premium interior designers in Hyderabad, you can start by visiting our experience centre in Banjara Hills or by calling us at +91 949 508 7777. Then, you can schedule a consultation to discuss your project requirements, budget, and timeline. Once you agree on the terms, our designer will begin the design process.
The time frame for completing an interior design project in Hyderabad is 35–40 working days. All the products for our home interior projects are made at our own state-of-the-art factory using the latest German machinery and are transported to the project location through our logistics team.
Yes, we offer a 30% discount on our interior design packages when you book directly from us. By avoiding retailers and when you get directly from us, you can save money and at the same time get better quality products and service at a lower cost.
Yes, our interior designers can work within your budget and provide you with design options and alternatives that complement your financial capabilities. Make sure to check out our interior design package offers to find out what we have in store for you.
Some of the latest interior design trends in Hyderabad include contemporary design, minimalism, biophilic design, and technology-driven design. However, it's essential to choose a design style that suits your personal preferences and lifestyle. We personally recommend you incorporate contemporary design styles into your home as they include curated furniture pieces, clear surfaces, and an emphasis on intentionality.
Yes, our interior designers can work on residential projects such as houses, apartments, and villas. We can provide the design and meet the needs of the clients, such as modular kitchen, storage solutions, aesthetically pleasing spaces, and functionality. Our scope of works include the complete woodworks, decoration and beautification, after the flooring.
In order to communicate your design preferences to a home interior designer, you can create a mood board, share inspirational images, and also discuss your personal style and preferences via WhatsApp, email, or phone call. We believe it's essential to have an open and honest conversation with your designer to ensure they understand your vision and can bring it to life.