Interior Designers in Trivandrum

Stating that the interiors can make or mar the overall look of a home is nothing but stating the obvious! No matter how big or small a house or flat is; what speaks of its beauty is its interior design. D'LIFE is one such renowned home interior designing company in Trivandrum that can turn a house into a dream home. Ever since its inception in 2012, Trivandrum showroom has not looked back with a rich record of happy client testimonials. An efficient team of consultants, project managers and top interior designers in Trivandrum work together in perfect coordination at D'LIFE as per the client requirements. Here, at D'LIFE the most creative and energetic team follows a systematic procedure at each stage with their experience, skill, and ability.
Buy Direct - 30% Discount
On Packages
100% Customized Interiors By Professionals
Visit Our Experience Centre In Trivandrum
D'LIFE Home Interiors
2nd Floor, Joshua Tower,
Paruthipara, Kesavadasapuram
Thiruvananthapuram Kerala, India
Call: +91 956 235 3333
Design, Production & Execution By Just One Company
Talk to our Interior Designer
& Get an Estimate
Detailed Drawing
and Approval
Production at Own
Factories
Material Delivery
& Execution
On Time Project
Hand Over
With its branch office cum showroom located at Paruthippara, D'LIFE excels in providing customized interiors works in Trivandrum and all the nearby areas. One can avail services at all areas like Kazhakkoottam, Vattiyoorkavu, Athiyannoor, Attingal, Azhoor, Edakkode, Iroopara, Kalliyoor, Kanjiramkulam, Keezhattingal, Peroorkada, Vellayambalam, Kovalam, Nedumangad, and Neyyattinkara. The company also boasts of providing interior designing and furnishing services in remote areas like Pallichal, Sreekaryam, Vattappara, etc. A wide range of options in terms of materials and colors for furniture is on display for designing bedrooms, living or dining rooms and modular kitchens. Contact us for the best in customized furniture and modular kitchen in Trivandrum district.
Why is D'Life the most preferred interior designer in Trivandrum?
Since 2004, D'LIFE Interiors has been offering residential interior design services in Trivandrum and other parts of Kerala. Through our years of operation, we have designed many residential properties in Trivandrum with the latest interior design trends, and now D'LIFE is regarded as the most sought-after interior designer in Trivandrum thanks to our distinctive approach to creating home interiors that are both aesthetically beautiful and functional. Our team of skilled designers collaborates closely with customers to learn about their preferences before producing unique designs that go above and beyond what is expected. Moreover, we incorporate the most cutting-edge technologies and contemporary designs in order to ensure that the end result is of the finest quality and that the designs are not only stunning but also long-lasting and robust.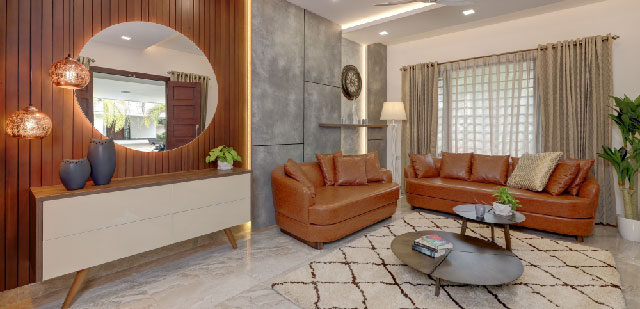 Creating value for our clients
Our goal is to create spaces that reflect the personality and lifestyle of our clients while enhancing their overall living experience. Using the latest design trends and industry standards, D'LIFE now sets the highest benchmark for the latest cutting-edge interior design. As one of the leading interior design firms, we pride ourselves on our ability to understand and cater to the unique needs and preferences of each client, and by offering personalised designs with a focus on quality craftsmanship and attention to detail, we create exceptional value on every project we undertake.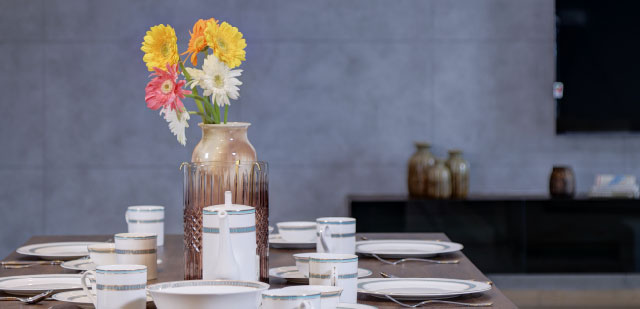 Leader in Customized Interior Works
D'LIFE has emerged as a leader in providing customized home interiors works in Trivandrum. Our designers are experts to customize furnishing to utilize the maximum possible space available in the rooms. They take into account the specific requirements of each and every customer to design each room, house or apartment in a beautiful way. Be it a modular kitchen, living or bedroom; rest assured to get additional storage space in a stunning way by an experienced interior designers in Trivandrum working at D'LIFE. Simply visit our showroom to view the display products and feel free to get an estimate for an interior contract work. Our highly talented team members will be in constant touch with you to provide updates and status during each stage of the project.
Talk to Our Designer
FAQ
D'LIFE is a full-service award-winning interior design company in Trivandrum, providing a bespoke and tailored interior for every client. We take on projects from start to finish, i.e., from the initial consultation to providing drawings to manufacturing the products and executing them at the site.
Yes. During the free initial consultation, we will discuss your needs and goals and provide you with information on our services and pricing. This consultation will help us determine if we are a good fit for your needs.
Our interior package for a 3BHK in Trivandrum starts at 6.8 lac. This includes all woodwork and decor. We also offer customization options to suit the specific needs and preferences of our clients, ensuring that they get a unique and personalised interior design for their homes. Contact us to learn more about our services and packages.
Generally, total interior design and construction will be completed within 35–45 working days.
Absolutely. We have done numerous home interior projects in India where the homeowners could not oversee the work. Our team offers online consultation services where the client will be able to discuss with our team their requirements and needs. You can connect with our team through Whatsapp, email or other online forms.
D'LIFE provides a 10-year warranty on all woodwork. This warranty covers any defects in materials or workmanship and ensures that the woodwork will be repaired or replaced free of charge within the specified period. Customers can rest assured that their investment is protected and that they are receiving high-quality products from D'LIFE.
We have a team of experienced interior designers in Trivandrum who provide personalized solutions to their clients and use only the best materials and techniques to ensure durability and functionality. Additionally, D'LIFE offers a 10-year warranty on the products, along with lifetime service support giving customers peace of mind.
D'LIFE home interiors currently serves across Kerala. We have showrooms and offices in major cities like Kochi, Trivandrum, Thrissur, and Calicut. Our team of experts is available to serve customers in other cities as well through online consultations and virtual meetings.
You can make as many changes in the design as you like before the designs are sent to the factory for manufacturing.
You can contact our customer relations team at +91 9567231111. They will be happy to provide you with more detailed information on the interiors and answer any questions you may have. Additionally, you can also check our website for photos and virtual tours of the interior spaces.