10 Interesting Modular Kitchen Designs
May 28, 2020
The Indian kitchens are so full of quick spicy deliciousness. With the changing lifestyle, people have become more focused on creating hearty kitchens that are both organized and lets one spend enough time with family. Due to the ease of systematic organization, modular kitchens have become a go-to kitchen layout for the Indian consumers as well as the interior designers. Here are some interesting modular kitchen designs to consider when building or renovating your next dream home
This Modern Red & Wood Kitchen is a Chef's Parade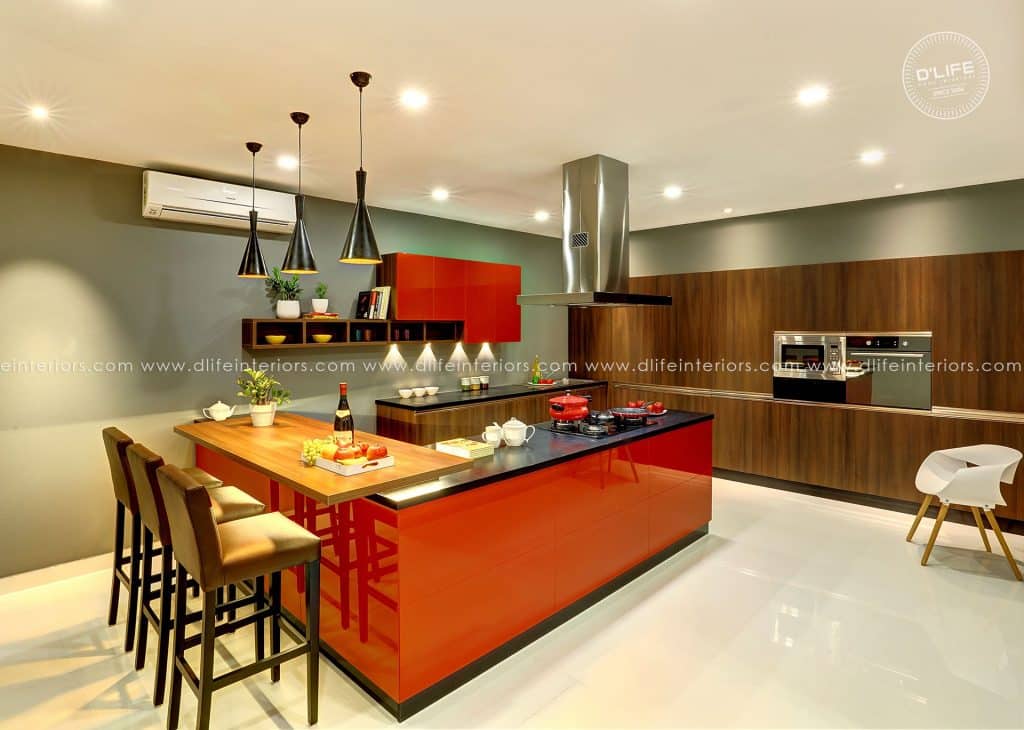 This modular kitchen packs a punch with its red cabinet designs. The design livens up the entire space making it perfect for family socialization and get together. Kitchen also features a breakfast counter for quick meals and conversations. The simple layout that this modern kitchen design carries helps to reduce foot traffic with ease of access. The mix of Woody and Granite top looks elegant and links seamlessly with the rooms beyond. Breakfast counter, however, holds the perfect contrast in the wood covered theme. In this, both modern and contemporary works are blended together along with an interesting mix of seating to bring in an informal look.
Keep it Neutral with Stylish White & Wood Finish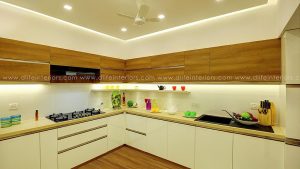 This is one Kitchen that gets a calm aura from its frosty white color scheme. The mix of white and wooden touch adds contrasts without breaking the theme of the entire home. The clean overhead kitchen cabinets in wood grain finish offer plenty of storage minimizing clutter complimenting the flow of the apartment. Ample bottom cabinets make space for storing plates and other kitchen utensils. This L shaped modular kitchen comes equipped with Flip-up soft close mechanism rather than the traditional into the face cabinets thus making more space and view.
Compact and Contemporary Modular Kitchen Designs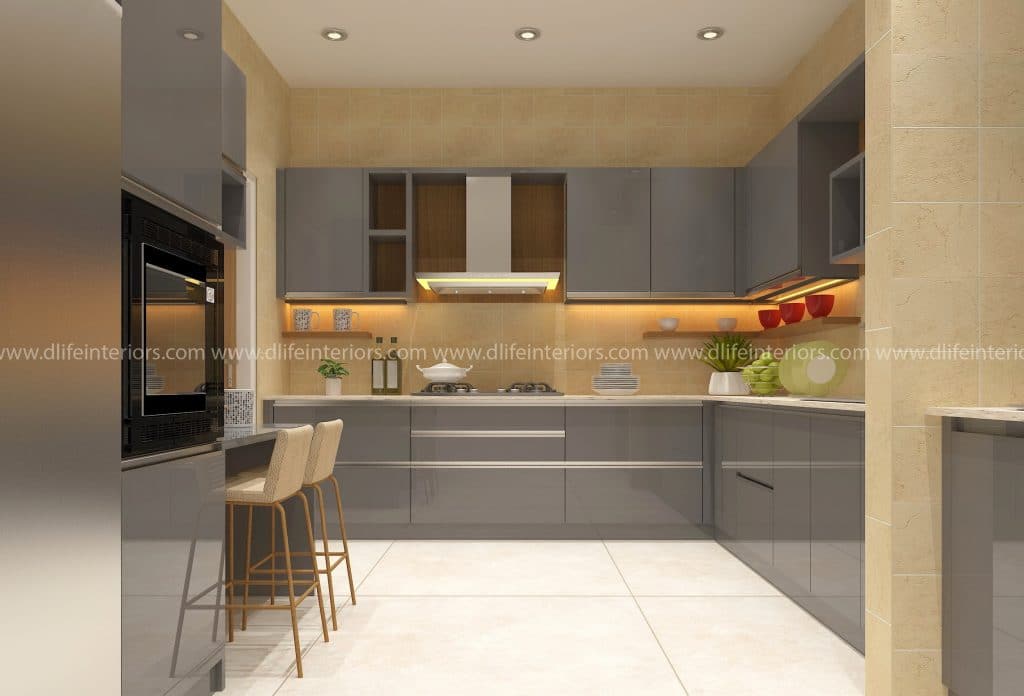 A compact, contemporary and a neatly streamlined kitchen is what every homeowner desires. U-shaped Italian modular kitchens are best suited for small kitchen spaces as it helps to separate kitchen utilities as per one's need. Here, the space for kitchen accessories is integrated into a single wall whereas the other side is used for hood and hob. The compact spaces for storage with vibrant aesthetics are easily accessible and designed to entertain the guests. The design ideas allow plenty of storage and make space for an ideal seating area.
Advance to a New World of Cooking with Grey and Woody Finish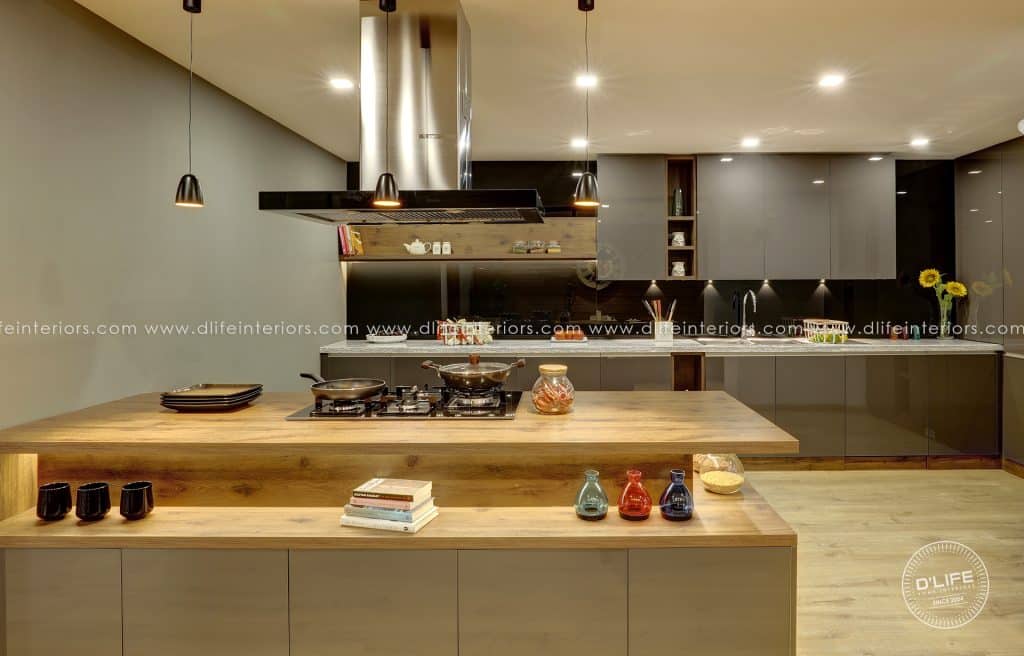 This German modular kitchen segregates the space to improve efficiency and creates a sparkly touch. Space has specific cooking, storage and preparation areas giving maximum utilization of space. This elegant kitchen draws visual attention through its unique color scheme and wooden flooring. Moreover, the monochromatic texture and the cabinets crafted in Gurjan Ply bring in a soft vibe to entire home furniture. The clean-lined, minimalist kitchen with monochromatic walls is full of cozy charm enhancing all its glory. Ceiling lights hang over the food preparation area, behind that is storage for kitchen accessories.
Snowy White Sculptural Kitchen that Carries Elegance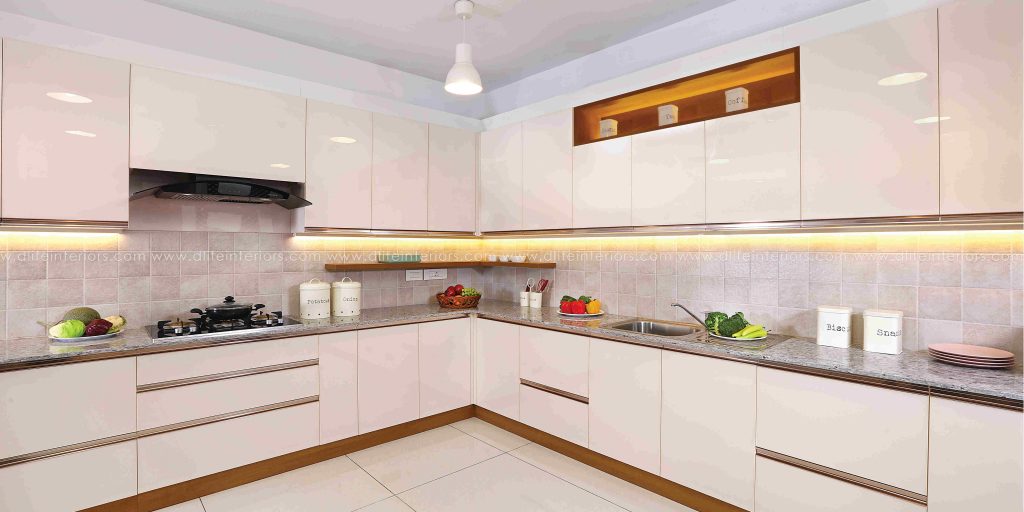 This modular kitchen with white design shows how one can efficiently maximize storage options without forming a clutter. Storage along the entire wall brings in maximum capacity ensuring the homemaker has a neat and clutter free cooking experience. This L shape kitchen with up and down handle free cabinets makes space look like a double height ceiling. How better to show it off for a striking layout? The kitchen comes equipped with LED lights to create a new dynamism making cooking more efficient. Low base units in this kitchen allow the injection of color from the flooring keeping the look fresh and modern.
Make the Kitchen Do Double Duty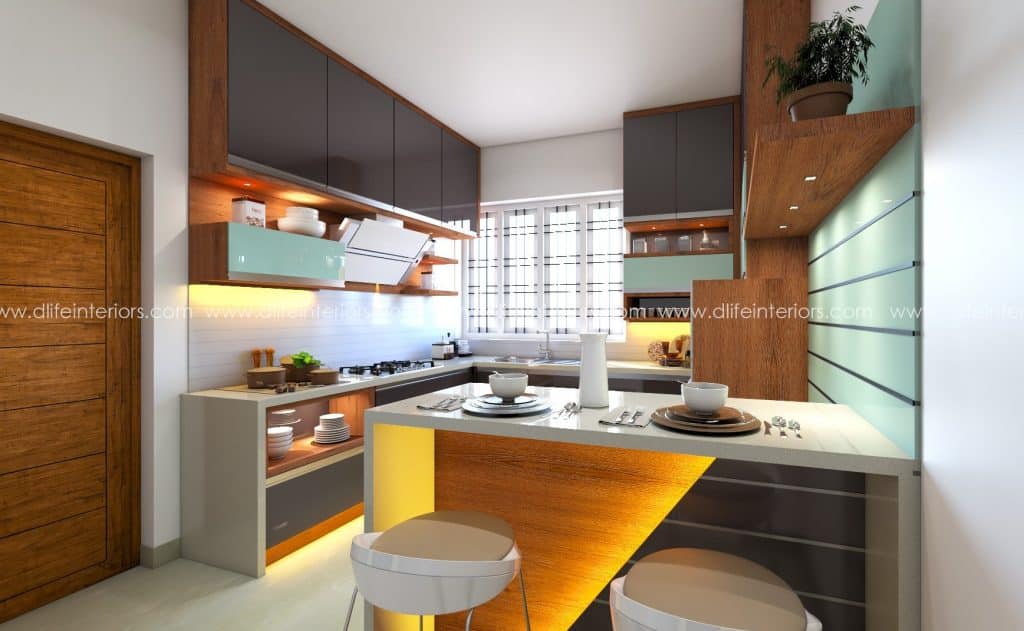 This incredible U-shaped modular kitchen  doubles as a countertop and a dining space. This U-shaped kitchen even sets the kitchen accessories in an organized manner with its ample storage options. The kitchen crafted with white and grey color offers an efficient way to use an awkward, unused area. Here shown is a kitchen design furnished in 100% Gurjan Ply with enough storage space and appeal. The perfectly planned platforms and breakfast counter make it the perfect kitchen & home design for any homemaker. The owners of this elegant kitchen are a keen cook, which is why; there are plenty of storage spaces and ample work surface.
Contrast with Black, Red and White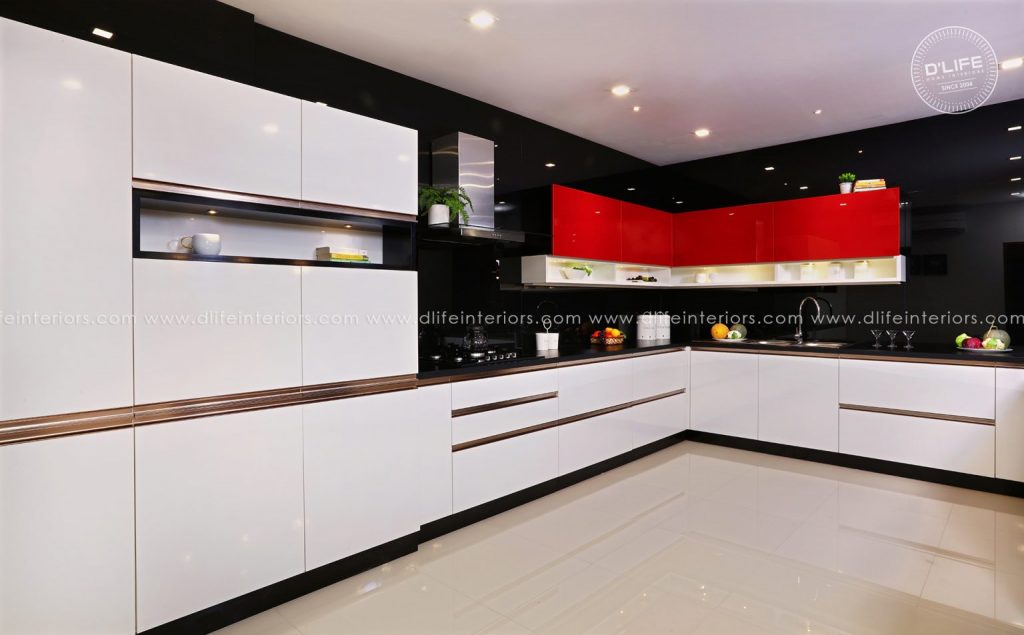 Open kitchen designs give the kitchen space a roomier aesthetics. The layout incurs careful planning ensuring there is adequate room for a refrigerator, sink, hood and hob, and food prep. The open-plan layout is made cozy with the warm touches in this Cochin home. The walls showcase a grey and black finish accompanied by kitchen cupboards in red and white finish with Hettich lift up systems that complement one another. The design is minimal and fresh giving a welcoming and cozy feel to the entire space.
Storage Spaces Go Full-Size in this Maroon–L Shape Kitchen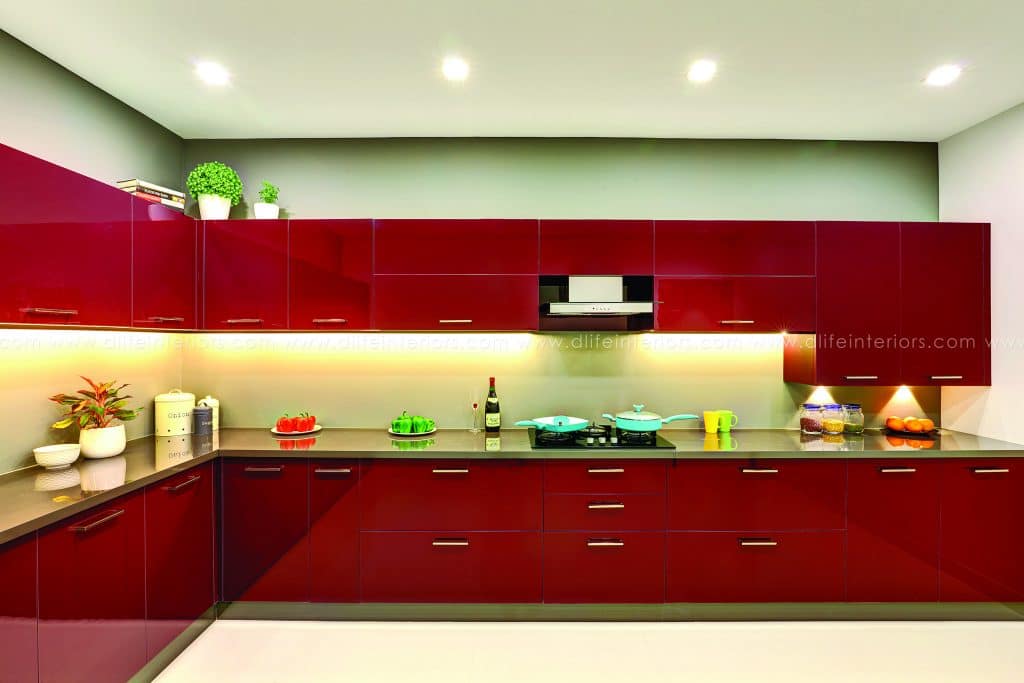 L-shaped modular kitchen designs are the most preferred kitchen designs for apartments or homes with a small area. Not only does it give a good look, but it also gives good space for people to walk around. In the case of kitchens, it is not the amount of space that matters but how well you arrange them. Moving away from the outdated styles, this elegant kitchen engulfs larger and in-depth cabinets that are better looking and efficient. One of the main advantages that come with this kitchen design is the creative aesthetics that comes with it.
Natural Wood & White Classic Straight Kitchen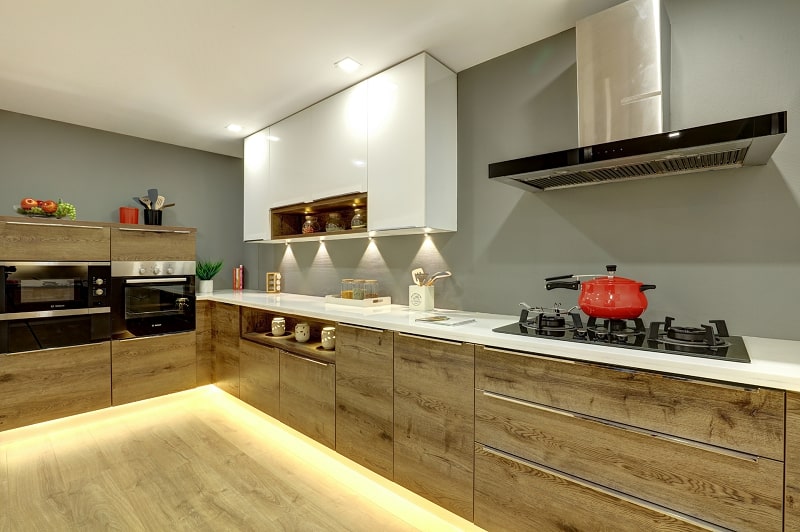 Both the aesthetics and furniture of this straight kitchen complement one another in this elegant home. The design in this uncluttered kitchen crafted with Gurjan Ply creates an uninterrupted view of the house throughout. The room scheme involves clean lines; handle-less cabinets, and sliding door cupboards for a contemporary practical addition.
This Kitchen with a Broad Breakfast Counter Blends It All Together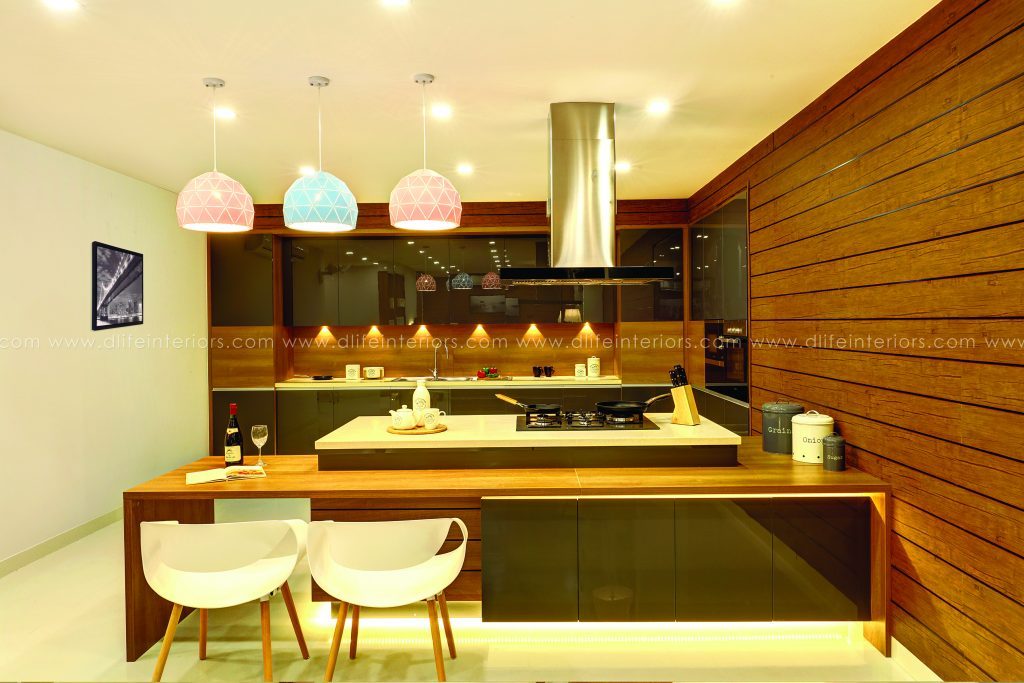 Dining space integrated with the kitchen is the new trend today. Creating a functional modular kitchen design like this makes space look more stylish. The kitchen here consists of two parallel countertops. The walkway in-between makes space for a well-organized chef like experience. Modern pendant lights hang about the kitchen island creating a striking and utilitarian feel to space. The ample storage space creates a stylishly utilitarian scheme with an eclectic mix of lighting and granite countertops. Since the family likes quite large areas, the kitchen gets a breakfast counter and a dedicated space for cooking where food can be prepared away from family but still serve them hot.
Go Classic with this L Shaped Wooden Finish Kitchen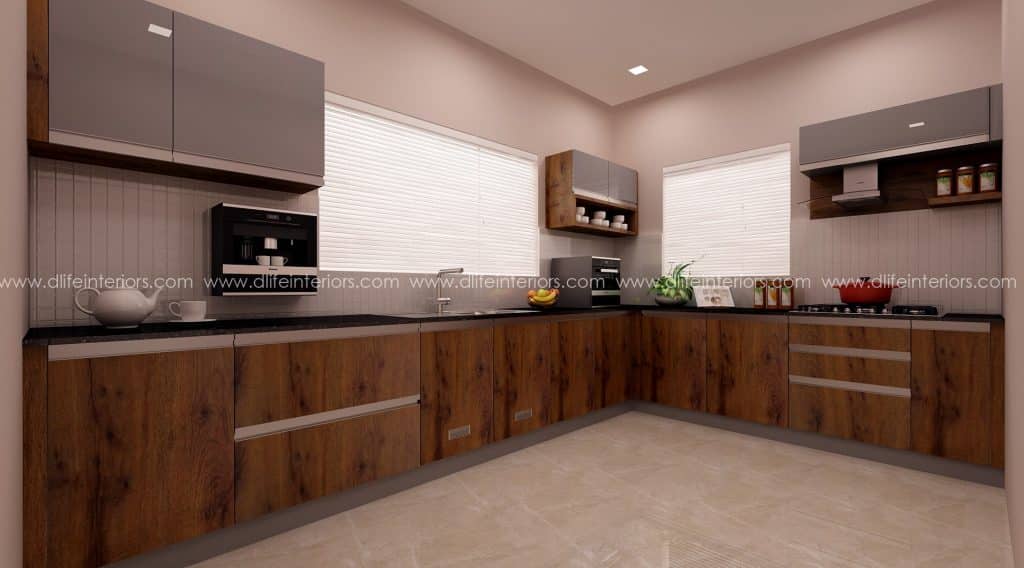 Every modular kitchen design has to be efficient and smartly designed. Here is one example of an elegant kitchen layout that offers enough storage. The L-shape engulfs an open plan style making it a contemporarily efficient layout. The adjacent countertops support  a working triangle offering better ease of access without disrupting the efficiency. The owners of this beautiful home decided to have wooden finish cabinets and chic storage cabinets with all Hettich soft close drawer systems. The color scheme adopted is contemporary and unusual.