Interior Designers in Thiruvalla

As the most sought-after interior designers in Thiruvalla since 2004, we have established good relationships throughout the community by committing to deadlines and product quality. D'LIFE's interior design services are aimed at crafting elegant functional spaces that are custom-made to meet client needs and vision. Our home interior designers have extensive knowledge of creating world-class living spaces that are sophisticated and luxurious. We have completed over 9000 projects and are supported by 20 experience centres across India. We also have a state-of-the-art factory spanning 1,25,000 sq ft in Kerala and Karnataka equipped with German machinery, making us one of the largest interior design firms in the country. With our vast experience and commitment to excellence, we strive to exceed our clients' expectations and create spaces that are not only visually stunning but also functional and practical.
Buy Direct - 30% Discount
on Packages
100% Customized Interiors By Professionals
Visit Our Nearest Experience Centre
D'LIFE Home Interiors
1st floor, Home Basics Spice Building
Puthupally Road, Kanjikuzhi,
Kottayam, Kerala, India
Call: +91 75589 92222
Design, Production & Execution By Just One Company
Talk to our Interior Designer
& Get an Estimate
Detailed Drawing
and Approval
Production at Own
Factories
Material Delivery
& Execution
On Time Project
Hand Over
Transform your living space with the most trusted interior design company in Thiruvalla, our Kottayam experience centre at Kanjikuzhy is strategically located to cater to the diverse needs of residents in Thiruvalla. Just give us a call, and we will schedule a consultation with our experienced designers, who will assist you in transforming your space into a 100% beautiful and functional environment. Our experience centre boasts our latest living room, dining bedroom, and modular kitchen designs for our clients to experience the quality and finish of all D'LIFE products. Our passionate team will be happy to assist you in creating a customised design plan that suits your specific needs and preferences. We can cater to locations like Kunnamthanam, Payipad, Kavumbhagom, Kumbanad, Pullad and Kozhencherry.
Lifetime After-Sale Support for Every Project
At D'LIFE, we are dedicated to offering the best design solutions that are built to last with a stringent focus on quality, on-time delivery, and client satisfaction. In addition to this, we offer our products a 10-year warranty, and our dedicated service team will provide after-sale support for all your interior needs. Our creative interior designers and project managers are committed to providing lifetime support to our clients, ensuring that design solutions continue to meet their needs and preferences. We also believe in establishing long-term relationships with our clients by offering assistance and guidance whenever needed. Irrespective of the size of the project, you can always count on our expertise and experience at all stages.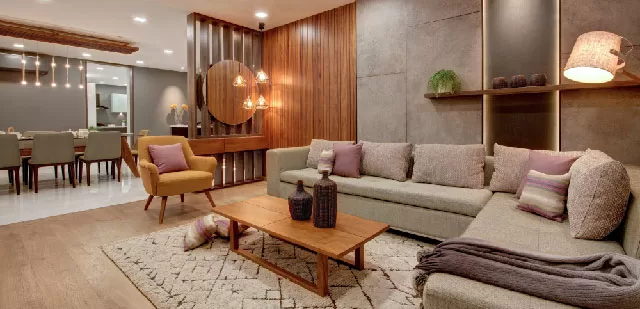 Creating Contemporary Interiors With Passion
We understand that interior design is all about capturing the essence and spirit of each client. With a vision to offer the most distinct and recognisable services, we design projects that are tailored to their unique preferences and personalities. Our team of interior designers in Thiruvalla has extensive product knowledge and is dedicated to offering the best services and coordination throughout the project. D'LIFE creates bespoke designs for every room of the home, creating custom-made furnishings, and that is what makes us special. Whether the project is grand or minimal, our team goes through every process with an intimate understanding of the client and their needs, reflecting their style and character.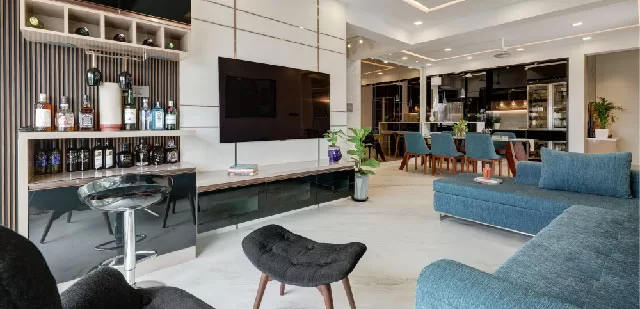 Homes That Breathe Happiness Inside
With over 19 years of experience in delivering award-winning projects across India and meeting clients of a wide range of styles and genres, we have always created refined and inviting interiors. Using brilliant taste in contemporary designs and a touch of sophistication, we have established ourselves as leaders in the industry. Our team of talented interior designers in Thiruvalla is dedicated to bringing our clients' visions to life, ensuring that every detail is carefully considered and executed flawlessly. With our expertise and passion for creating stunning spaces, we are confident in our ability to turn your dream home into reality.
Talk to Our Designer
FAQ
D'LIFE's Interior designers in Thiruvalla offer full home interior design services from initial consultation to handover, including space planning, color consultation, furniture selection, lighting design, material sourcing, manufacturing, execution, and project management. We specialise in creating functional and aesthetically pleasing interiors for residential spaces.
D'LIFE home interiors in Thiruvalla is known for its exceptional craftsmanship, attention to detail, and customer-centric approach. We have a team of experienced designers who create innovative and personalised designs tailored to the specific needs and preferences of their clients.
Yes, you can explore D'LIFE's portfolio on their website or request to see their previous projects during a consultation.
The duration of an interior design project in Thiruvalla is 40 working days once the designs are finalized by the client.  
The cost of furnishing a 3 BHK apartment in Thiruvalla depends on several factors, such as the size of the project, the scope of work, the materials used, and the level of customization. At DLIFE, we offer an interior design package that starts at 6.8 lac. This includes complete woodwork furnishing and decor for a 3-bedroom home.
Yes, D'LIFE Home Interiors offers customised furniture solutions. We have a dedicated team of skilled craftsmen who can create bespoke design pieces tailored to your design preferences and spatial requirements.
D'LIFE Home Interiors believes in involving clients in the design process. We value your input and work closely with you to understand your vision, preferences, and lifestyle requirements. Even if you are not physically available on site, we can connect with you through WhatsApp, email, or video calls to understand your requirements and needs. We provide regular updates, and all the processes on site will be handled by our team of professionals.