5 Most Common Shapes of Modular Kitchen
July 16, 2015
Select the Best Suitable from 5 Shapes of Modular Kitchen
Kitchen is the heart of any home and it is much more than a place for cooking. Therefore, we have to give proper attention and importance for designing them while building a house or buying a flat in Kerala. As per the culture of Kerala, whether it is flat, villa or independent house, it will have cooking, preparation, cleaning and storage areas. Arranging these areas efficiently by utilizing the maximum space for smooth work, hassle free movement and ample storage is not an easy task. Moreover, modern lifestyle demands systematic kitchens to organize things conveniently. Here, you can think of a customized one instead of going for readymade options available. Below are the 5 shapes of modular kitchen by DLIFE Home Interiors in Kerala & Bangalore.
"L" Shaped Customized Modular Kitchens with Connected Work Area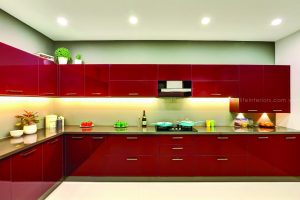 This shape is suitable for small, medium or large sized kitchens. As the name indicates, they are in the shape of the alphabet 'L' and fit between two adjacent walls. This design provides a continuous work area along with efficient corner space. In addition, more people can work at the same time. In this case the kitchen can also incorporate a dining space. Extend one of the countertops if required, and use it as a quick meal or breakfast counter.
"U" Shaped Modular Kitchen with Ample Storage and Facilitated Style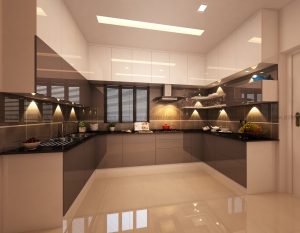 U Shaped designs from D'LIFE are ideal for medium and large sized kitchens as they provide abundant storage space. The counter tops mounted to three adjoining walls offer plenty of space for cooking. Storage cabinets separate kitchen space into multiple work areas. Many people can work at the same time and there is no disruption in movement from one area to another. Length of counters are adjustable to add an additional preparation area or a mini food counter.
Straight Line Kitchen Design Make it Simple and Elegant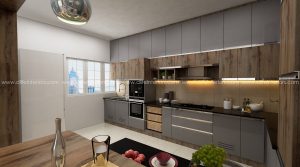 Straight-line layouts are the simplest in 5 shapes of modular kitchen designs. Easy access to appliances and accessories is its key feature. Hood and Hob, Preparation area and sink are next to next on a single counter top. However, storage space is less and cabinets are built overhead and bottom of the counter. The number of users should be limited to one or two. D'LIFE Home Interiors plan and execute this design very well. It is useful and convenient for small spaced or long kitchens.
Parallel Designs for Cooking Enthusiasts
Parallel kitchens provide efficient designs having two working areas on counter tops of opposite walls. Cooking area and Sink is on one countertop and the other can be used as an additional workspace to prepare and keep appliances. Thus, wet and dry areas can be easily separated. This helps to keep the cooking area dry and sink on the other countertop. Chefs and cooking Enthusiasts prefer this design as all things are in easy range.
Island Kitchens with Dining Place within the Kitchen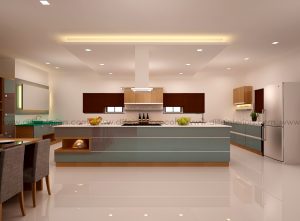 Island designs have elegant looks and are apt for spacious kitchens. In this layout, D'LIFE builds an independent countertop that provides an additional work area or storage for appliances. Kitchen doubles up as a cooking space and a dining area for small families. As the island counter has access from all sides, passage inside the kitchen is flawless. Thus, it allows many people to occupy at a time. This design is perfect for integrating workspace, storage and dining to a single place.
Select Most Suitable Shape as Per Kitchen Space
Picking an appropriate shape for a kitchen depends on its size, available space, position, and orientation. Besides these, tastes and cooking habits of the persons, most probably female members of the family should also be considered. As modular kitchens are a permanent installation, it cannot be rebuilt or altered easily. So be cautious while selecting. As an experienced interior designing company in Kerala, D'LIFE gives custom-made designs for every project according to the requirements and characteristics. Thus, you get a most suitable shape for your kitchen with comfort and expediency.
Add Most Modern Style & Utility to the Shapes of Modular Kitchen

Classic finish and quality are the prime features of customized modular kitchens by D'LIFE. They use all side-laminated hardwood MDF and marine plywood having sleek design and finish for storage cabinets. Hood and hobs, accessories, hinges, Granite slab for countertop etc. are also stylish and fashionable. Washable wallpapers are trendy as well as pleasing to the eye. Totally, D'LIFE adds the most modern style to the kitchen. Click here to watch a video of a modular kitchen, its accessories, and shades and finishes available.
Convenience of Storage and Freedom of Movement
All the shapes of a modular kitchen must be user friendly. The key factors that determine user friendliness are convenience for storage and freedom of movement. D'LIFE provides overhead and bottom cabinets for storage that are easy to reach from the work area or cooking area. The work triangle forms between the hob, sink and preparation area that controls the ease of transfer in the kitchen. In addition, the most suitable design and best quality materials make a fully functional and beautiful kitchen for your house or flat.