8 Points to Remember When Planning a Modern Kitchen in Kerala
September 01, 2015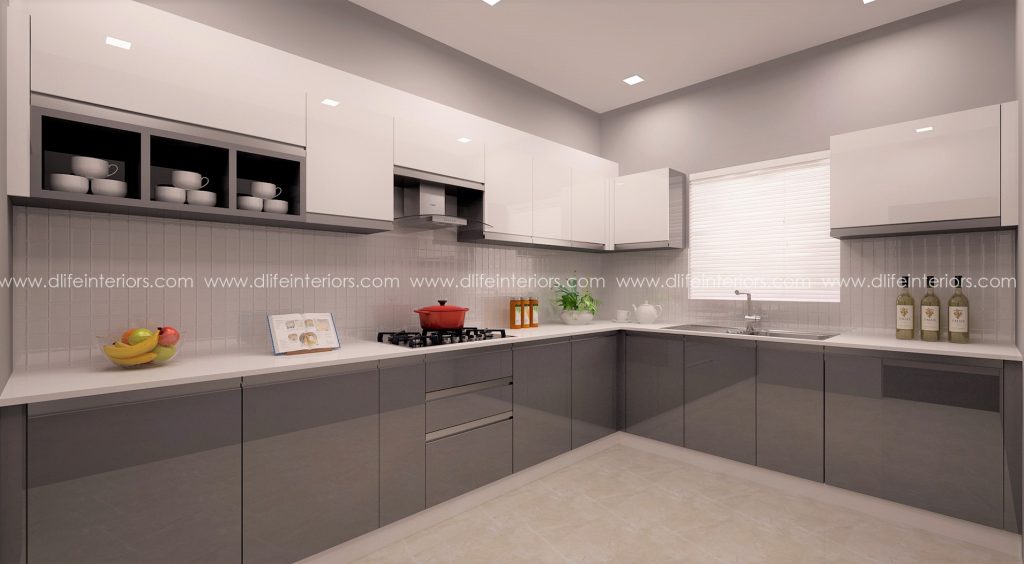 Modern kitchen beautify the house, ensure convenience in cooking, and aid in better organization. While thinking of a modular kitchen, prime focus must be given to the storage facilities, accessories, and suitability to the space. Only a professional interior designing company can provide the right blend of style, beauty and functionality for a kitchen that completely transforms into your choice. Here you can read about many things to consider while planning for a modern kitchen in Kerala.
1. Kitchen Design
Giving importance to size and shape while designing a modern kitchen in Kerala, can help in making the most out of kitchen space. Available space plays a significant role in its functionality and user-friendliness. A straight-line kitchen has a sleek look where as L shaped is most preferred. There are 5 shapes and styles of customized modular kitchens in use. One can also think of combining these basic shapes if the space permits. Better leave it for an expert interior designer to suggest the suitable design, check, discuss and approve to go ahead.
2. Materials for Modern Kitchen in Kerala

Another most important matter to consider is the type of materials for modular kitchen cabinets. Kitchen is an area that get wet frequently and therefore require laminated materials. Marine ply for the cupboards ensure better durability and strength. All side laminated marine Ply is water-resistant and durable, therefore a good option. Therefore, it is advisable to use laminated M.D.F for the shutters and granite slabs or Korean tops for countertops.
3. Ease of Movement & Reach
Even an average homemaker spends a good amount of time inside the kitchen. Therefore, it must be a convenient place for smooth working of modern housewives. Adjusting the Elevation of overhead cabinets can help to get maximum reach. Similarly, the depth of countertops also should be comfortable for all persons using the kitchen. Make sure that frequently used items are easy to reach. Workspace, hob and sink should be placed such that there is no movement hassle and more people can work at the same time without any inconvenience.
4. Modern Kitchen Accessories
Accessories used inside the cabinets should be perfectly suitable to the needs and matching with the kitchen. Ensure quality stainless items of reputed brand while selecting accessories for modular kitchen. You can pick standard or premium quality branded accessories rather than compromising with local made products to ensure durability. Choosing the right size helps to get the drawers and doors of storage cabinets fitted easily and utilize corner space effectively. An experienced interior designer can help in getting the right things in place.
5. Storage Cabinets
Storage cabinets give an elegant and sleek look and style to every modern kitchen in Kerala. Select a matching color with other furnishings to get a natural appearance. They are one of the aspects that determine the ease of work in a kitchen. For better experience, it must be spacious enough to store everything from pot to pan. Adjust the width and depth of cabinets according to your preference. Be careful to select premium quality hinges and handles for cabinet shutters as its constant use may cause breaking up. Place the overhead storage cabinet in a convenient height for more comfort.
6. Hood or Chimney
Cooking habits of Kerala includes excessive usage of oils and spices. The stench smell of spices and cooked food hung in the air may cause unpleasing impression. Vapors of oil, steam and smoke can dull the beauty of kitchen. A good quality hood or chimney deplete and distinguish odors. Several models with wide features and auto function are available in the market. Choose a 60 cm or 90 cm hood with appropriate functions according to the size and number of burners of your hob.
7. Lighting & Colors
Ambient lighting over the cooking area and workspace is necessary inside a modern kitchen in Kerala to work smoothly. Other areas can be lightened up to enhance the beauty of the kitchen accordingly. Be vigilant to avoid shadows of overhead storage cabinets over the cooking area and countertop. Make use of day light with electrical light to get a natural balance while lighting up a kitchen. This is helpful for creating a lively mood and cooking with ease during the daytime. Light shades of colors matching with the walls makes the kitchen look brighter.
8. Maintenance & Service
Kitchen is the most used area of a house or flat and therefore there may be chances of repair or maintenance in long run. Before giving order for a customized modular kitchen, enquire about the warranties and after sales services offered. As it is a long term investment, and cannot be replaced shortly, you require long-term service. A professional interior design company in Kerala can offer you a lifetime service. Hiring them will be better to get ultimate perfection and uniqueness. This service is available in Cochin (Ernakulam), Kottayam, Trivandrum, Trichur, Calicut, Kollam and other major places of Kerala.