How Abstract Interior Design Can Add New Dimension to Your Home's Interiors
May 12, 2023
If you love abstract interior décor, and are ready to explore its space and color but you're not sure where to start, here are some tips from the design experts.
What is Abstract Interior Design?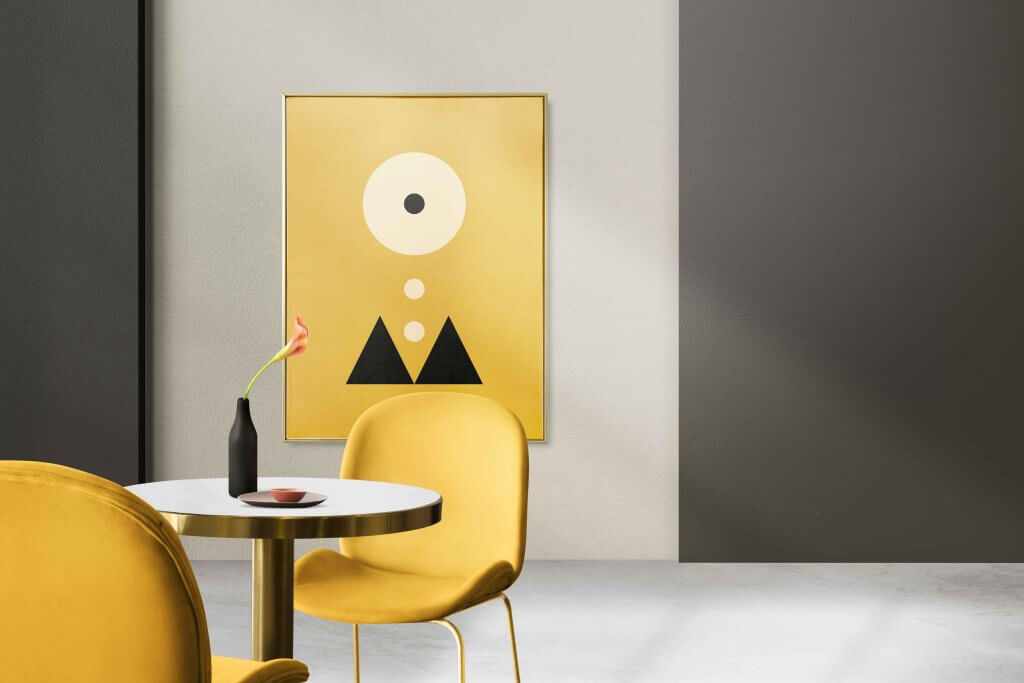 The abstract design is inspired by abstract art and modern, retro, and minimalist design trends. The design style focuses on emphasising lines, colours, patterns, and shapes, where you get to showcase your personality with patterns, shapes, and unique statement pieces. What's interesting about abstract interior design is that this decorating approach challenges the eye with its bold, eye-catching colours.
Abstract interior design also focuses on shapes and patterns, with asymmetrical lines and geometric shapes adding interest to the room. The use of textures is also important in this style, with materials like concrete, metal, and glass adding depth and dimension to the space. Another unique aspect of abstract interior design is the emphasis on art and sculpture. Bold pieces of art are often used as focal points in the room, with sculptures and other artistic elements adding visual interest throughout the space. This style encourages creativity and individuality, allowing homeowners to express their unique personalities through their home decor.
What Makes Abstract Interior Design Special 
Colour
Stylish and bold colours that still make the interiors look calm and serene are the highlight of having an abstract interior. Colours that are not commonly seen together are paired to create a unique and visually stunning space.  Overall, abstract interior design is a bold and exciting approach to decorating that can transform any space into a work of art. 
Furniture
Abstract interior design usually means stepping outside the box. This type of design style reimagines ordinary furniture into something extraordinary. Instead of traditional shapes and colors, abstract furniture features unconventional lines, asymmetrical shapes, and vibrant hues. It's all about creating a statement piece that stands out in a room. For example, an abstract coffee table with a unique shape and bold color can be the focal point of a living room. 
Lighting
Abstract lighting fixtures are another way to incorporate abstract design into your home decor. These fixtures often feature geometric shapes or unusual materials like glass or metal wires. They can add an element of surprise to any room and create interesting shadows on the walls. 
Wall Art
Abstract wall art is a popular choice for those who want to express their creativity through their home decor. From colorful paintings to modern sculptures, there are endless options for incorporating wall art into your space. It's important to choose pieces that complement the overall color scheme and style of your room. 
Patterns
Adding attention-grabbing geometric patterns in your living room or bedrooms is another way to bring abstract interior design to your home. This involves challenging patterns with textiles and bold colours. They not only add visual interest but also make a space feel special. 
Accessories
Finally, accessories are the finishing touch to any interior design project. Abstract accessories like throw pillows, rugs, and vases can add the perfect touch of abstract design to your home. When choosing accessories, consider the colours and patterns already present in your space. If you have a neutral colour scheme, bold abstract patterns can add interest and texture. Alternatively, if you have a colourful space, choose accessories with more subdued patterns or solid colours to balance out the room. Mirrors are also another great accessory to incorporate into an abstract design. 
Benefits of Abstract Design
Abstract interior design can create a clean look; and due to the versatility it holds, it can be used in both small and large-scale home projects. Abstract design also gives a great way to add interest to your space without making it too flimsy or overwhelming.  The abstract design is a perfect way to create a clean and sophisticated look in your home. It is versatile and can be used in both small and large-scale projects. An interior designer will be able to help you draw out the beauty of abstract design  and add interest to your space without overwhelming it. It creates a sense of calmness and serenity, which is perfect for those who prefer a minimalist approach to interior design. 
The abstract design also allows you to play with color schemes, textures, and materials, giving you endless possibilities for customization. Whether you prefer a monochromatic or bold color palette, abstract design can help you achieve the look you desire. Overall, abstract interior design is an excellent choice for those who want a modern and elegant home that reflects their unique style and personality.