Bedroom Interiors in Kerala as Part of New Home Furnishing Works
October 21, 2016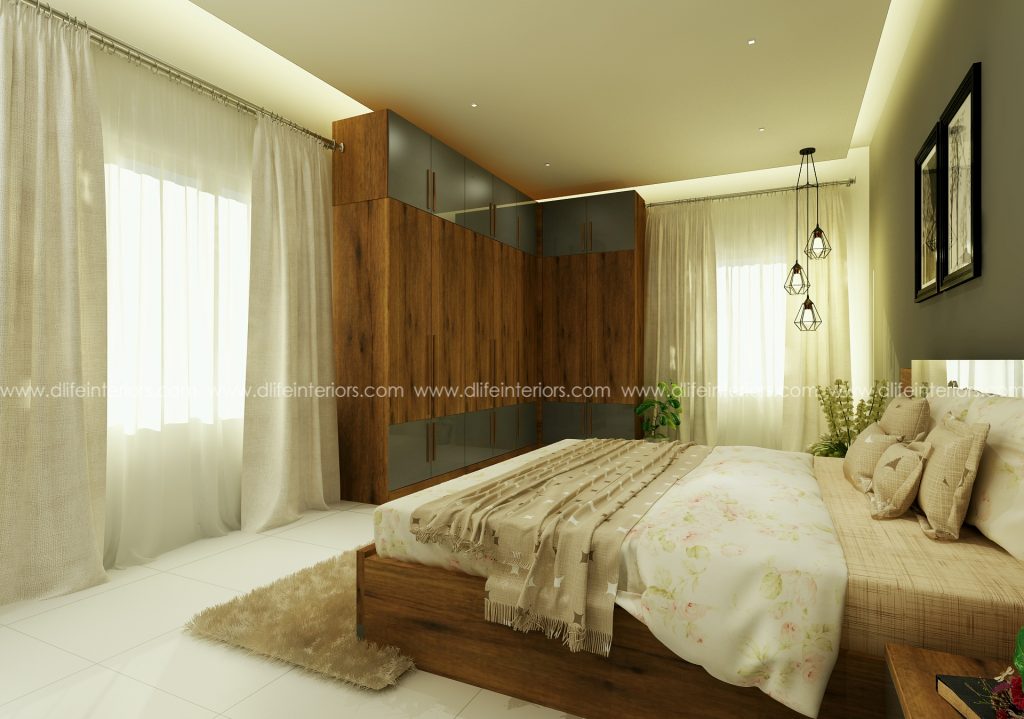 Interior designing and furnishing is essential for the visual appeal and proper functioning of a bed room. It is not about being pretty or pleasing but selecting most suitable items and furniture. This is a process of determining requirements and setting up furnishings as per need. Choosing materials, colors and lighting are equally important to make beautiful bedrooms for a flat or house. Let us have a look into some designing ideas and must have furnishings that can be implemented by professionals for bedroom interiors in Kerala.
Master Bed Room
Bedrooms are the place where we need comfort as well as convenience. Therefore, it must be given priority while furnishing the master bedroom. King size bed having 198 cm length and 187 cm width with two side tables is apt for a big master bedroom interiors in Kerala. At least a 3-door wardrobe with a dressing table is necessary. Rest of the furniture as per requirements or according to the size of the room. You can also include a dressing table, reading table or a TV display unit as it may suit. A right color combination can make your master bedroom a perfect relaxing retreat.
Guest Bed Room
Guest bedrooms must be casual and charming and thereby you can make the guest feel cozy and welcome. The bedroom interiors in Kerala need only minimal furnishings but essential furniture are a must. Queen size cot having 198 x 157 cm dimension, bed side tables and a 3-door wardrobe is enough. You may go for a big wardrobe, a dressing table or book shelf, to make use of this space to the best. The design and furnishing must be done to make your guest stay comfortable and convenient. An expert interior designer can help you in furnishing your guest bedroom.
Children's Bed Room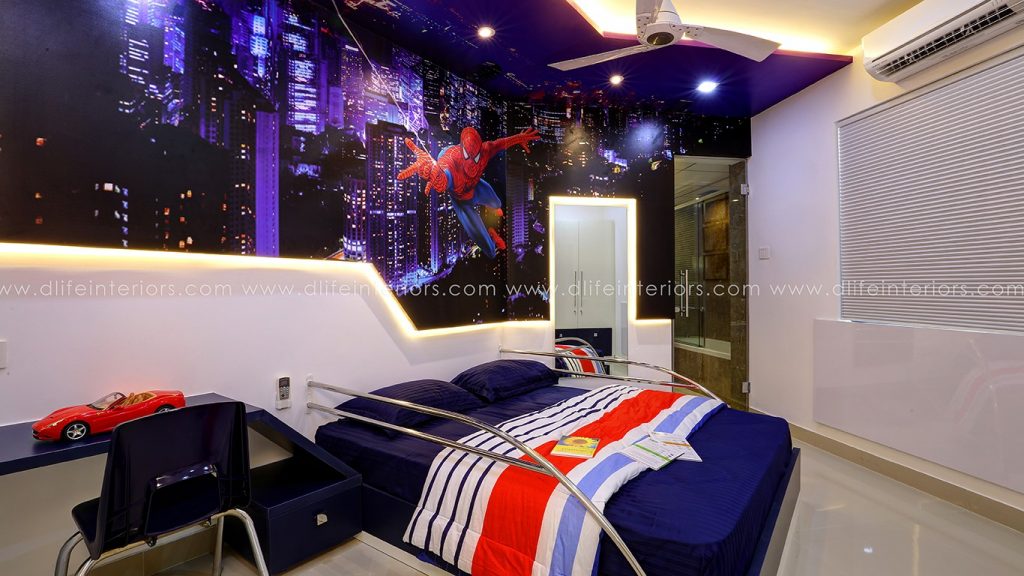 Transform your child's bedroom into a paradise with a lot of creativity from a professional firm. Think of bunk beds or separate beds and a study table with enough shelves for keeping books and other study material. Wallpaper also plays an important role in children's bedroom interiors in Kerala. Pleasant colors and ambient lighting can make necessary environment for children to learn, relax and grow. Colorful accents create a bright kid's bedroom to their delight. Bed sheets, accessories, wall hangings etc. that suits the age is new trend in children's bed room.
Some clients prefer separate colors for each bedroom when most of them these days go for a single color theme. While some clients desire to have large size furniture for all the rooms, some go for standard size to fit their budget. Hence, the service of customized bedrooms by interior design company in Kerala managed by experts is attracting a lot of modern home makers.