Applications & Benefits of Using Lacquered Glass in Interiors
April 20, 2021
What is Lacquered Glass?
Lacquered Glass is a unique kind of glass primarily used in interior works. What makes it special is its opaque appearance and brilliant color. It is created through the special manufacturing process of coating lacquer on one side of a regular glass sheet and baking it over a furnace at a consistent temperature. Lacquer is a tinted liquid that is usually used to paint on wood or metal. Lacquered glasses combine the best of both these materials. In addition to the outstanding visual appeal, this glass has an exceptional ability to resist moisture and heat. This durability makes lacquered glass a long-term investment for your house design.
To ensure durability, lacquer is often applied to the back of the glass. With its shiny and colored surface, combined with glass, it's very easy to maintain and makes it perfect for almost all interior requirements. It is low-maintenance, durable and long lasting, UV, heat, and humidity-resistant, and is a treat to the eyes. Lacquer is a combination of film forming materials, which are either synthetic or natural for creating ornamental or protective coating. Lacquered Glass adds a new color and ambiance to the interior decor be it for homes, offices, and hotels making it suitable for the most demanding locations and Inspiring modern-day designs.  Lacquered glass interiors have become the latest trend of the times, with more people renovating their houses and furniture with this exclusive material. In this article, we provide you three ideas to implement the beauty and benefits of lacquered glasses to the interiors of your habitat.
Applications of Lacquered Glass in Interior Works
Give Premium Finish to Kitchen Cabinet Shutters
Much like colored glass, the lacquered ones are available in a variety of brilliant hues. This can bring superior quality to the Cabinet shutters in your kitchen. Unlike the old style kitchen cabinets, these glasses do not let light pass through them. This will make sure that the contents of the kitchen cabinets remain out of the sight of your visitors. You don't have to hurriedly rearrange the kitchen every time an unannounced guest arrives. This will provide a minimalistic and elegant appeal to your kitchen cabinets. Due to its high resistance to heat and moisture, you have fewer things to keep your mind worried about. Lacquered glass, without difficulty, can retain the original shade of its color for years without undergoing any fading. And additionally, it is easy to clean and maintain.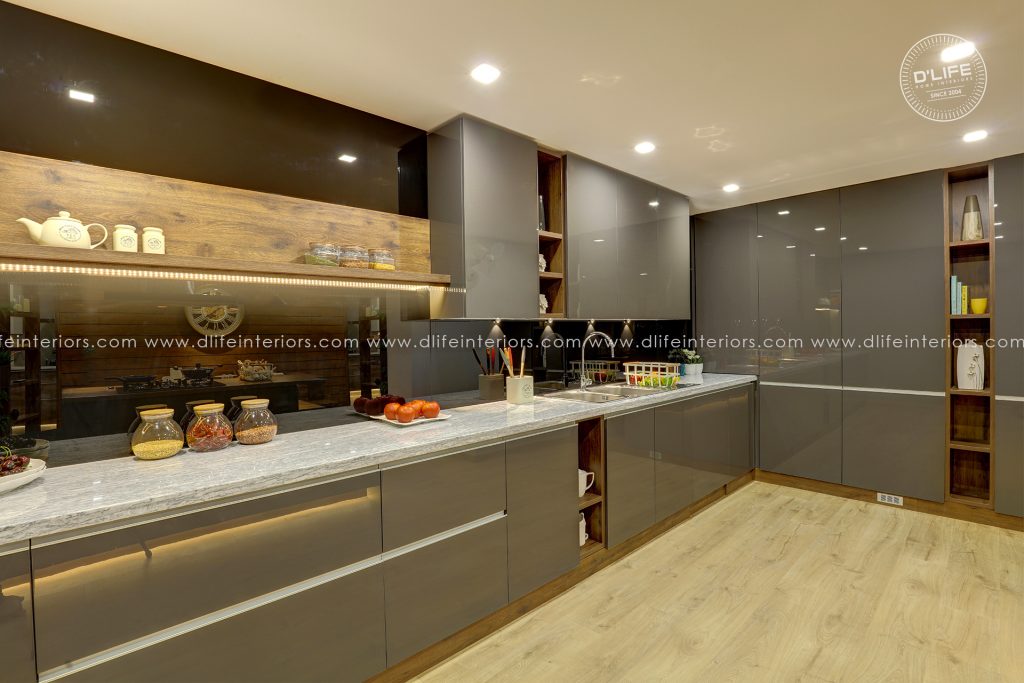 Lacquered glass interiors are becoming very popular in homes today. Since lacquered glass is durable and low-maintenance, use of lacquered glass is a good choice for modular kitchen interiors. Moreover, its ease in cleaning makes it the most demanding by the modern day house owners. Lacquered Glass can be used for Kitchen cabinets, kitchen counter, and kitchen backsplash without losing its natural charm and integrity.
Create Exquisite Furniture Pieces
Pieces of furniture can easily undergo fashion changes. But you don't have to purchase the newest models to keep up with the ever-changing trends. With lacquered glasses, revamping the adornments of your furniture has become an easier task than ever. You can bring a modern and sleek appeal to your chairs, cabinets, or tabletops. The new looks will be accompanied by extra merits like scratch resistance. This saves you from the trouble of treating furniture like a delicate object. This makes lacquered glass interiors suitable even for households with children as well. Owing to its unique manufacturing, It is clean and environment-friendly.
If you are looking for a modern furniture layout for your rooms, an elegant furniture piece with lacquered glass finish is the right one for you. With its highly delicate properties, lacquered glass infuses a lively look. Tabletops using lacquered glass gives out a superb finish and modern look and even more, with the right color combinations, it gives a complete makeover to the interiors.
Elevate the Style of Some Wall Areas
Want to add a splash of color into your boring monotonous interior? Simply add lacquered glass. Whether it is a living room wall, bedroom wardrobe panels or kitchen backsplash, lacquered glass is colorful and lustrous and takes any space to a whole new level. Due to its shiny and reflective surface that creates brighter space, Lacquered glass creates smooth, homogeneous surfaces as wall paneling.
Wall panels made of lacquered glass will bring a luxurious dash to your walls. It will also save you a lot of money and effort in the long run. Apart from this, lacquered glasses give you ample flexibility to experiment with different styles because they can be easily cut, drilled, and remodeled to diverse requirements. The vibrant shades of the lacquered glass and the light effects it brings about will uplift the style of your inner walls. The hue and the light together will bring the other elements of design to life as well. Their durability makes lacquered glass suitable for all locations- be it the kitchen or bathroom.
Lacquered glass interiors are more than just its good looks and flawless finish. They are extremely low-maintenance, are available in a wide variety of colors, are highly resistant to scratches, and do not fade. With its unique properties to be cut, and edge-finished, lacquered glass gives the interior designs a lot of options to experiment with. Along with this, as it is a smooth solid surface, unlike other particles or finishes, it ensures your kitchen is clean and hygienic all the time.