How to Create a Welcoming Entrance Area to Your home
March 07, 2022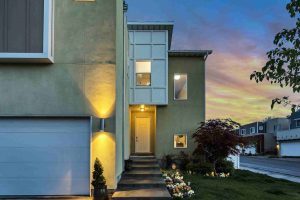 Entrance to your home is the first spot that establishes the first impression on your guests. Well, not just guests but also you! Coming back to home every day- tired like a sloth bear after a long day, all slow and lazy needs a body recharge. Speaking of which, creating a welcoming entrance area to your home can work as a magical wand, taking off your tiredness while giving you a sense of relaxation and calmness. Hence, your home entrance must be welcoming, joyful, soothing, clutter-free and most importantly, "a statement speaking your personality"!
Since we understand, this job can't be done without expertise, we decided to provide some valuable tips to our readers so that you can enjoy the welcoming home entrance every time you enter.
Tips to Create Welcoming Entrance Area to Your Home
You have made the right choice if you have decided to create your home entrance welcoming. It's important that your home entry reflects your persona, makes you and the guests happy, and comfortable as soon as everyone walks through the door. Here are some expert-approved tips to set the tone of your home entrance welcoming:
Update the Door Finish
When you select what door to put on the entrance, it is highly advisable to pay attention to the material and its finishes as well. This means the coating of the door must be resistant to weather changes so that it serves for a long time and looks aesthetically pleasing. Therefore, updating the door finish along with the designs (decorative finish) is highly suggested.
Foreshadow the Home's Style
Your home entrance must compliment your entire home's style. Therefore, ensure using the mix of complimenting textures, and colors to your home entrance while giving it the look and feel of the same place. Per say, use rustic textures at the entrance if you have woodwork in the hallway and in your entire space.
Exterior Lighting that Makes a Statement
In this small space like a home entrance, a beautiful sculptured window will allow the exterior and natural light to come in while enhancing the space. To add a unique style to this space, you can put playful colored curtains on the window to make the home entrance glow!
Natural Beautification Elements and Decoration for the Front Door
Adding natural beautifications such as indoor plants and flowers can create a personalized welcome ambience. In fact, you can make it even more personalized by decorating the space with some art, paintings, sculptors, and in-trend wooden boxes.
Save Space for Shoes: Keep the Space Clutter-free
Your home entrance area needs to be clutter-free. Don't dump shoes, bags, keys and other domestic miscellany at the entrance. Rather, keep the entrance welcoming by keeping things clean clean or even, try incorporating a shoe rack! Hence, remove anything that is lying unnecessary and ensure the floor/corners are clean.
Design and Build a Stylish Foyer
Considering that foyer is the space where you welcome your guests first, it must be designed in an intriguing way! Hence, make sure that you build an open foyer- spacious enough to put a small couch, coat stand, umbrella stand, some decorative art pieces, and plants. However, the catch is to make it an organized place creating a welcoming ambience.