Creative Ideas to Design your Apartments
June 20, 2020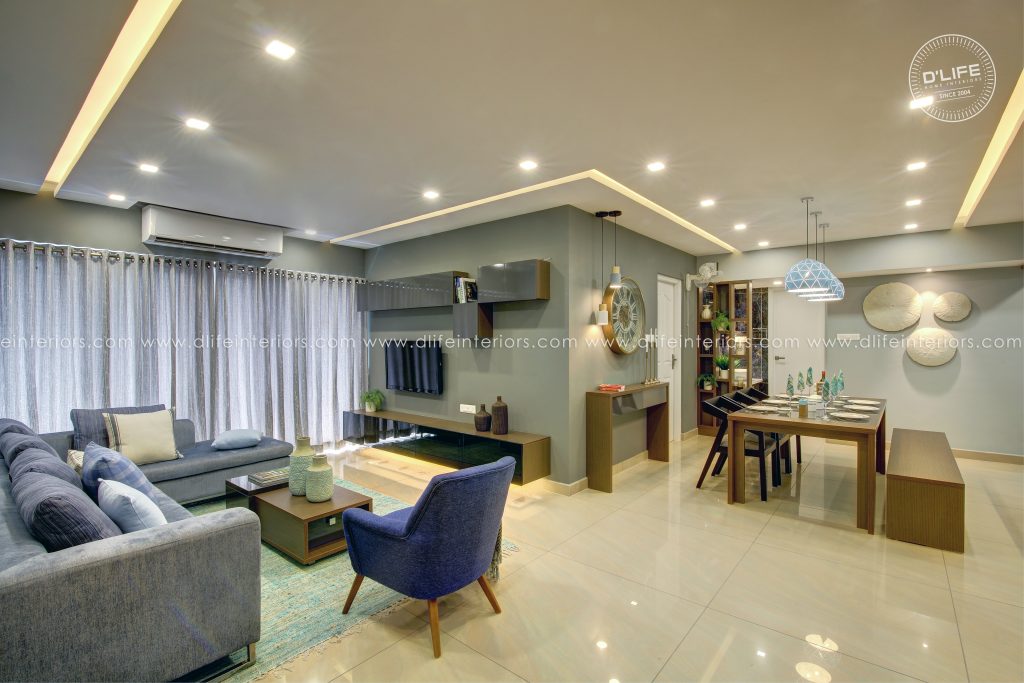 The uniqueness of a home or flat is that you can move in with no time to spare for planning and construction. And yet, the interiors of your apartment must retain its individuality. While most individuals tend to shift their housing to flats because of convenience, it has become a crucial step to customize it with trendy designs and natural appeal. For, it exudes the essence of people dwelling there. If you are one among those enthusiastic people who wish to have beautiful flat interiors in Kochi, we recommend you some tricks and ideas to design your spaces that would have a great impact on your life.
Incorporate Only the Most Essential Things
There are several ways to design your flat interiors in Kochi and we know that anyone could excel in it. But most of the interior designing firms around enhance the visual appeal without addressing the issue of lack of space. Here, we put forward some effective ways to decorate your interiors in a budget friendly manner, taking into consideration the limited space in flats. Firstly, take away all unwanted things and exhibit only the best ones that remain close to your hearts. If you were having an independent house, there would be room to accommodate diverse objects in each corner. But, in flats, you can risk only a few things to display and this would make your interiors favorable and spacious.
Paint it Right
Secondly, paint your walls in warm light colors for a unique look. Be it just the kids room interior design or the living room design, in doing so, your flat interiors in Kochi would appear capacious and rolling. As the list of light colors extends beyond one's tastes and preferences, you can pick out that which appeals to you the most. Even though applying the same color throughout is the norm, you can experiment with a mix of light colors for a change. While engaged in choosing the colors, you must give extreme care to the fact that it blends in with the other interior design aspects.
Light Up the Life
Most importantly, your flat interiors in Kochi should ensure a proper and uninterrupted source of lighting. This is mainly achieved through natural lighting but since you don't get a say in the way sunlight pops in through the windows in your flat, you can always rely on tweaking your ordinary lights through chandeliers or antique covers for lamps. Apart from imparting a feel-good and positive vibe, these installations would make your flat interiors bigger. With these simple and effective ways, you can indulge in the perks of incorporating small design elements in your flat. And needless to say, the ideas would transform your living spaces into a beautiful apartment that would garner the appreciation of the onlookers.
Cabinets and shelves can store neatly as well as hide many things in a proper manner. When you go for complete customization, there are enough opportunities for provisions as per requirement. Though small, there is scope of Pooja space, living dining partition or even a bar counter. It is certainly important to plan and design a modular kitchen that becomes the heart and soul of an apartment. Thus, organize everything better and live a peaceful life planning and implementing flat interiors well.
Watch how you can transform an apartment with amazing color palettes, smart layouts and cozy furnishings here; apartment interior transformation.