Interior Designers in Kakkanad, D'LIFE Offer Better Service
April 30, 2016
Providing Customized Home Interiors at Kakkanad
Kakkanad, a suburb of Ernakulam is one of the modern residential areas in Kerala. With the new business developments there was substantial increase in flats as well as independent houses at Kakkanad. As modern life style and requirements demands a flat or villa to have ready to occupy interior furnishing that includes modular kitchen, bed rooms, living, dining etc. Residents prefer a professional interior designers in Kakkanad to conceptualize design and execute the works. D'LIFE home interiors Kakkanad, the company that has been serving clients of Kochi since 2004 has opened a new branch to get closer to them.
Convenience Offered for Clients

DLIFE offer convenience to clients through the direct branch network. Dealing direct with customer, understanding the requirements in person, visiting actual site etc. gets easier with having the branch close to them. This is the third branch of D'LIFE in Ernakulam. Edappally and Vyttila are the other branch locations. With the increased customer needs, D'LIFE has branches in other cities such as Trivandrum, Kollam, Kottayam, Thrissur, Kozhikode and Bangalore with fully furnished showrooms. Clients can visit Kakkanad or any other showroom in compliance with their ease of reach. D'LIFE offers tailor-made customized interiors and design solutions as per space plan. The showrooms interior boasts a display of modular kitchen furnishing, living rooms and bedrooms so that customers can see, touch, feel and experience the quality and finish with the assistance of our team of proficient officers and experienced interior designers and see how their dream home be like.
Location of Kakkanad Branch
D'LIFE home interiors Kakkanad branch, which is show room cum office is located at 2nd Floor of Chakolas Heights Building, near Info Park Entrance in Seaport – Airport road making it easy to reach for the residents of nearby areas like Thrikkakara, Kalamassery, Thripunithura etc. Location can be found here.
Some of the Completed Flat Interior Projects at Kakkanad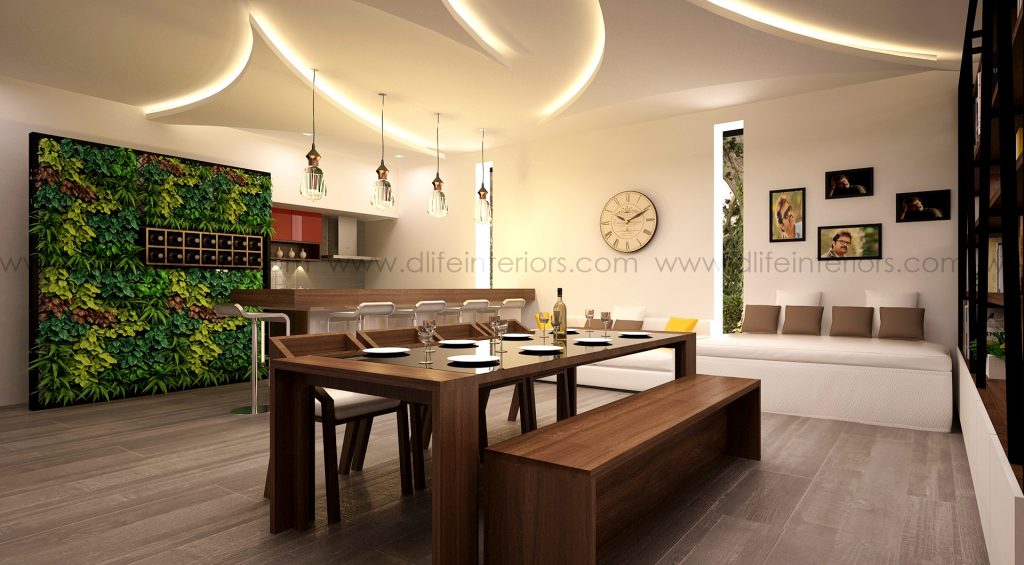 Kakkanad being a highly demanded residential spaces with required facilities for quality living, all major builders have showed their presence with a large number of flat projects. D'LIFE home interiors Kakkanad is doing house and flat interiors in Kakkanad for the last 12 years. Some of the latest home interior projects executed direct for the clients are in below listed residential buildings.
Skyline  IVY League                      
Mather Highlands
DLF New Town Heights
Purva Eternity
Trinity World
SFS Silicon Hills
Kent Mahal
Galaxy Cloud Space
Olive Court Yard
MIR Jade Heights  
Use the expertise, experience and cognizance of a company with excellent systems to provide better solutions in home interior furnishing at Kakkanad. Let us meet at the showroom and discuss the requirements in detail.