Home Decor Ideas for Indian Households
August 06, 2021
If your home is due for an interior design update and you have a limited time and budget, here are some interesting home decor ideas for Indian households. You can feel fresh with each of these decorating ideas and the results will look timeless, and refined.
Rearranging the Furniture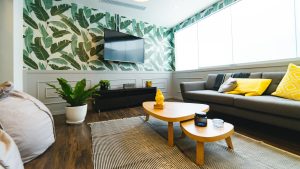 If your home does have enough space, rearrange the formal living room furniture to be a cozy lounge area. The size of the room decides how far you can pull your furniture and rearrange them. If you have a larger space, create multiple conversation areas.
Creative Use of Lights and Colors
Draw attention to your home with glamorous Art Deco lamps to neon signs and white walls to ravishing red. Combine the refreshing quality of paint with the lovely glow of lights to living and dining areas. Each color and lighting you choose soften the look of your room and stir up excitement. For living spaces that receive less daylight, a lighter grey shade works well. Use a chandelier and complement it with recessed panels on the ceiling to make your room look cozy, warm and welcoming. Also, consider hanging a mirror to brighten up a dark space. If your room seems darker, choose translucent sheer curtains, glass accessories, soft-toned accent pieces, and light furnishings.
Curtains and Blinds
For many years, the only option for window treatment was fabric curtains. Now you can pick from a variety of blinds, roman or roller shades. Both blinds and curtains are well suited to contemporary, minimalistic interiors. You can use curtains and blinds to also accentuate the height of a room and make the space feel bigger. Fabrics, which are a couple of shades darker than the paint, will result in a sumptuous look. From sheer lace to pure cotton, medium weight brocades to heavy velvet, your options are aplenty while picking your fabric. Curtains that fall exactly to the floor level are the new trend in interior decoration. Accessories for curtains range from pullbacks to ornamental curtain tracks on the wall. Simple pullbacks and absence of decorative trims will make fabrics like satin or velvet look chic and sleek.
If you are not too keen on style, blinds will do the job. Blinds are the perfect for rooms where there's no space and need recessed windows. Nevertheless, the choice between curtains and blinds is finally based on personal taste.
Wall Arts and Artefacts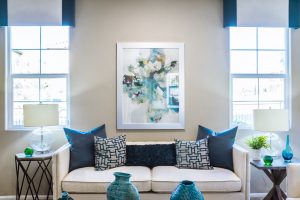 An oversized painting or a simple photograph on the wall will command attention to your space. Try a vibrant abstract piece or a black-and-white photo to mix things up! In addition, try out an accent wall to make an even bigger impact in a small space. In addition to this, one of the smartest home decor ideas for Indian households is to make a small space feel bigger is by trying hanging a stunning piece of oversized mirror for a standout element.
Wooden Floor and Wall Panels
Wooden floor and wall paneling is one of the best home decor ideas for Indian households. It is an ideal way to hide imperfections, add impactful aesthetic appeal, and texture to a room. Wall paneling prevents wall damage and also hides away your unwanted cables. The wooden floor and wall panel acts as a highlight and is an excellent choice if you like the classic dark wood style that gives the room a clean, nautical vibe. You can even get in touch with an expert interior designer and ask their suggestions for the best of both worlds.
Beds and Sofa Upgradation
When it comes to the bedroom furnishing and seating arrangements in living room, it takes the most of upgradations. Create a quirky room that reflects your style by replacing your old sofa with a new one or changing the upholstery. Some minor changes like just placing a comfortable armchair or a wall-mounted shelf to display your favorites in one corner can do the trick. Similarly, it is possible to improve the appearance of bedroom by bringing in a new mattress, quilt, pillows and bedsheet.
Indoor Plants and Decoration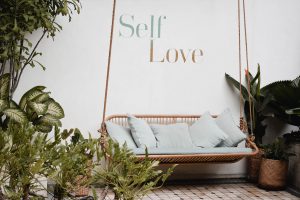 Greenery is essential whether or not your home is blessed with tons of square footage or you lack gardening experience. Indoor Plants eliminate toxins from the air, improving our home air quality encouraging a deeper sleep and is also a great home decor idea. With plants, the possibilities are endless. You can create an indoor garden or add a large indoor cacti and succulents, which are low maintenance. Choose beautiful pots to decorate your home, create your pots yourself or customize existing pots by painting them. You can even dress up your walls with plants or wall hangers, which is a great inexpensive and easy option.