A Home Interior in Coimbatore That Offers a Comfortable Custom-Made Layout
Jan 13 2023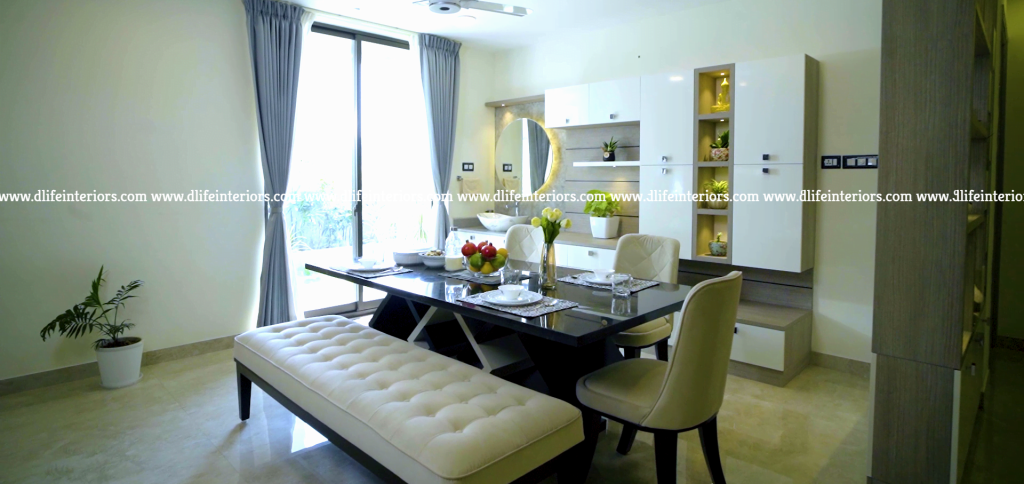 Given that the client had returned from abroad, contemporary-styled interiors are an integral part of their lifestyle. Thus, we envisaged a cosy home that is high on style and sensibility. The homeowners wanted a very subtle and calm home and didn't want many bright colors. They wanted the interior of their home in Coimbatore to have functional and aesthetic qualities that resonated with their personalities.
Sleek and Contemporary Living
As one enters the home, they are greeted by a large living room. The living room has a pleasant seating area composed of gray-colored sofas and a centre table. The highlight of the living area is the sofas. Sofas upholstered in shades of grey offer ample seating.
Dining That Adds a Sophisticated Flair
The dining room lies to the left of the main door, adjacent to the living room. It has been "punched out" and is near the kitchen. The dining table has a glass top and flanked by white chairs on one side and a bench on the other. The dining room abuts the living room and gains plenty of natural light. The custom dining table with its black aesthetic adds drama and layering to the voluminous space.
Custom-made Kitchen
The kitchen of this home interior in Coimbatore was purposefully make a bold statement with its contrasting cabinetry. It is designed with an open concept, which allows for an airy and expansive feel. In the kitchen, the relationship between the spaces is fluid as they are custom-built. The kitchen also accommodates built-in appliances, giving this area a sleek look. It also adds visual interest with its eye-catching interplay between colors and patterns.
Aesthetic Bedrooms
The spacious bedrooms adopt a classic simplicity and contemporary style through their wardrobe and other furnishings and decor. The master bedroom features walls in a blue and white theme. The wardrobe is to the left of the bed. Adhering to the homeowners' request for minimal design elements, we have crafted it to exude a timeless vibe. The kids' bedroom, fitted with custom study units, showcases a palette of white and pink. The kids' bedrooms also have study units custom made to their liking. It is a clean-lined space with contemporary furnishings in subtle colors.
This Coimbatore home's interiors were specifically designed to make it a distinct space with distinct functions. Thanks to our interior designers in Coimbatore, the finished project is a space that is seamless and high on comfort and functionality.