Home Library Design Ideas for Inspiration
September 11, 2020
 A library area is one of the peaceful and enlightening spaces at a home. Thus, it makes sense to plan and decorate this book zone in an aesthetic manner so that the very purpose of the room isn't lost. There are various elements that influence the ambiance and visual setting of a home library to promote a healthy reading atmosphere and mood. It is ideal either to dedicate one whole room for the library or find an ideal space. Both of these cases, depending upon the space availability one can create book shelves of suitable size. Here are some factors that one needs to consider while designing their home library.
Shelving and Display Aspect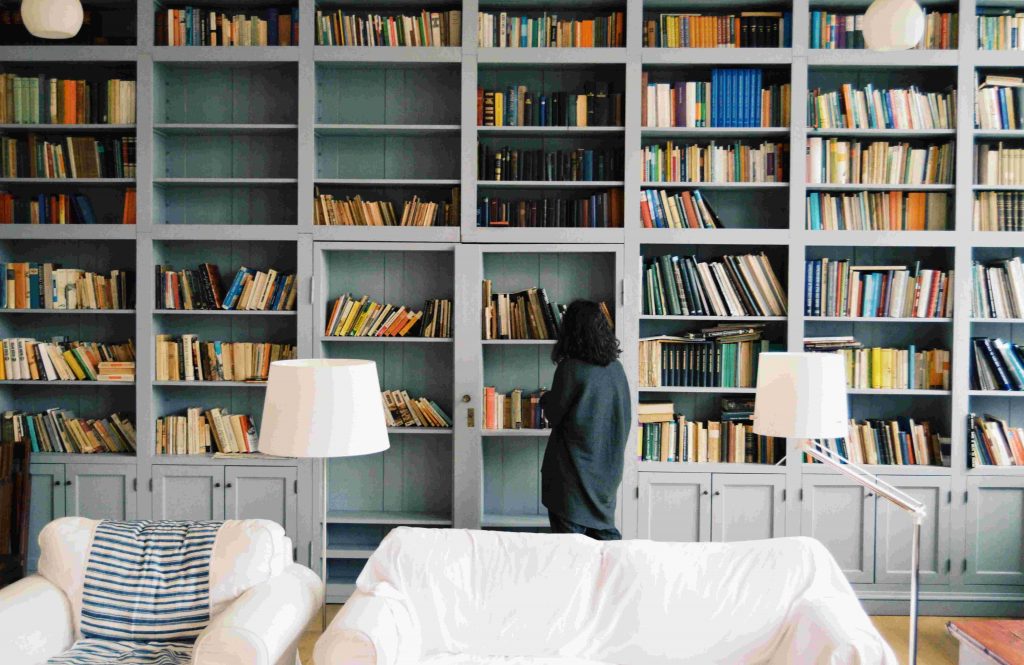 Since books are the main residents of a home library, one has to give enough thought to their accommodation. Fixing ceiling-to-floor open shelves or glass-door cupboards all around the walls is one common practice. This will not only help to store a large collection of books but also display them in an orderly manner. You can bring in a relief by allocating an area for comfortable seating to read and relax. If there is a full bedroom available, it is possible to create a lavish library inside the house.
Space it up
If bookshelves are taking enough room, then one can incorporate smart techniques to utilize the availabyoule space. Sliding cabinets are the best examples for it. There are customized shelves that come with movable compartments which can slide from one side to another. You can store a good number of books, all in one part of the home library. You can mount an adjustable table on one of the shelves that can be pulled out or folded back to save space. Similarly, as a smattering perfect contemporary design hack, having a built-in seating furniture in the shelf will be a good idea.
Light and Bright
Interior lighting plays an important role in a home library. Make sure that the room has enough and proper light. One should be able to read comfortably, without straining their eyes in both natural light (during day) and artificial lights (at night). Fixing extra wall lamps will do the trick. Hanging a vintage chandelier or bamboo lamp shades will brighten up the room as well as make it more appealing. If the view from the room's window is beautiful, then one should work around it by fixing French windows and see-through curtains. It will bring in more natural light and fresh air.
Wooden Touch
Wooden elements and texture could bring in an old-world charm. Wooden panel wall, book shelves, reading table, coffee table, tufted or bamboo chairs or sofa – together will give a calming aura to read in peace. If you live in a two-storey house, you can plan a library in one part of the house in such a way that it covers ground and top floors. This way you can connect both the floors by constructing a wooden staircase and ceiling.
Artistic Palette
One can break away the monotony of a dull library by adding in some interesting decor elements to the room. Such as indoor plants, rugs, antique pieces, colourful artworks, show decals or wall hangings. Choose sofa or chairs that have covers and cushions with vibrant prints. Take care to stick to any one type of style. For example, if you want to go for a vintage look for your home library, choose the elements and decorations accordingly. If you like it modern, go for colours and furniture that suits the best.
Planning and creating a library room inside a house or book shelves in an apartment need creative interest. Also it needs to match with the other rooms and the overall theme. A professional interior designer can include this task in his work contract assignment and give the best result.