Ideas for Creating Wonderful Kid's Bedroom Interior Design
June 01, 2020
Kid's Room Interior Design Ideas & Requirements
When there are kids in the house, time flies fast. However, one thing that remains for years is the furnishings and decors. Children love to have their own place that takes them into a magical world. The initial years of a kid are where they develop their imagination. The best way to nurture it in the right way is to provide him with the best environment that widens the imaginative powers and inspires. Achieving a perfect kid's bedroom interior design is a creative task as their interest and taste change periodically. While decorating your kid's bedroom interior, space optimization and safety need to be top consideration. You do not want to stumble upon your kid's toys when you enter the room, do you?
Bold walls and ceiling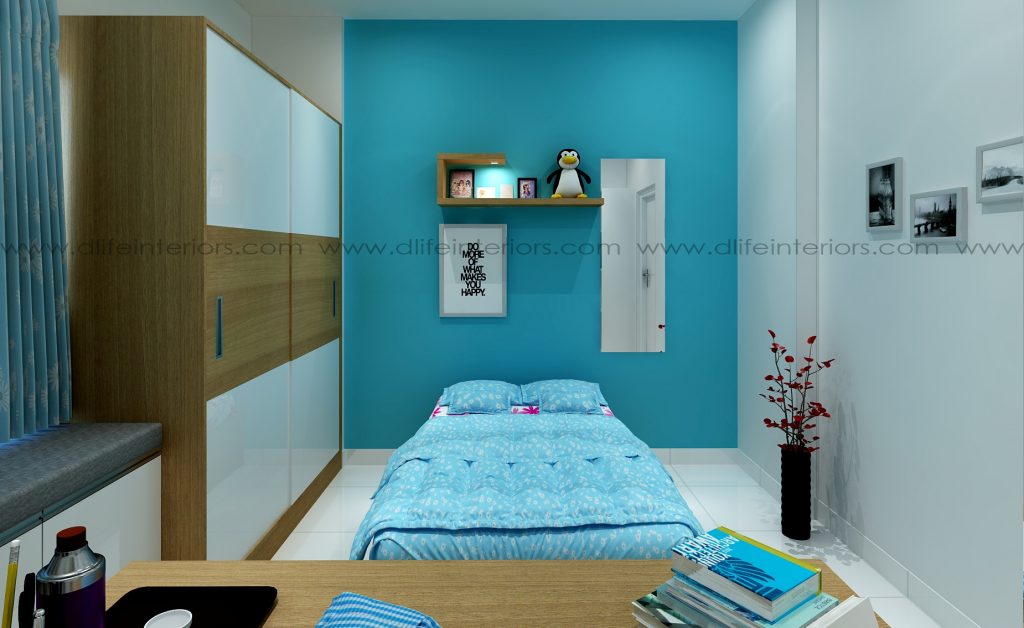 Get inspired with these kid's bedroom interior ideas; Bedrooms in colorful walls packed with playfulness & personality.
Paint the walls in a bold and interesting color palette that draws kid's attention. Try various patterns, cartoon characters, and shapes on the wall with wallpapers or paints. Colors on walls, furnishing and decor should be enjoyable. Thus, adding vivid colors like bright yellow, shades of green, blue, or orange can spark creative thinking. Painting the rooms with pink and white walls for your daughter's bedroom or blue and red for boys can seem both exciting and cool at the same time. In case, if you want to make it neutral but still make an interesting mix for your kid, choose bold colors for just one wall.
Storage Spaces
Kid's bedroom interior designs will be covered with toys and building blocks. Find ways to add storage with beds and tables with storage options. There are beds available with drawers  underneath that are perfect for storing clothes, toys, and boys. Display shelves provide a space to show off their latest creation and avoid the clutter after play. Opt for dual-purpose furniture to make the best use of space and budget. Keep things at their height to help them stay organized.
Furniture as you like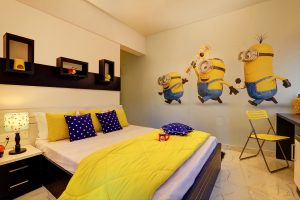 Bedroom decorating ideas for kids; Use these beautiful modern bedroom ideas as inspiration for your kid's bedroom interior.
Kids get bored far more easily than adults do. Choose furnishings that work now and later. Beds, toy organizers, and study tables are the must-have pieces of furniture when designing your children's bedroom. Create flexible rooms that grow along with your kids. Though a superhero-themed or princess styled decor looks great now, it soon wears off when your kid grows each year. A study table and customized bedroom wardrobe  that is easy to maintain and clean is essential when creating your kid's bedroom interior design. Buying furniture of fine quality that lasts and can be customized is the best possible option for smart investing. However, when arranging, the furniture should not obstruct the space and movements of ones who enter it.
Hangout areas and play forts
If your kid is an adventure-loving explorer, they will find adventure in a tipi or play forts or even on their bunk bed. Perfect for both girls and boys in a wide range of ages, building forts or hidden hideout areas will surely keep your kids occupied. Studies show that this adds not only a fun element for your kid's bedroom interior design but also enhances their brain development and improves their problem solving and social skills. Indoor forts can be an ideal space saver to block out from the world and bring a reaping development benefits which is much more fun than watching cartoons! One of the main benefits of this is the ability to see what their hard work, focus, and creativity can accomplish. Consider setting up a teepee tent that can serve as the perfect indoor retreat at home while nurturing their aptitude for creativity. To complete the look, you can even fill up with their favorite superheroes, pirate theme, or jungle animals.  
Artworks to look up
Visual arts and artworks are a great way to punctuate individuality and draw vision. Wall decals are always a big hit with kids. In the case of children, the bigger, the better. Use wall stickers, paintings or even dedicate space to display their painting skills to bring a creative touch and a dash of life to the wall decor. This is not only creative but also adds an element of interest to the room. Removable wallpaper and paintings can be purchased from online sources or ask your interior designer to add it. This gives you the liberty to change according to your kid's choice and that too without causing a dent in your pocket.
Decor and accessories
Some of the fabulous products that have emerged with the changing design trends are the funky chair sets and toy boxes for children. Storage chests and exciting designs serve a practical purpose and are creatively designed to excite the children every time. 
Lighting is another important element to keep an eye on in your kid's bedroom interior design. From the natural paper lanterns to exquisite designs crafted with crystals, this offers a wide range of styles and shades to choose from. A night ceiling  light is an excellent way for bringing a shade of light into your kid's bedroom decor. It appeases the kid's minds and allows them to have a good sound sleep.
Contact one of the best companies for kid's bedroom interior design Kochi and other places in Kerala. Creative imagination, proper coordination and systems for execution ensure prompt results.