5 Interesting Elements that a Bar Unit at Home Should Definitely Have
February 22, 2022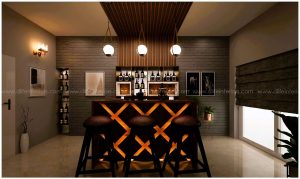 Going to a restaurant or your favorite cocktail lounge is fun and all, but have you thought of having the same at your home in your favorite pajamas? Honestly, nothing would be more entertaining and relaxing than your own stylish home bar. When it comes to bar unit, the atmosphere and the elements in the space are just as important as the drinks. Here are some simply amazing home bar elements you need to have.
Classic Pendant Lighting and Recessed Lights
If you're going to make room for a home bar unit, Position It Strategically so you have enough light. Bars don't usually have to be dark and shady places. Your home bar can also be a chic space with lighting that creates a bright presentation as well. Stylish modern pendant lights create a distinctive shade that maximizes beauty in your space. Wouldn't you love to shine some lighting on this zone and in style? The lights play well and you've got a stunning experience.
Barstool
Seating is a crucial element for the authentic atmosphere in any home bar. You want your guests to be relaxed, don't you? A perfect seating elevates your home bar experience by its authentic atmosphere. Moreover, if you have only limited space, bar stools with a soft padded seat and curved backrest can be a great option. Bar stools with minimalist construction or natural wood finish make these stools a nice statement piece for any interior.
Suitable Accessories
One of the best elements you can have in your home bar unit is having sparkling glassware and creating a more authentic experience. If you are the proud owner of an impressive glassware collection, beautiful glassware ensures everything glistens and sparkles in your bar unit. There are a variety of glasses to choose from. However, we recommend starting with wine glasses, beer glasses and shot glasses to make things lively. You can also have mini-fridge and drink dispensers to ensure your drinks stay fresh and are served cool.
Beautiful Storage and Cabinetry
An open shelving can blend perfectly with any bar's style and give you easy access to your personal favorites. Having a well-stocked bar shelf to display one's collection is a must. Storage for the bar unit is not just restricted to shelves and cabinets. Classy looking cabinets with glass shutters for fancy wine holders, glassware is a refreshing mix. Also, make sure your bar space has the maximum storage essentials and even additional storage underneath. It amps up the aesthetics and gives enough space to store all your bottles and everything else you may need for a cool bar at home.
Your Favorite Bar or Theme
If you enjoy entertaining often, you might want to entertain the idea of having your favorite bar's theme in your home. Get the help of an experienced interior designer for some inspirational ideas to add the custom bar unit design and unleash your creative power. Whatever the space works best for your needs, make it meet your frequent entertaining needs and tie into the overall style.