And we said, "let there be light"
March 19, 2020
Lighting is one of the most crucial yet the most under-addressed elements by clients when it comes to interior designing. A proper use of interior lighting can be relaxing, convenient and safe. It is, in fact, the most powerful tool a designer uses to make a high impact. Lighting is no longer about just fixing lights into a room. In fact, it has come a long way that it now has the possibility to influence our moods.
Choreographing the Living Experience
The living room is the heart of the home- A space where we experience the perfect ambiance and moments. Most of the home interior projects we've undertaken involved interior lighting with ambient, and accent lighting as per client requirements. A fixture of hanging pendant lights, led lights, or creating an accent lighting to illuminate a certain area or strategically highlighting the sculptural floor and bringing life to the bare walls has always been in the favorites.
From reading to relaxing, and for highlighting family photos and artwork on the walls, the living room is a place that plays with various sources. So it's important to provide ample light that is bright, focused and versatile. Consider an adjustable floor lamp, or an artistic desk lamp, which is relatively a versatile option. Within the space is accent lighting to provide a perfect layer of visual impact.
Defining the Mood
Similar to stage lighting, mood lighting creates an atmosphere that enhances the space. Interior lighting has the ability to enhance and change the emotion. Natural light sets an ambiance you just can't replicate and is the best kind of light. However, when designing a space, colour scheme and lighting systems in living and bedrooms need to be addressed just like the space itself. Bedrooms will have a warm light that helps to transition your busy day to a softer mood. A false ceiling with lights, bedside light or a table lamp with light fixtures would be ideal here. A reading light is also a great idea to highlight for functional reasons. A home with no bright lighting can leave a sinister look. Whereas this same home with warm lighting makes it seem like any other house, while a white toned light enthuses calmness.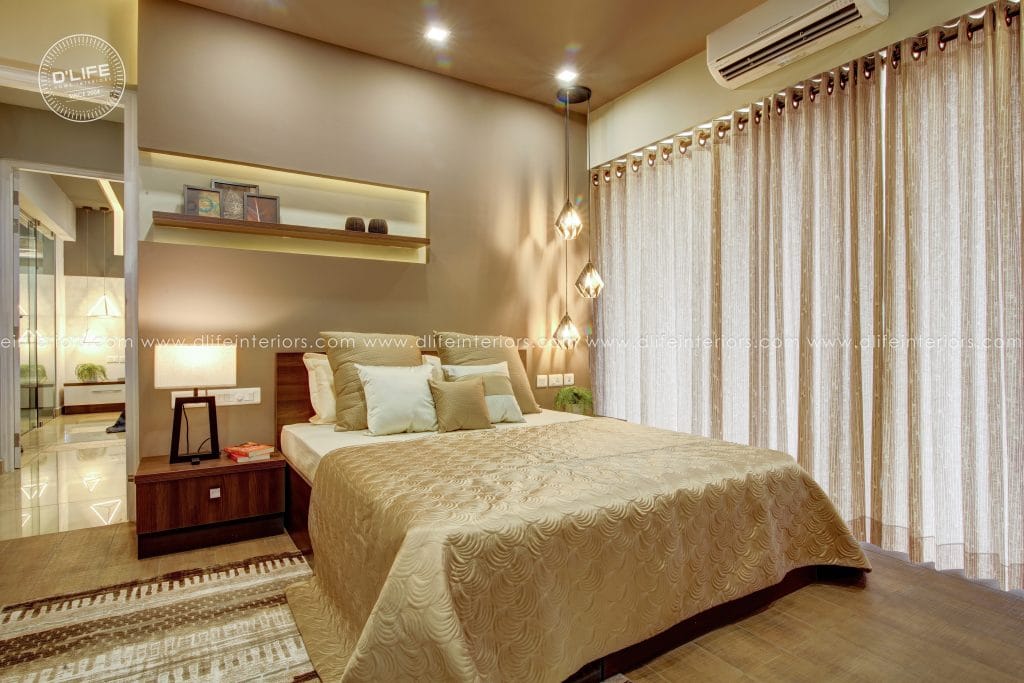 Here is a recent home remodeling done where the cool white setup was changed to the warm smart lights. The wall lights, hanging light fixtures, task and accent, and wall lamp are just some types of lighting that you can add to your next home improvement list.
Assists Cooking
Install small pendants to bring visual interest and create an open feel to your kitchen. But don't go light-crazy. While the usual lighting provides enough light to navigate through the kitchen, it can leave shadows on the work surfaces, which are under storage cabinets. A layer of light setup with the under-cabinet task, lighting provides a nice illumination emphasizing the shape of cabinets to easily spot ingredients on the cooktop/ workspace.
Seen here is a kitchen design by our interior experts. The proper interior lighting makes sure this modular kitchen offers a healthy balanced meal-prep experience. The Pendants are placed at least 30-36 inches above the island to splash the light evenly. The under-cabinet LEDs, cabinet lights, highlighting pendants, and other lighting options make sure you are on the right track to your cooking.
* Task lighting can also be used to create foot flow paths for a room or even on the stairs as directional lights or as a foot floor path visualizer.
Bring Brightness and thus happiness 
Lighting is an important tool for your home interiors that can truly elevate your space. No matter what size and shape your home is proper, a form of lighting can transform a space into a beautiful ethereal one. Employing a good interior decoration team can define the elegance, sophistication and style of your space. After all, lighting can make a house into a home and make it shine through. Thus, home interior designers in Kochi or anywhere in South India can suggest suitable solutions on lighting ideas based on the types of interior as well. Ensure brightness and elevate happiness inside a house to the complete satisfaction of the owner.