A Home Interior Project in DLF Riverside, Vyttila, Kochi
January 06, 2023
The homeowners Mr Dipin and his family asked our interior designers in Ernakulam to design a clean-lined, contemporary-styled apartment. They also wanted a home with an inviting ambience inspired by gold and teal colors. The main door of the apartment opens to an open-plan living and dining which is swathed in natural light. All the furniture in this home interior project at DLF Riverside, Vyttila, Kochi was custom-made at D'LIFE's own factory. Across the apartment, you can see pleasant light tones that merge with the overall interiors.
Inviting Teal and White Living & Dining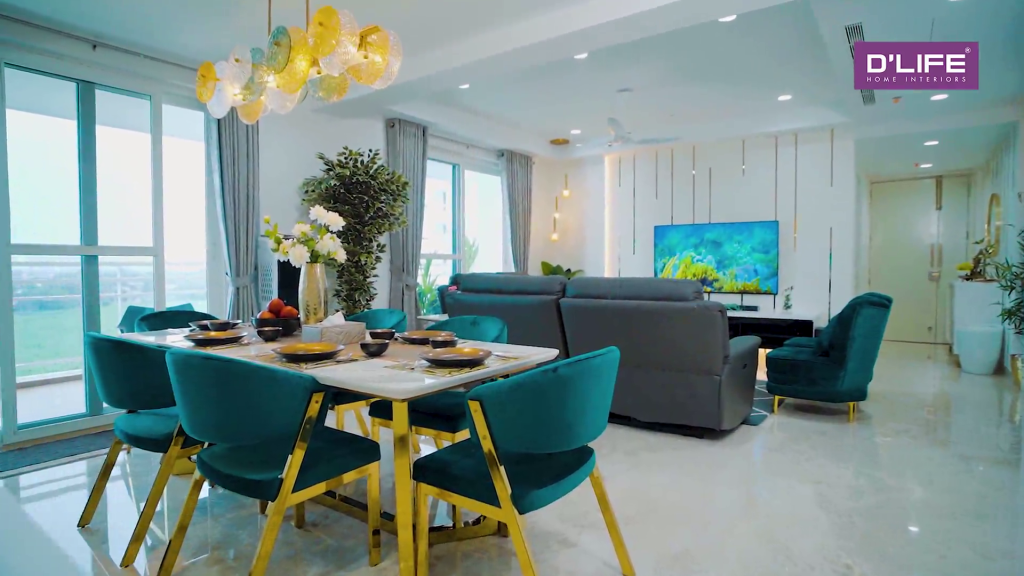 As one enters the home, they are greeted by the beautiful living and dining in a teal and white combination projecting elegance. This is the heart of the house where polished, reflective flooring accentuates the size of the living, as do the full-length drapes. The formal living room has a strong contemporary influence. It relies on abundant natural light and with the addition of decors in gold, the home gets added glamour and glitter. Six-seater dining offers a fresh look to the space with its vibrant chairs. It also embraces a crockery shelf in a pure white theme and a mirror. Beautiful colour contrasts and efficiently designed furnishings and decor dominate the living and dining.
Mindfully Made Bedrooms
The bright and spacious bedrooms conjure up a sophisticated appeal while maximizing storage. The storage space does not compromise the aesthetics of the apartment. According to our interior designers in Ernakulam, the daughter's bedroom is the most interesting one. The colorful palate with its energizing vibe sets up an inviting ambience. The master bathroom follows the theme of living and dining. Framed with a custom workspace, wardrobe and enveloping headboard in teal, it underpins a sense of subtle luxury.
The guest bed of this home interior project at DLF Riverside, Vyttila, Kochi has reflective glass on its wardrobe. In contrast to the bedroom's minimal dimension and theme, the addition of a mirror finish wardrobe creates the illusion of a bigger space. We also made sure that the space feels open with the use of a lure window.
A Kitchen that is Aesthetic and Technical
The modular kitchen of this home interior project at DLF Riverside, Vyttila, Kochi has a modern, clean-lined decor. As the homeowners didn't want too many colors, a neutral color theme enveloped the U-shaped kitchen. Considering the frequent traffic in the kitchen, we decided to go for a U-shaped kitchen. Efficiently crafted furniture dominates the design narrative. Since the homeowner wanted a breakfast table, we took into account the space constraints, and provided a foldable one.
Each piece of furniture, every accessory and decor perfectly fit the requirements of the homeowners. They loved the understated ambience and the timeless contemporary essence. Our design team has converted the whole home into a space that evokes energy and glamour.