Is Open Kitchen in Kerala a Good Option?
July 12, 2019
What is an Open Kitchen?
Chucking out the dividing walls and creating a space without doors often promotes a seamless flow of common areas. By taking out the wall of separation, it connects the kitchen to the living and dining area creating a lot of space. This style of kitchen design is much suitable for small apartments or studio flats. The aesthetics it blends in not only seamlessly works well with any interiors but also helps the busy homemakers with multitasking. Dining, cooking, and spending time together with the family can all take place with having an open kitchen in Kerala.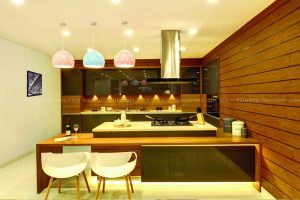 Until the 90's each space in a home had dedicated purposes. The Indian kitchens were destined for cooking; eating was for dining and so on. However, with the interior design style changes and architectural trends, kitchens experienced significant changes where it utilized more square footage and floor plan. There exist different shapes and styles of modular kitchen types. But, what makes an open kitchen in Kerala a premium choice among flat owners is that it prevents the feeling of isolation. Though it began as an economical option, this concept soon transitioned to a status symbol and a most preferred option for the busy working families.
Advantages & Disadvantages
An open plan kitchen keeps the family integrated and facilitates more social interaction making sure nobody misses out the conversation. However, this can be a problem if you are in need of some private time. It eliminates walls that reduce natural light and promotes easier traffic flow to the rest of the house. Hiring experienced interior designers can help bring continuity, function, and beauty to your modern kitchen space and save money in the long run. So, is an open kitchen a good option? Strong odors and sound while cooking can create awkwardness to people in the living room. Therefore, this type of kitchen is suitable where there is less space and less cooking activity. In case you are planning to resell the apartment, an open kitchen adds significant value. It gives the feeling of spaciousness and offers the option for the new homeowner to make necessary changes.
Things to Know While Choosing Open Kitchen in Kerala
Open modular kitchens are clean and simple. The streamlined surfaces and the high functionality incorporated with interesting tiles and cabinetry makes it the centerpiece of attraction in any Indian home/ Most important element in any kitchen is its layout. Being an open kitchen, it is to be designed with a working triangle in mind. Sink, oven, refrigerator, and the preparation area should be in an easy to reach working triangle. On the other hand, the color of kitchen cabinetry may be worth considering when integrating a kitchen space. Integrating the same color and style creates a cohesive look and creates a sense of harmony. Home decor with stylish lighting, furnishing, and accessories unites the overall concept. Concealed sinks and cabinets make it ideal for keeping the kitchen neat and clean. Moreover, for the perfect fusion of dining and cooking, include a breakfast counter or a bar counter to blend in and enjoy an unobstructed space. An amazing space with kitchen and dining coexist together beautifully.
Essentials for Open Type Kitchen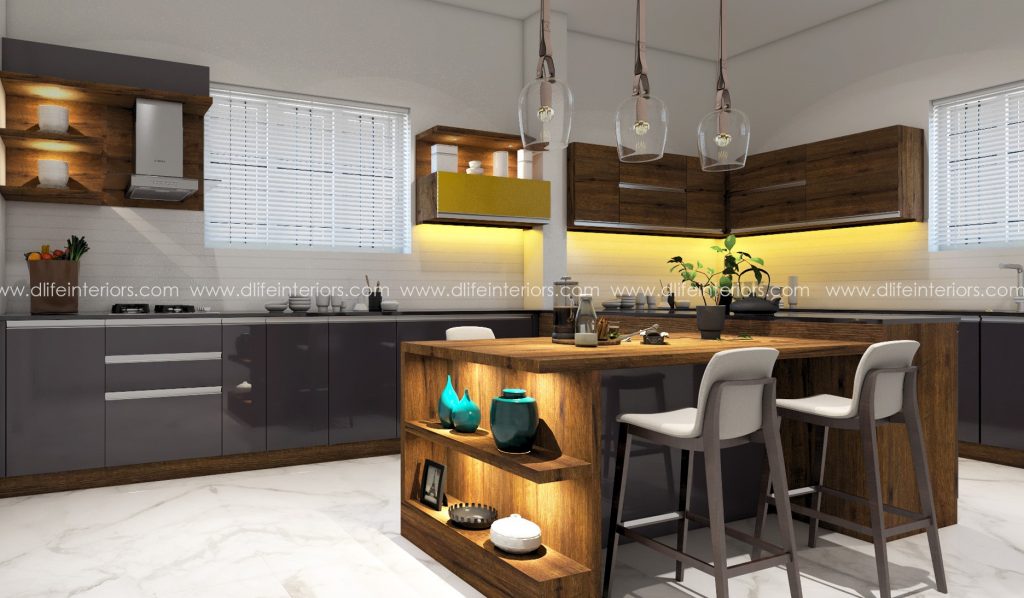 An open modular kitchen design in Kerala with a wide counter can serve a multi-purpose. A well-sorted kitchen island isolated from the rest can be a practical solution when the house is short on space. When it comes to keeping your kitchen sparkling, this creates a private space for kitchen appliances and dinnerware to remain hidden thus avoiding a messy kitchen when cooking. Likewise, integrating a breakfast counter saves you from having separate spaces.
Kitchen Cabinets help to gain an illusion of a larger cooking area. Custom-made modular kitchen shelves and cabinets create the much-needed storage space. This option makes effective use of corner spaces and helps the homemaker customize each challenging spot on requirements. A functional yet beautiful hood & hob is an essential addition. Since an open kitchen does not have walls unlike closed kitchens, cooking fumes and odors can easily feast through the other rooms of a house. Thus having a hood & hob eliminates the risk of reading smoky aromas throughout. However, it is always better to consult an interior design company to view different choices and thus select the most suitable option.