Kitchen Storage Solutions
April 20, 2016
Store in Style, Same as Per Requirement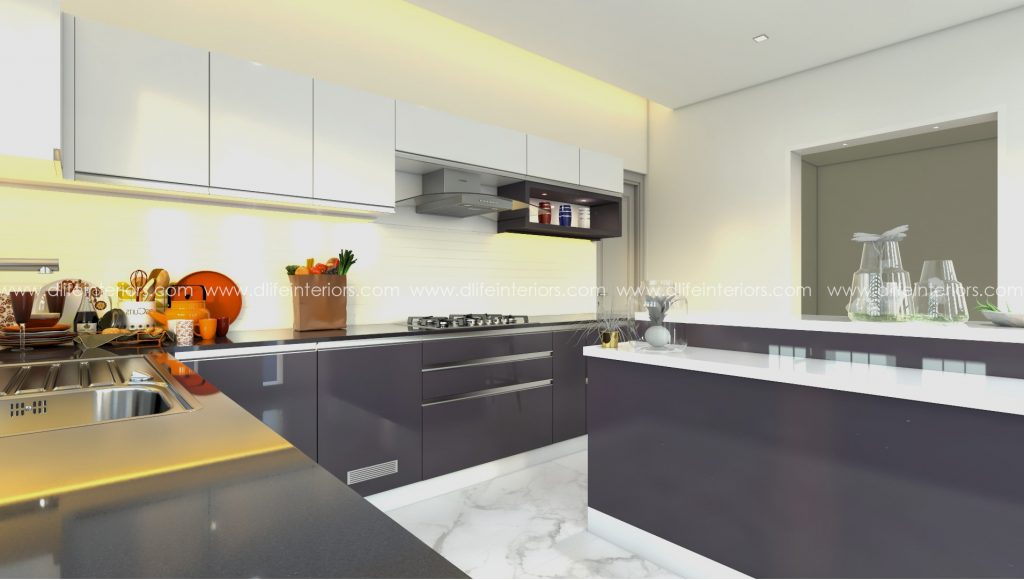 A work space for woman, exactly as she expects with lot of storage space is what D'LIFE modular kitchen provide. Stylish and modern outlook with ample space to store essential things is no longer a luxury for today's households. Through years of expertise, our sales and design team is now well aware of customers style and storage requirements. When you create a functional modular kitchen, it is important to think about the the essential provisions. Similarly, one should also ensure the best finish and stylish appearance.

What All to Store in a Kitchen?
Kitchen storage solutions mainly consist of utensils, plates, glasses and other accessories for cooking, serving and eating. Easy and comfortable reach to the frequently used things is the essential need of everyone working in the kitchen. Less used items also should have its space so that it does not disturb the flow of work. Refrigerator, Sink, hood and hob play an important role and it forms the work triangle that controls the easiness of work. Besides overhead and bottom storage cabinets, the modular kitchen provides modern utilities that make cooking a bliss.
Make a Place for Everything

Everything needs to have its own space and be easy to access. Modular kitchen storage solutions offer ample space to arrange grocery items, detergents, curry powders, and bottles. Detergent holder helps to store the things for the washing machine as well as dishwasher. Bottle pullout helps to keep bottles of sauces, oil etc. properly. Similarly, plain baskets, thali basket, cup & saucer tray and cutlery tray help to organize better. Waste bin with an auto lid maintains the kitchen clean and avoids foul smell. Keep away the cardboard boxes, plastic bags, newspapers etc. from the kitchen to ensure cleanliness and make it pest free. All these facilities and provisions are possible only in a custom-made modular kitchen by a reliable company.

Take Care of it & Maintain Beautiful
Would you be able to take out everything stored inside, every month and clean the shelves using wet cloth or kitchen cleaning liquids? It would avoid pests, dirt and dusts occupying their favorite space. Kitchen storage solutions by cabinets using marine ply and hardwood MDF are durable and alluring. Thus, strong from inside and beautiful outside this combination of materials will take care of your needs in kitchen for several years. DLIFE provide the best modular kitchen in Kerala and Bangalore ensuring sufficient storage as per requirement. Take good care of the accessories and cabinets and enjoy years of using them.