Living and Dining Area Furnishing for Apartments, Houses, Villas
December 27, 2016
Living-dining space is the nucleus of every home where family members unite, entertain and dine. Setting up an enjoyable living, dining room interiors need proper planning and design likewise bedrooms or kitchen. Right furniture layout and fittings make the place live, spacious and further more impress guests. A specialized home interior designing company can help in choosing suitable living and dining area furnishing for flats and houses in Kerala.  Let us have a look at a few things to be kept in mind before doing interiors of living space and dining area.
Make Living Room by Proper Planning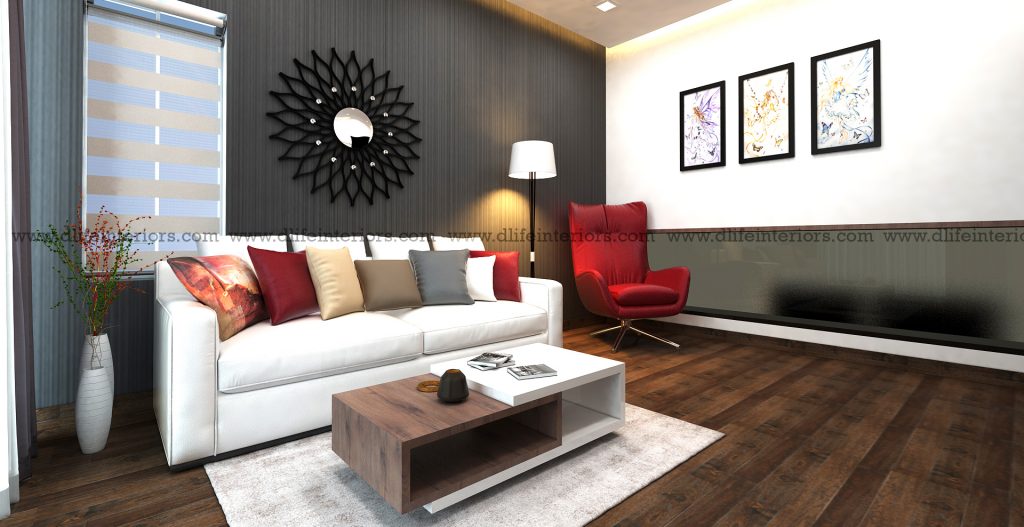 Proper planning, allocation and preparation while designing a living area, ensure proper execution. Some important factors, based on our experience for making a vibrant living room are given below.
Space Planning with Accurate Measurement
Giving priority to available space and demands of client facilitates neat and pleasant living rooms. Measure the actual area available at foyer, living area and compare with usable space for furniture and decorations allocation. Free movement and attractive ambiance to create first impression are to be given importance.
Seating, Visibility and Comfort
Arrange seating to ensure comfort as well as convenience especially when space is not very big.  Sofas, coffee table, TV display unit etc. are to be in symmetry with total theme in living spaces. Mostly shrine or pooja unit in flats and small houses are in living room itself.
Free Movement and Access.
Make sure that people can walk free in the living area, but still enjoy all facilities. Entrance to the room and doors to bedrooms, dining room and stair ways etc. must be easy accessible from living. Keep furniture of accurate sizes so that hassle free movement is possible in between them.
Design to Fit Lighting & Decorative Units
Exploiting natural light is the best practice in home interior designing. In case of modern flats and apartments, artificial lightings are used for generating an inviting atmosphere. Ensure brightness in living room using proper lighting in furniture and decorative units. Tone of furnishing should go with lighting.
Create a Dining Room by Design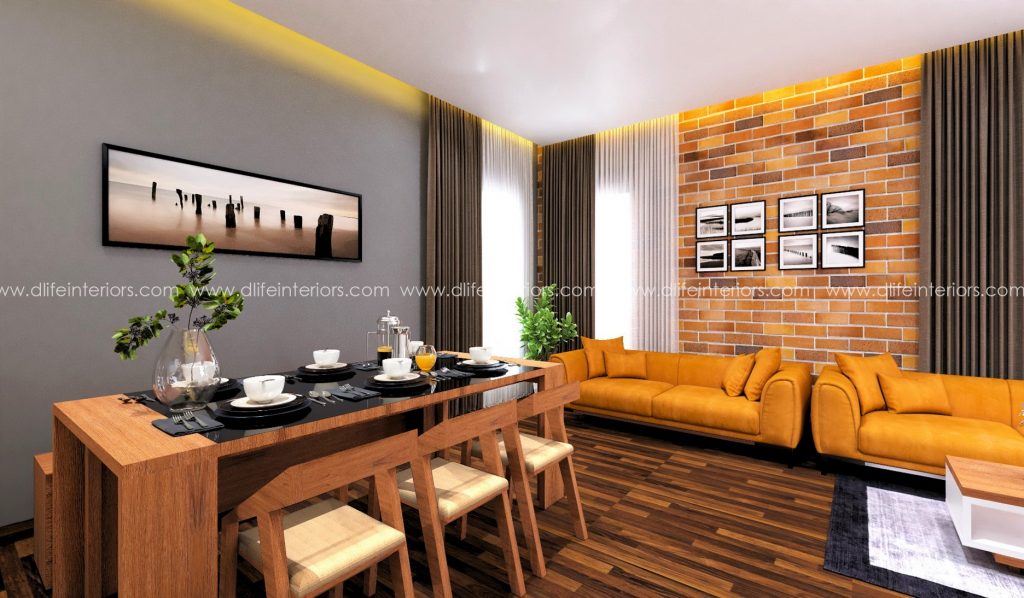 Amiable and effective working dining rooms are essential elements of home interiors. Choose furniture and fixtures that work at ease as per needs. Three main aspects that are to be taken care while creating dining rooms are given below.
Dining Furniture & Crockery Unit Allocation
Main furniture in dining room, the table and chairs are to be of suitable size and shape.  Choose the size proportionate to the space for improving aesthetics. Table top can either be of glass or wood finish. In flats and small houses, either small square table or round one with seating capacity of six persons would be ideal. Crockery unit provides functionality of storage as well as showcase for dining accessories. Counter top of crockery unit can work as serving space if the table is small. Broad and beautiful crockery unit can augment the appearance of a dining room.
Separation from Living Area
Separation unit between living and dining adds to the style itself. Decorative items on this separation will have visibility from both the sides. This unit can have full height and width of 60 – 70 CM only, and thus not really a partition. It is mainly a decorative unit visible upon entry into living room.
Easy Access to Kitchen & Wash Unit
It is essential to ensure easy access from dining room to kitchen and common wash counter.  Adequate space around the dining table is also necessary for movement. Pathways to these two portions must be obstacle free. Large dining table and excess number of chairs may cause obstruction on the way, especially in flats.
Experience Makes the Difference
Interior designers are familiar with modern trends in designing, finest materials for furnishing and its availability in Kerala.  They can give valuable and innovative suggestions using their vast experience. Also, they have special talents to professionally assess your requirements and design the living and dining area furnishing as per budget by avoiding many expensive faults. It is always better to hire a designer while planning for home interiors design and execution in Kerala as he can be of great help in considering the above specifications in detail and much more.