How to Choose Suitable Materials for Modular Kitchen in Kerala?
June 30, 2018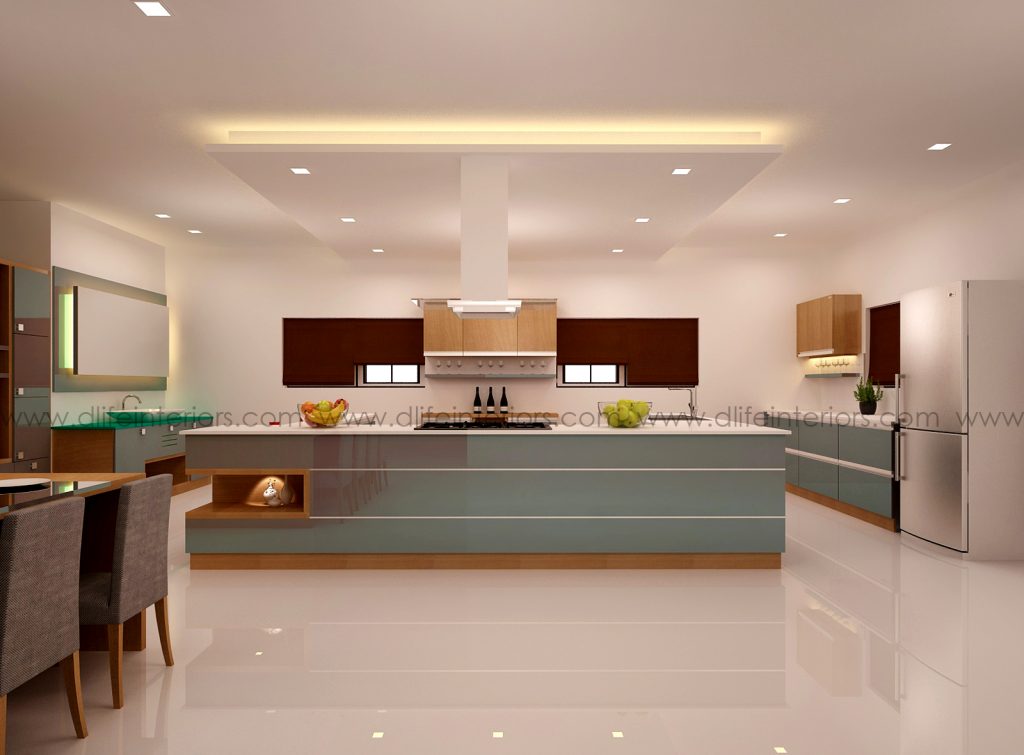 There are certain things you must know about the materials for modular kitchens, before starting works on home interiors. Due to several advantages of modular kitchen, the demand is high but the vying between brands in the last few years became more prevalent. In order to maintain their share of the market, top interior designers and brands go on introducing new offers, materials, and designs.
As a result, they have introduced a bunch of new materials for modular kitchen in Kerala and Bangalore. As the time flew, some of them proved its dominance over the others. Which is the best suitable material for your modular kitchen? Can be a quite confusing question; here let us try to assess the most common materials for modular kitchen.
Materials for Modular Kitchen available in the Market
  1. Water Resistant Marine Plywood
With far more superior qualities than any of its rivalries,' water resistant marine plywood' is easily the finest materials for modular kitchen. This material is highly popular in Europe and North America. However, interior designers in Kerala and Bangalore chose not to encourage the use of the product due to its limited supply and price factors. Several grades of marine plywood is present in the market, each of them is perfect for its own-labeled use. The premium high-grade version 'water resistant marine plywood' is boiling waterproof. Moreover, it offers long durability even in extreme wet state.
There are only a few reputed interior firms out there offers customers an option to choose this material. At first, you may feel that it is a bit more expensive than other conventional materials. However, in the end, considering the frequent maintenance and service costs, it will become the least expensive of all. In the present market, it is the most reliable one among the top materials for modular kitchen cabinets, especially if you have a fear of water exposure in your kitchen.
Main Advantages
The material has almost all the qualities of its rivalries. In addition, it offers;-
Boiling water resistance, high strength, and long durability than any other material.
More resistant to fungus and pest attacks than other conventional materials.
Comes with all side lamination, thus smooth and easy to clean.
It won't expand or contrast like the other materials, thus cabinet doors easy to use in all climates
Drawbacks
The only drawback of this material is its limited supply in Kerala and Bangalore.
  2. Hardwood MDF
In today's modern world, we cannot afford to have the wastage of natural wood while carving furniture items or products from it. Millions of trees are being vanished from the surface of the earth due to this over-exploitation. However, more or less we still need wood and its products. Instead of avoiding the natural wood completely why can't we use it as the primary substance to create something better that could fully utilize the wood?
To explain it in detail, "Medium density fiberboard" is a product made from the pulp of wood, which has far more superior quality than natural wood, yet relatively less expensive as the whole part of the wood can be used to make this product. All over the world, it is considered as one of the best material for making home furniture. Hardwood MDF is a suitable choice for kitchen cabinets due to its strength and long durability. It can serve your needs in both medium, and premium budget.
MDF made from hardwoods offers higher quality. Sadly, most of the modular kitchen dealers offer products, which are made of softwood MDF, which is cheap, but weak and offers less durability.  Therefore, never forget to do little research about the background of the interior design firm and the materials that they use before you take a final decision.
Main Advantages
Stable dimensions in all climates, it won't expand or contrast like natural wood
Less expensive and more durable
All parts of the recycled hardwood wood are used for construction, thereby helping to save trees.
Offers fairly smoother surface than natural wood
Drawbacks
Direct and continues exposure to water may cause the material to swell, thereby ruining the product.
The material is not easy to shape; as a result, local firms or carpenters may not be able to produce the desired outcome.
  3. Solid Wood

Even though its new generation rivalries outperformed natural wood in many ways, there are still people out there who like the old-fashioned way. It is the natural color and elegance, which kept its demand up in the sky for centuries.  Even though the natural wood has its followers, the majority of people choose other materials for modular kitchen, because of its shaping limitations and high expense. Moreover, most of the traditional hardwoods like Teak and Mahogany etc. are now close to extinction. This greatly affects the supply and makes it much more expensive than other materials.
Main Advantages
 Provides a realistic and natural look for the cabinets
 Durable and strong under normal conditions
 Cabinets can be easily re-stained or painted to get a refreshed look
Drawbacks
More expensive and offers fewer qualities than some of the other premium materials
Cabinet doors may expand or contract according to the weather, making it hard to use.
Hard to maintain the furniture and kitchen cabinets, as most of the cleaning agents can harm the  wood
More vulnerable to pest attacks, since there is no lamination or protected coating
It takes more time to design and build a modular kitchen in hardwood.
  4. Stainless Steel
Maybe it is safe to say that the era of natural wood went past us.  Researchers have discovered newer and better ways to manufacture metals, which can even replace premium quality natural wood. When it comes to suitable materials to make a modular kitchen, stainless steel also cannot be ignored. It is easy to maintain, will not absorb dirt, resists smudges or cuff marks, and is less expensive than natural wood. Homeowners tend to choose stainless steel cabinets and accessories majorly because of these features.
Main Advantages
Easy to clean due to dust resistant surface
Less expensive than natural wood
Drawbacks
Color options are limited in stainless steel cabinets
Stainless steel cabinets are a bit noisier than other cabinets
In time, hinges and cabinet doors may loosen up due to its excessive weight
Most of the reputed interior design companies in Kerala and Bangalore provide kitchen cabinets made of these materials. We would suggest here to go for water-resistant hardwood marine ply with lamination to make modular kitchen. It is durable with an elegant finish and thus the most practical choice of all the above options.