Ongoing Flat Projects at Ernakulam, Kerala
August 12, 2016
Every city has its own way of living, but Ernakulam makes you live in the city in a different way.  Here you will have various options of flats and apartments having facilities that cope with international amenities. If you are planning to buy a new flat at Ernakulam, there are many ongoing projects of popular builders. The main advantage of going for flat in development phase is that you can get the interiors and kitchen furnishing done as per your taste and requirements. Let us have a look at some of them, selected random, expected to complete in near future.
(Note: This information is received and compiled from the websites of reputed builders. It is just for comparison and understanding of ongoing flat projects in and around Ernakulam city. Reliability and actual work status need to be enquired with the builder directly. Picture courtesy goes to the corresponding builders.)
Trinity Venus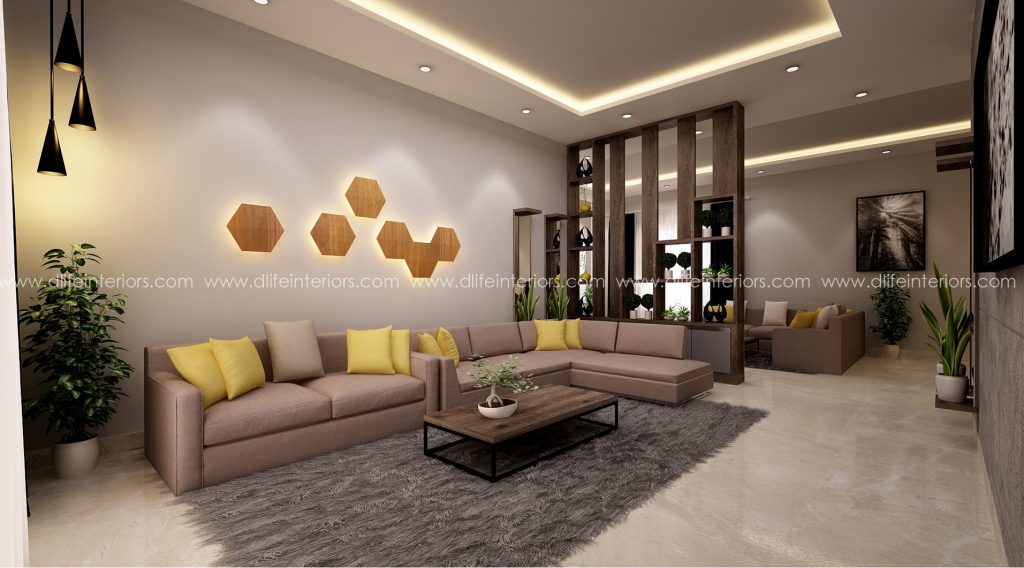 Venus is part of Trinity World, a premium and luxury apartment project located off Seaport Airport road, Kakkanad. It is the fourth and final tower of this project, consisting of Jupiter, Mercury, Neptune and Venus, set in 6 acres at a much sort after destination in Kochi. Close to Infopark and 600 meters from Palarivattom junction, it is well connected to the heart of Kochi. Total 213 units with two types of 2BHK (1320, 1214 Sq Ft) and 3BHK (1770 Sq Ft) apartments are available in this 23 storeyed tower. Apartments provide a luxurious life with all modern amenities including Indoor Pool, Clubhouse, Health Club, Swimming Pool, Indoor Games, Party Area, Business Centre, Guest Room, Intercom, Centralized Gas Supply and Home Theater etc. Octagonal elevation of towers with a central atrium is its main feature. Project is in ongoing state and hand over is expected towards the end of 2017.
Prestige Hillside Gateway
Prestige Hillside Gateway is a township located at the Info Park Road, Kakkanad in a prime and high demand zone close to Infopark and the Cochin SEZ. The project consisting of 602 Apartments & 27 Premium Villas is being developed on a 13-acre plot, which also includes the Prestigious Forum Mall, Villas & Six Residential Towers along with a Clubhouse. The Clubhouse comes equipped with Aerobics/Yoga Room, Badminton Court, Billiards, Cards Room, Gymnasium, Health Club, Indoor Sports Area, Jacuzzi, Mini Theatre, Multipurpose Hall, Super Market, Squash Court, Swimming Pool, Table Tennis and a Terrace Party Area. Apartments include 1, 2, 2.5, 3, 3.5 & 4.5 bedroom sets starting from 663 square feet onwards. Development of this first Disney themed project at Ernakulam is in progress.
Sobha Isle
Sobha Isle is a super luxury apartment project offering spacious 3BHK, 3BHK + Study, 3 HK + Utility and 4BHK + Utility units located in Silversand Island, Vyttila, Ernakulam. It is developed in 4.69 acres with total 384 units in 4 towers having 24 floors. The apartment has a 4 level stilt car park. Size of the apartments ranges from 1850 square feet to 3120 square feet.
Indoor amenities include Multipurpose Hall, Table Tennis, Billiards, Card, Carrom, Chess, Well Equipped Gymnasium, Yoga/ Aerobics and Badminton Court where as outdoor facilities take account of Swimming Pool with Deck Area, Celebration Lawn, Lawn Tennis Court, Volley Ball Court, Half Basket Ball Court, Kids Play Area, Jogging Track and Fishing Bay. Rain Harvesting, Organic Waste Converter, Sewage Treatment Plant, Water Treatment Plant, Visitor Car Parks, Driver's Rest Rooms and Entrance Plaza with Security Kiosk are the common services. Just 300 meters from Mobility Hub, it has Schools, Colleges, Airport, Railway Stations, Bus Stands, Hospitals, Malls and Entertainments etc. in its proximity. This ambitious project designed completely in accordance with nature's bounty and designer landscaping offers you a premium living experience. Project completion is expected by December 2018.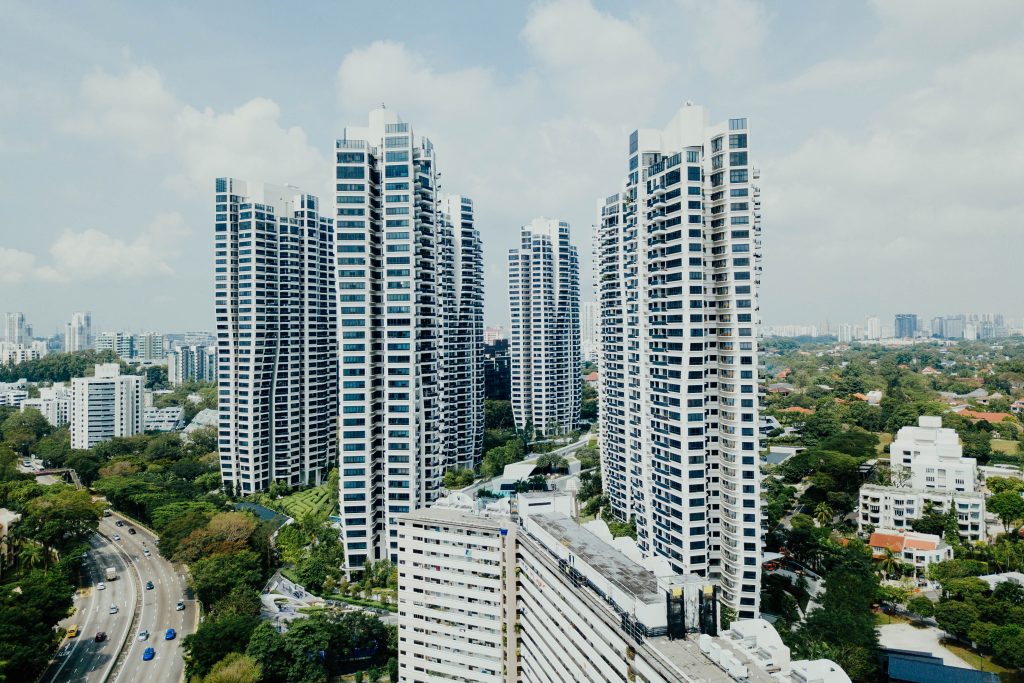 Skyline Brown
Brown is the seventh and final tower of the Skyline Ivy League, a luxury apartment project, located next to Smart City, Kakkanad in 8.6 acres of land. This project has 160 apartments of 2 and 3BHK in 22 floors having area ranging from 1039 sq ft to 1695 sq ft. This is one of the luxury flat projects at Ernakulam that encompasses a host of first-rate amenities that complements the modern lifestyle.
Facilities include Badminton Court, Sunset Deck, Convenience Store, Party Lawn, Exquisite Landscaped Areas, Squash Court, AC Party Hall, AC Pool Side Cafeteria, AC Fitness Centre, AC Mini Theatre, Children's Play Area, Intercom, Sauna, Jacuzzi, Guest-Suites, Swimming Pool with Kid's Pool, Games Room and Massage Centre. Comfortably away from the city crowd and conveniently close to urban conveniences, just 5 KM from Seaport – Airport Road and 10 Km from NH Bypass Palarivattom, the Skyline Brown provides you excellent connectivity and a serene neighborhood. The project at ongoing stage is expected for hand over by December 2017.
Confident Pride
Confident pride is a luxury apartment project located at the elite spot of Edappally, only just 2 KM from Lulu Mall and 300 Meters from NH – 1. The project has 3 towers with 226 units in 2.5 acres and is developed with 2/3BHK apartments having 1116/1378 square feet respectively. Pride is loaded with modern amenities like Kids Play Area, Visitors Car Park, Sun Deck, Guest Suite, Badminton Court, Mini Basketball Court, Day Care Provision, Ac Party Hall/Conference Room, Multipurpose Gym, Card & Games, Table Tennis, Billiards, Swimming Pool, Centralized Gas System and Office Space. It is expected to be hand over by October 2018.
Abad Knightsbridge
Knightsbridge represents a premium residential apartment project in Kadavanthra, Kochi. This premium residential compound offers 66 units of 2BHK (1100 Sq. Ft) and 3BHK (1610 Sq Ft) flats in a single block of stilt + 12 floors. Each of its flat units will be completely independent with no common-sharing walls set over 64.5 cents of landscaped land. Residents can enjoy the latest amenities befitting of a cosmopolitan urban lifestyle. Association Room,  Solid Waste Management,  Sewage Treatment Plant,  Rainwater Harvesting,  Multipurpose Recreation Hall,  Children's Play Area,  Terrace Party Area , Fully Equipped Health Club,  Infinity Swimming Pool & Jacuzzi and  Modern Elevators  are some common facilities. It is conveniently located, 1.5 KM from Panampilly Nagar and 2 KM from SA road, overlooking the enchanting Kochi Backwaters. The project, now under construction stage, is supposed to be hand over by June 2017.
Skyline Synergy
Synergy is an ongoing flat projects at Ernakulam- Cheranalloor. The 18-floor luxury apartment project is designed to have 141 apartment units of 2/3BHK ranging from 1135 square feet to 1737 square feet in 4 towers. Located in 1.51 acres, Skyline Synergy is designed with a luxurious landscape and modern amenities. Association Room, Fitness Centre, Games Room, Home Theatre, Guest Suites, Swimming Pool, Open Badminton Court and Multipurpose Recreation Hall are some of the facilities offered. Edappally junction, Amrita Institute of Medical Sciences, Aster Medcity and NH 17 are just a short drive away. Work is in progress as of now and expected hand over is in February 2018.
Galaxy Pine Court 
Pine Court luxury apartment at Kakkanad, Ernakulam sprawls across 1.36 acres with 270 units of 2/3 BHK flats in 3 towers rising up to 16 floors. The 3BHK apartments have a built area of 928 square feet where as 2BHKs have an area of 725 square feet. Galaxy Pine Court is perfectly located, close to Infopark, with easy accessibility to prominent educational institutions, shopping areas, hospitals and much more. Common amenities include 6 Automatic Lifts, Swimming Pool & Health Club, Mini Auditorium with Indoor Game Facility, Children's Play Area, Landscaped Garden, Rainwater Harvesting and Sewage Treatment Plant. This ongoing flat project is expected to be completed in first half of 2018. The keys are supposed to be hand over by the month of June of that year.
Jade Heights Tower II
Jade Heights II, the second twin of the 32-Storeyed twin tower apartments in Kakkanad, Ernakulam, is a part of Green Metropolis, a 6-acre eco-friendly township project in Kochi. It is the tallest twin tower apartment in South India. The project offers 160 units of very well designed 3BHK residential apartments having 1820 and 1850 square feet area. This is one place where you can enjoy your life in an eco-friendly environment. The site is in close proximity to useful utilities and well connected to Kochi city. Landscaped Garden, Children's Play Area, A/C Home Theatre, Table Tennis, Card Rooms, Indoor badminton Court, Single Basket Ball Hoop, Health Club, Beauty Parlor, Mini Super Market, Cafeteria, Swimming Pool, Open Party Area, Jogging / Cycling Track, Conference Hall, Business Centre / Reading Room etc. are the common facilities offered. Construction is undergoing and the apartments are expected to complete by Dec 2018.
Asten Campus Court
Campus Court is a fully integrated housing complex that offers residents the best of homes at Kakkanad, Ernakulam. It comes in 3BHK (1760 Sq Ft) and 2BHK with study (1572 Sq Ft) in 3 acres with 2 towers and 384 apartment units. Asten Mall, a commercial shopping mall facilitated with Multiplex, Food Court, Hypermarkets, other Lifestyle Stores and a 120-Room Luxury Hotel Block is also associated with this project. Situated just 300 meters away from the Seaport-Airport Road, it has unparalleled connectivity to other places of Kochi city. Swimming Pool, Health Clubs, Multi-Purpose Gym, Billiards Room, Library/Reading Room etc. are the facilities included in the Clubhouse. Other common amenities are also available. Development is almost complete and apartments are expected to be hand over by the end of year 2016.
There are many more going projects of vertical villas, group villas and flat projects at Ernakulam promoted by prominent builders of Kerala and outside. If the building is nearing completion, interior works planning can be started with the help of measurements provided in floor plan. It will help to do a furniture layout and mark the changes required in electrical and plumbing connections. Alterations on internal walls or changes in other specifications can also be planned to avoid demolitions at later stage. Client can request the builder for necessary changes in advance. An experienced interior design company in Ernakulam can help to plan at development stage.