Options for Wardrobes in Different Sizes
December 04, 2020
Which type of wardrobe do you prefer for the bedrooms? Is it a single door, sliding door, or custom made options for wardrobes with storage? Are you not sure about the right type of wardrobe that you need for your bedroom? Here is the complete guide to different wardrobe options and its ideal measurements.
Sliding Door Wardrobes
Sliding wardrobes is a good choice for smaller spaces as it enables more free space. Since the doors glide smoothly on a track, it doesn't hinder the traffic flow giving a more seamless and contemporary appearance. In the sliding door wardrobe, to allow free movement of the sliding panel the depth should be 26 inches, which includes a running track of about 2 inches to prevent clothes from being stuck. Minimum length should be at least 7 feet and each panel should be of 3.5 feet each to allow easy access. For homes with a ceiling height of 250 to 270 cm, usually the ideal height of the bedroom wardrobe may be of 200 to 250 cm. However, you can also get custom-built wardrobes that practically touch the ceilings with a height of 270cm.
Hinged Wardrobes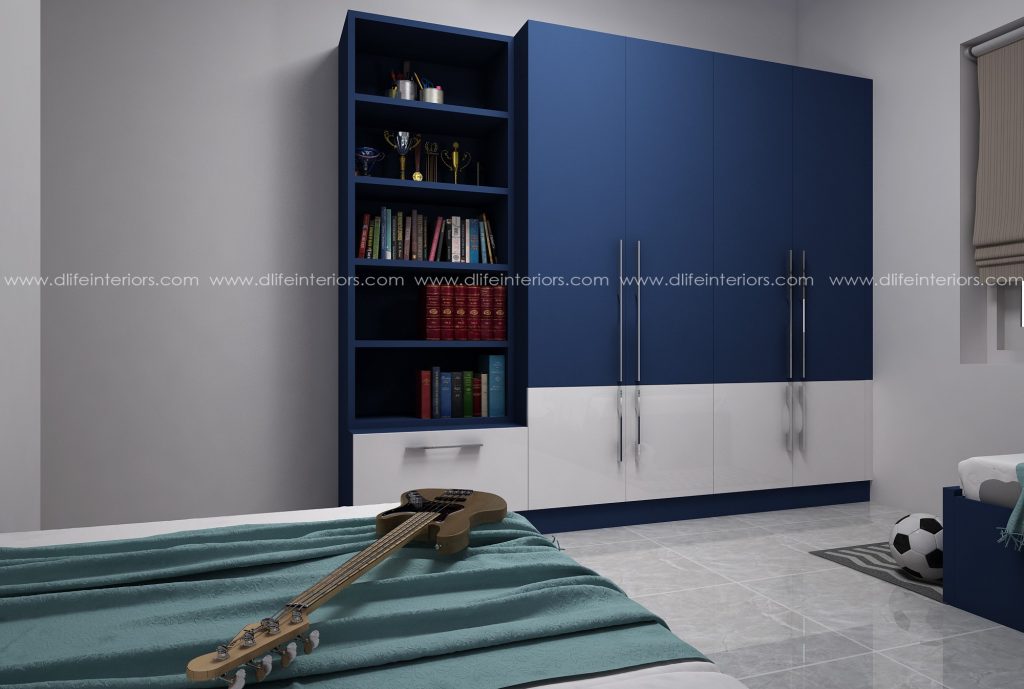 The conventional options for wardrobes – the hinged wardrobe is simple in design and opens with a hinged door. One of the major drawbacks of hinged wardrobe is that it can become a constraint in smaller spaces as they take up space while opening outwards. Standard depth of a hinged wardrobe is 24 inches. However, to hang clothes, the height of the wardrobe cabinets should at least be 84 inches. Or you can create a full length wardrobe from floor to ceiling by using maximum space.
Open Concept Wardrobes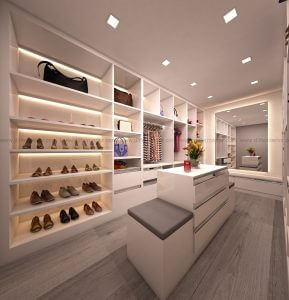 Open wardrobes may not fit the concept of the perfect wardrobe but it helps you put the clothes you love on show with its open storage setup. They are particularly good for people with limited foot space, making it easily accessible with open shelves and clothing rails.
Free-Standing Wardrobes
Free-standing wardrobes are of a unique style and practicality. Known for its wide versatility, free-standing wardrobes are first choices for any homeowner. These are the perfect solution for bedrooms with no existing storage or homes, which cannot undergo a renovation. These wardrobes come in different sizes, can be completely customized as per requirements, and can be easily moved around. Free-standing wardrobes come primarily in wood finish. However, it is also available in glass, and metal options.
Walk-in Closet
With its versatile shelving options, walk-in wardrobes help to make any bedroom interiors the epitome of luxury. Standard walk-in-wardrobe consists of both hanging storage space and drawers making it an ideal for rooms with a decent amount of spare space. If you have wardrobes on both (opposite) sides, maintain a clearance of 54-60 inches so that even if the wardrobe door on one side is open, there is still enough space for you to pass by. If you have a wardrobe only on one side, make a clearance of at least 3 feet for you to comfortably use it.
Customized Wardrobes
  >Men's wardrobe
The minimum height for a men's wardrobe cabinet is 40 inches. Since men like to hang their shirts and suits, make a minimum 3 inches space between the hanging rail and the top of the wardrobe. On the other hand, if you need a dedicated space for suits/ coats, the wardrobe section will need depth of at least 30-40 inches. This is because suits/ coats are wider than normal shirts. The shelf width in men's options for wardrobes can be from 40cm to 1m but cannot be longer as it will bend under the weight of the clothes.
  >Women's wardrobe
For women's wardrobe, the clearance height should be 66-72 inches. The women's wardrobe can also be divided into many spaces. A part of the wardrobe can be deep enough to conveniently arrange all the clothing, other sections can hold the shoes and accessories.
  >Children's wardrobe
Children's wardrobe is one of the most confounding options for wardrobes. For children, the ideal option is a three-door setup with about 28 inches each. The wardrobe also needs to have drawers to accommodate their accessories, books and toys. If you contact an interior designer to create your home furniture, they can provide beautiful functional wardrobes to efficiently manage the space of your room.