Places in Ernakulam for Home Interiors
June 30, 2015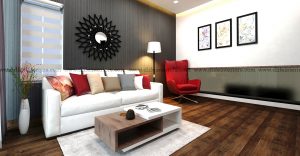 Ernakulam, the fastest growing city of India, is the business capital of Kerala. Many of the residents are people from other places of Kerala, who have shifted to this city for a purpose. Educational institutions, employment and business opportunities attract people even from other states as well. Mobility hub at Vyttila, a common point of unlimited connectivity by means of transports including road, rail and water makes Ernakulam a unique business cum residential spot. Same as  in any other city, those who buy flat or build a house need to do their home interiors in Ernakulam. Let us see the main places where the most reliable company undertake interior design and execution.
Get Home Interiors in Ernakulam from Professionals
People living and working in Ernakulam opt for a house or apartment as per convenience, liking and budget. NRIs prefer to buy flats and group villas for investment or living purpose. All of them need professional help for home interiors  in Ernakulam. Everyone need quality works design solutions, best finish and on time execution. Thus, it is always better to select the most reliable home interior design company in Cochin Kerala like DLIFE. With 3 branches in Ernakulam and teams rich in years of experience, expect the best result in design as well as execution.
Premium Houses in Panampilly Nagar
Panampilly Nagar is one of the posh residential localities of Eranakulam. It is well connected with other parts of the city and has easy access to M.G road and railway station. Being one of the busiest places at Ernakulam, Panampilly hosts a number of schools, hospitals, supermarkets, banks, ATMs, hotels and restaurants, beauty parlor and boutiques and many more that are essential for daily life. Other residential places around Panampilly Nagar are: Kadavanthra, Giri Nagar, Gandhi Nagar, Ramaswamy Iyyer Colony, K V Nagar, Indira Nagar, Tagore Nagar, Shastri Nagar etc. Service of D'LIFE home Interiors in Ernakulam, definitely covers the elite residential area of Panampally Nagar.
Customized Home Interiors for Celebrities in Kaloor

Kaloor, a prime spot of Ernakulam, is renowned for Jawaharlal Nehru International stadium. As very close to the town railway station and private bus stand it acts as the heart of the city. Also connected to other places like Palarivattom, M G road, Marine Drive it has all facilities to reside within the reach.  We can see calm, quiet and peaceful places secured away from rush of the city to live with.
D'LIFE interior designers in Kochi has completed several interior works in this area for clients including celebrities. Anoop Menon, famous for screenplay of new generation films, owns a pent house at Kent Hail Garden, Kaloor. Vyttila branch of DLIFE completed design and execution of this 3000 sq ft apartment. Have a look at the interiors of this beautiful apartment.
Similarly, popular cine artist Kalabhavan Shajon is D'LIFE's another celebrity client at Kaloor. D'LIFE had done all space plan, interior furnishing, modular kitchen, and the complete home interiors in Ernakulam for Mr. Shajon at Knights Skyline Imperial Garden. This has appeared in one of the latest issue of the Malayalam magazine, VanithaVeedu'. All the interiors including living room interior design and bed room interior have a frosty white and mystic walnut gloss finish as per clients requirements and the lighting makes it spectacular. Our team of professional interior designers in kochi ernakulam were able to exquisitely design their space that complement and reflect their values. Kitchen, living and dining areas are open. You can see it here as it is.
Other residential areas near Kaloor, Ernakulam are: Kathrikadavu, Elamakkara, Journalist Colony, Kacheripady etc.
Interiors for Independent Villas at Palarivattom
Palarivattom, once the ruling centre of Cochin is now a beautiful residential location. With a major stop metro rail project, it is well connected to NH 47, Edappally, Thammanam and Vyttila by road. Ernakulam Medical Centre, Lulu mall and Oberon mall is accessible from here with ease. Premium home designs and flats of major builders are readily available here. Property rates are also affordable and thus the number of independent villas for turnkey interiors are also high. Anyone planning house interiors in Ernakulam, at Palarivattom can contact DLIFE, Edappally branch. Some more residential areas around Palarivattom are: Thammanam, Padivattom, Arakkakadavu, Vennala, Chakkalakal etc.
Interior Design and Execution for Flats at Vyttila

Vyttila, the busiest places at Ernakulam Kerala, is the entry point to Cochin from Kottayam and Alleppy districts. It is beyond a commercial place and an excellent residential area. Many residential projects are ongoing here. All essential facilities for comfortable living are here within the proximity. You can get complete home interiors done including your interior design and furnishing for kids room design, living room design, modular kitchen
from D'LIFE Home Interiors, Vyttila branch. There are few more residential areas near Vyttila, Ernakulam: Thykoodam, Champakkara, Powerhouse, Chakkaraparambu, Elamkulam, Ponnuruni etc
Kakkand – IT, Educational and Residential Area

Kakkanad, the administrative center of Ernakulam district, is a quiet place, away from the hustle and bustle of the city. All basic and essential facilities and landmarks are easily accessible within short distance. Upcoming Smart City, Kerala's largest IT park and Info Park of CSEZ converges Kakkanad as Cochin's IT hub as well as an industrial area too. It is also an educational center with famous colleges and several schools. The location has easy access to seaport airport road and NH bye pass that connects to other places. D'LIFE has completed several home interiors projects in and around Kakkanad. Click here to see a video of the interiors of a 3-bedroom apartment in Galaxy Homes by our Kakkanad branch.