Types of Chairs and Styles for Homes that Will Elevate the Look
April 04, 2022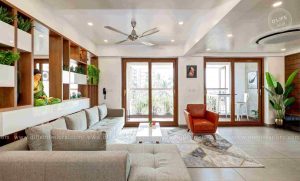 Homes have an individual taste that differentiates them from others. Your home is a temple that has spiritual as well as aesthetic importance for you and your well-being. While decorating with different types of chairs for home, the latest trends and your budget both have to be balanced.
9 modern chair designs that are going to elevate your home quotient
1. Armchair
Claiming the prime location in the room, an armchair is a perfect seat to curl up with your favorite book or watch your k-series on Netflix. So, select from a wide range of light-weight relaxing armchair with armrests and comfy cushions.
2. Winged-back Chair
While it reclaims a spot near a fireplace, the corner of the room, or near a window, the wing-back chair transports you to the 1600 A.D. British era. The comfort is unmatched when you sit on this large piece of furniture.
3. Club Chair
It's a chair that has an impressive presence in the clubs and homes. It is best suited for coffee conversations or drinking time among buddies. The fabric pattern for the upholstery may include top grain leather or a soft micro feather finish.
4. Lounge Chair and Ottoman
A calm corner of your bedroom is a sanity corner where one wants to read a book on the lounge chair and prop up their feet on the ottoman. The stylish designs are budget-friendly so that you don't think twice before buying them.
5. Chesterfield
Chesterfield armchair is iconic furniture that was created for the dukes. The original one oozes luxury and extraordinary craftsmanship. It gives immense pleasure to sink in the chair and relax on the rolled armrests. So, one must go for a genuine leather chesterfield that gives an unparalleled experience to the owner.
6. Recliner
What is your first demand after a long tiring day? The right answer is lying on a recliner sofa that is a blend of comfort and elegance. It is an ingenious device created to blow you with ultra comfort due to its mechanized design.
7. Rocking Chair
Investing in a good portable rocking chair with curved bottom legs is never a bad idea. The soothing movement of a rocker has many health benefits according to the doctors. So, if swaying along in an accent rocking chair on a leisure evening is your call, go for it.
8. Wicker Chair
A wicker chair is a blend of traditional touch and modern pick. In this types of chairs for home, thin wooden fibers are twisted to shape the indoor furniture that is lightweight with a boho appeal. Have this chair as part of your home decor with soft lighting and wall colors.
9. Desk Chair
The lockdown has added office desk chairs to the list of home furniture. The preferred choices for Work from Home executives in this category are ergonomic office chairs with wheels and with lumbar support. So, when the office comes to home, although lying on a bed or sofa is easy for doing office work, one must pick up a height-adjustable desk chair for good sitting posture and good work output.
Conclusion
While picking the best furniture style for your room, one must never compromise on the design and functionality. If you are looking for some modern designs and not less than the luxury brands, a one-stop home interior design destination is your best pick.