View and Feel the 5 Elements of Life
February 22, 2017
Embrace 5 Elements from Apartment Interiors in Kochi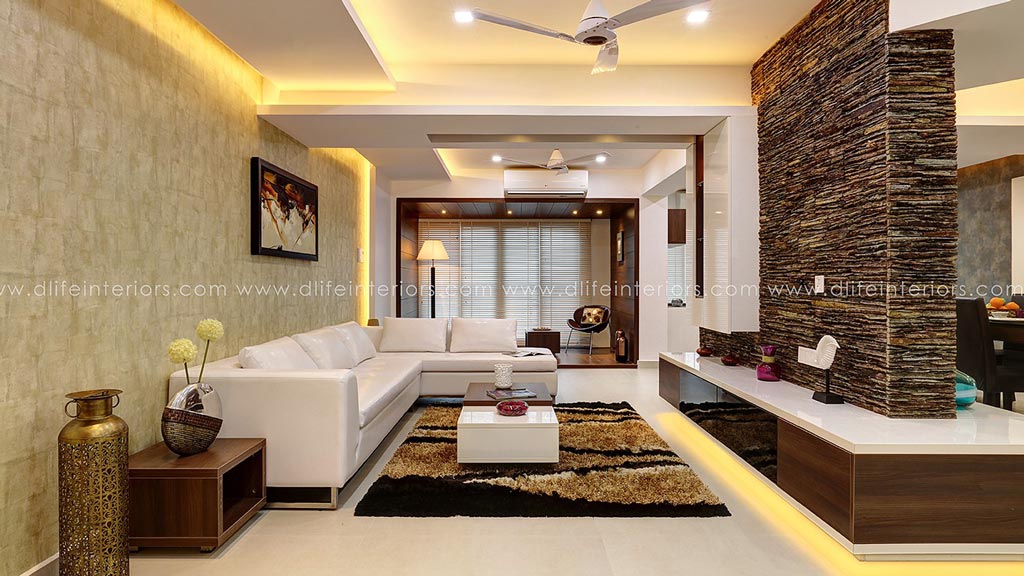 5 elements, the very basis of life, when around you, is a rejuvenating experience. Earth, water, light, air and sky unites here at an apartment interiors in Kochi. Bounded by backwaters, Heera Waters residential complex is almost equidistant from NH and MG road, the arteries of Ernakulam City. Chilly breeze, stargazed night sky and pleasant sunlight are nature's gift present here that gives relaxing feel to mind and body. Chinese fishing nets, Houseboats and a number of small boats in backwaters are also eye-catching.  Hariz Razak and family enjoy all these in this fully furnished apartment.
A Place to Rejuvenate  
Coming back to home is really relaxing, just as reaching a final destination. Name "living room" is so apt for the biggest space in this apartment. It is the best lively place to relax after day of works and travels. Wallpapers and textured tiles make this living room really lively. White leather sofa is very cozy and can accommodate 5 persons.
Cabinets for storage are nicely fixed around living dining partition wall at the bottom.  Coffee tables and other furniture also match well with white theme of the room with warm lighting. An extra sitting area arranged next to living room by converting one of the 4 bedrooms of this apartment interiors in Kochi  gives the place a airy and wider appearance. This area of apartment interiors in Kochi has been given a wooden theme and comes with wooden flooring.
Come Home and Rejoice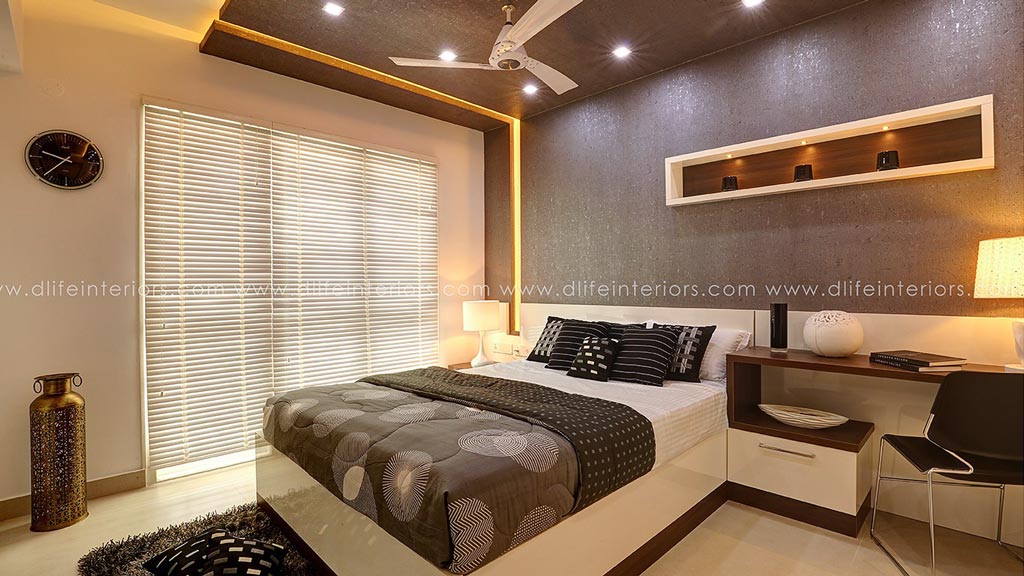 Recharging the energy for next day of business life and off-loading of pressures of day to day happens only when we reach home. Here there is still room for us to rejoice at the blessings. There are 3 bed rooms in this house among them the master bedroom is the highlighted. A full side sky view is possible in this room through a glass window. Also use of wooden blinds adds privacy. It also consist of a King size cot and side table and wardrobes. Coming to the second bedroom, the wardrobe with sliding glass door built at bedside omits the need for dressing table. Third bedroom serves the purpose of a study room too as a table is set to the bedside. Both these bedrooms have queen size cots and a side table each.
Preserving Source of Energy…
Good food and positive thoughts are the natural energy sources. Right place and ambiance encourages these sources, especially with its connections to the nature. A precise dining place with furnishings and decor is set up in this modern apartment interior with enough space and natural lighting from the full window on one side. The roomy space next to the living area also functions as a place for social gathering.
Kitchen must be spacious with all facilities of modern style, was one of the instructions from client to the designer. The floor plan of kitchen was such that two L shaped kitchen counters could be built. Hood and hob fixed on one counter with the facility of a single bowl sink for quick washing makes things a breeze. The other counter has one bigger sink, more storage cabinets and the built in spaces for oven and grill. All the necessary kitchen accessories like cutlery tray, baskets etc are within the sliding trays under hob.
Watch video of this apartment interior.
If you wish to contact the best interior designers in Kochi to hand over all works from concept to completion just call:+91 956 723 11 11