Villa Interiors in Bengaluru, Karnataka Defined by Contemporary Schemes and Whimsical Elements
July 20, 2022
The client wanted their villa interiors in Bengaluru Karnataka to have a contemporary setting which also achieved a sense of vibrancy and elegance. The home adopts an open concept and thus the primary requirement was to have a light-filled space as a sentimental affair. Keeping in mind the different individual personalities, each corner of this home has its individual personal space with comfort quotients and quirks.
Expansive Living Room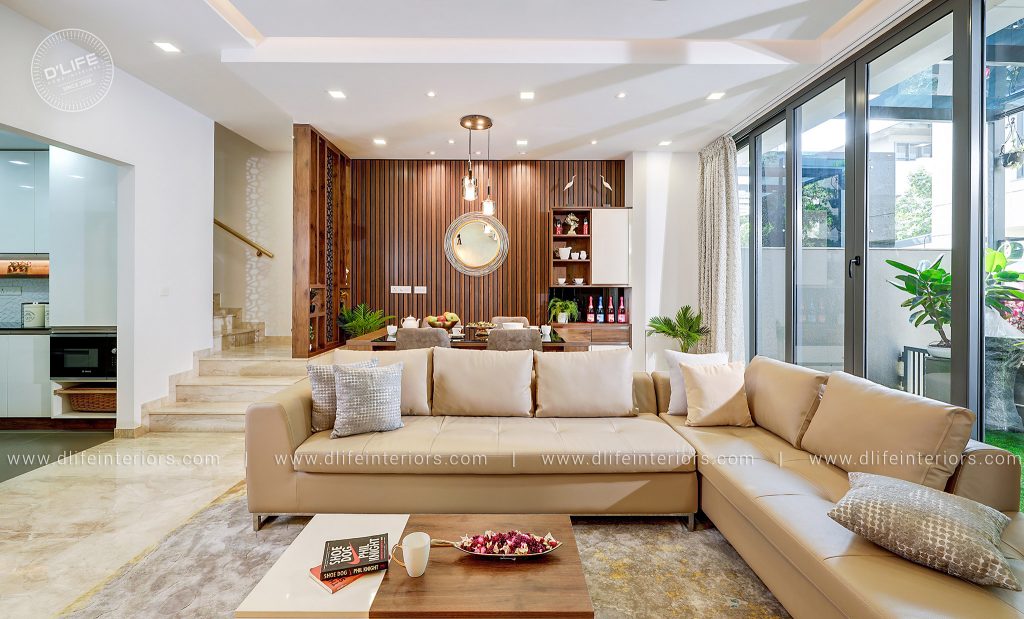 This villa interiors in Bengaluru, Karnataka designed in an expansive and elongated open-plan scheme consisting of the living room, dining and kitchen. The living room also gets a fresh appeal with its presence of plants in white planters. The priority was to bring in light and ambience along with functionality. So, we adopted a custom-made L shape sofa in a beige color palette with contemporary aesthetics for living. The idea of luxury and elegance is brought out by the wooden panel in the dining. It creates a fresh and vibrant elegance that adds to the style of the room.
Vibrant Dining Area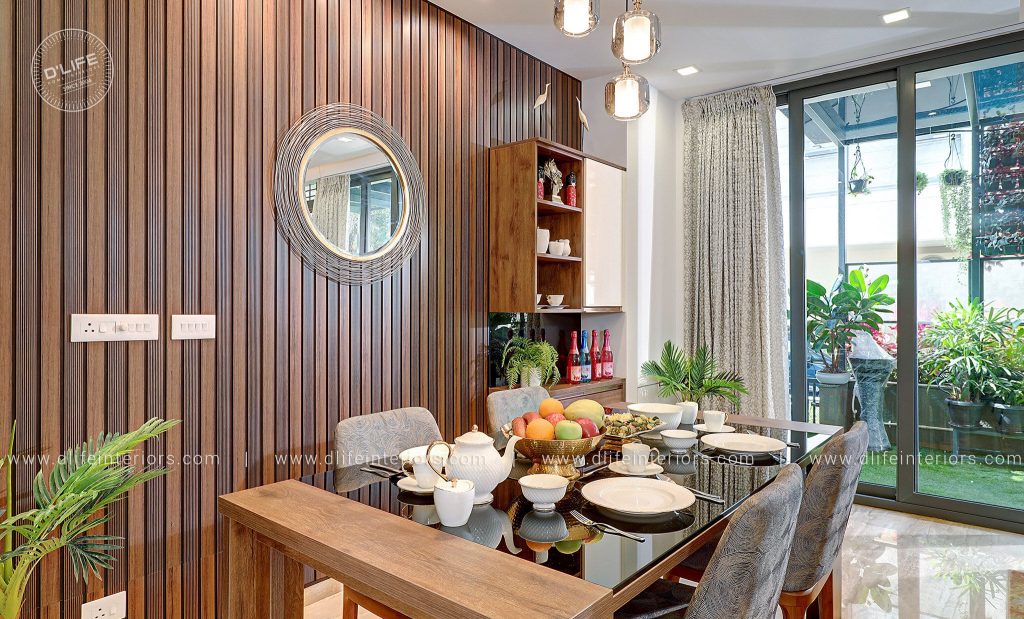 The dining is a seamless extension of the living space since the home adopts an open concept design. The dining area elegantly carries a wooden paneling. The entire setting has illumination by use of pendant lighting and recessed led ceiling lights. The space is visually connected and with the custom-made dining chairs that look similar to the rest of the pieces.
Parallel Modular Kitchen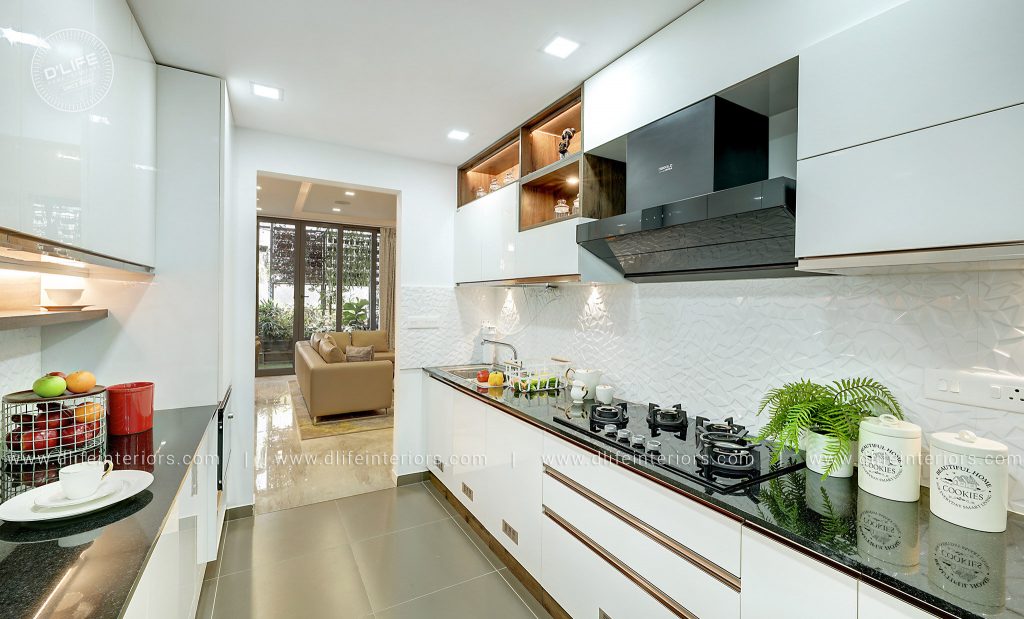 The dining area connects to the kitchen space through its side. Considering the space and its heavy-duty use, we incorporated a parallel kitchen. The kitchen, just near to the dining area is in a neutral color palette. With its white palette and led lighting, it has an illusion of expanse. Kitchen cabinets are so artistically designed so as to make them look with minimum visual clutter.
Contemporary Style Bedroom Designs
The bedrooms are an extension of the contemporary scheme the home adopts. The master bedroom echoes a restful vibe, and the wide windows flood the rooms with natural light. The Color tone of the walls is neutral and the furnishings make an elegant statement. Bedrooms also boast rich carpet underfoot and accent walls. Genius storage solutions in the form of a bottom storage bed, wardrobe and study tables make it also have a functional look and feel. The bedrooms with their contemporary theme, add a requisite dose of richness. Further, the minimalist furnishings, decor elements and modern cabinet systems add great new-world elegance to this villa interiors in Bengaluru. This shows that a trustworthy interior design company can create magnificent living experiences using their expertise and experience.