Best Interior Designers in Chennai
Best Interior Designers in Chennai
Are you finding it difficult to locate one of the best interior designers in Chennai to make your home ready to live comfortably? Why don't you go with a company instead of an individual that can handle every challenge skillfully by effective use of a reliable team? D'LIFE Home Interiors, through its prestigious showroom in Chennai fulfills this requirement in the premium segment. Focusing on end-to-end interior furnishing and customization, our team completes the entire process from estimation to execution in the most professional manner. Thus, an efficient team ensures complete customer satisfaction through careful attention to detail.
D'LIFE Home Interiors no. 33, Dev's Ark, F Block, 2nd Ave, Anna Nagar, Chennai, Tamil Nadu 600102 – India
Call: +91 755 900 3333 
D'LIFE Home Interiors C-2, First floor, Times Square, East Coast Rd (ECR), Uthandi, Chennai, Tamil Nadu 600119 – India
Call: +91 807 890 8888
Complete Solution of Customized Home Interiors
It is inconvenient for everyone to coordinate with various suppliers to arrange the design, furniture works, soft furnishing and interior decoration. Design by an architect and execution by another contractor often leads to difficulties and finishing issues. Therefore, we provide the complete solutions for home interiors under one roof. As it is a company, there are people to coordinate different stages of work starting from estimation to design and execution. With a single point contact and facility for escalation in the event of problems, this system offers comfort and convenience for the client.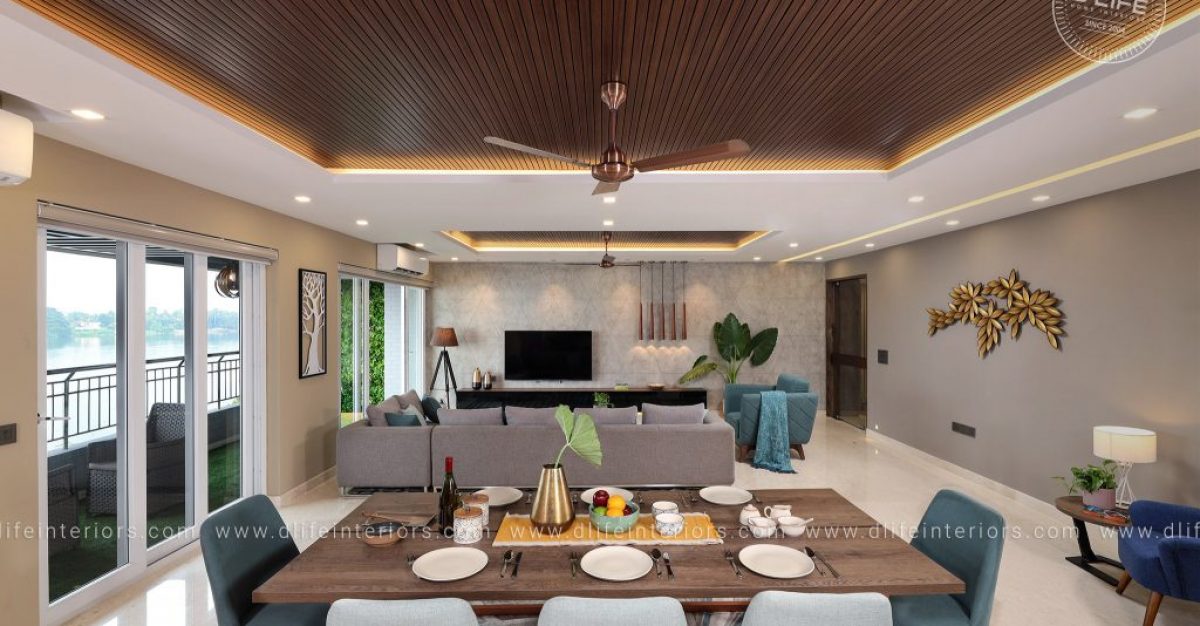 Modern Approach to Interior Design
First of all, the design by D'LIFE is always in accordance with the latest trends in contemporary style. Our interior designers in Chennai consider the interests and requirements of the clients in detail. They visit the site and discuss with clients to choose the best possible design style. Also, the design is always considering the practicality and specifications for smooth execution. Systematic manufacturing and assembling procedures ensure the best output to match the designs as per the client requirement. Therefore, a client is sure to achieve the results as per the plan and discussions with the designer. In addition to this, there is a wide scope for selection of colors and finishes suitable for modern apartments or houses.
Expertise and Interactive Skills of Interior Designers in Chennai
We have been designing interiors for modern and contemporary homes since 2004. From upper middle class family homes to luxury residential projects, we deliver bespoke high-end designs across South India. From concept to completion our team gives confidence to the clients through diligence, design skills and regular interaction. We understand that each client is unique and every project is different. Therefore we always assign our best interior designers in Chennai to every client. Ability to understand the requirements and skills to put them into a plan in the most practical manner is surely rewarding.
Perfect Linking of Design and Execution
The first step in the process of home interior work is to make a perfect design as per the estimate. This stage requires the maximum involvement of the client in finalizing the drawings after many discussions and revisions. First a layout and then the drawings with all the specifications, and finally the 3D visuals give the complete picture of the outcome. Designer visits the site, takes complete measurements and provides the designs for modular kitchen and other furniture to the client. Cabinets are manufactured with ultimate precision and safety to ensure excellent finish and durability. Finally, the timely and trouble free execution of the work is the most important part of the commitment. Thus, our interior decoration company in Chennai ensures that every customer is taken care of right from design to execution. Whether it is a turnkey project or customized home interior decoration, they provide the perfect solution through efficient linking of each department.