10 Benefits of Customized Modular Kitchen in Kerala
July 23, 2015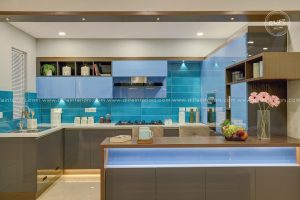 Modular Kitchens, the style statements of modern homes, have revolutionized the way of kitchen usage. In this era of open living concepts, bold and elegant modular kitchens have become a new standard. The only thing you have to do is to seek out a reliable customized modular kitchen manufacturer who is capable of meeting all your requirements. D'LIFE Home Interiors, based at Cochin (Ernakulam), with an experience of 12 years offers solutions that suit the house or flat. Here are the 10 benefits of customized modular kitchens in Kerala.
1. Fit to the Space
Customized modular kitchens designed and built with precise measurement offer maximum space exploitation. Pre-built or ready-made modular kitchens may not fit space exactly in shape or size. No such size mismatches arise in the case of customized modular kitchens. We can make use of cramped corners efficiently and even the narrowest spaces turn to side mounting or bottle pullout facility.
2. Get the Facilities as Required
Hood and hob, sink, storage units etc. are the essential components of any modular kitchens. Besides these, one can opt for other facilities like built-in space for ovens, grills, refrigerator, and LPG cylinder. Additional storage, more space, quick dining area etc. are some of the benefits of a customized modular kitchen. The customer can also choose the size of storage units, the height of overhead cabinets and shelves, type of drawers etc. as they wish. This flexibility in design is foremost among the benefits of customized modular kitchens.
3. Get the Right Color Combination
Color reflects the state of mind. It affects your mood favorably or adversely that in turn influences working in the kitchen. Color selected must be in tone with the taste of users. Attractive and stylish color blends from a simple matte to a high gloss finish are available from a variety of choices. It is better to go for a color that harmonizes the wall paint and does not get outdated. Always consult with a modular kitchen specialist for a color scheme that creates a lively atmosphere and that gives a bright look in the kitchen.
4. Provision for Accessories
Modular kitchens have changed the traditional concepts of kitchen usage and we can find them very functional. Modern kitchen accessories play a key role for the smoothness and ease of functionality. As one of the benefits of customized modular kitchen, its storage spaces come with a set of well-organized accessories. D'LIFE offers 9 accessories with their modular kitchens. Customers have a provision to choose additional premium accessories if necessary. The kitchen does not require any alterations to integrate these individual components.
5. Add Wanted and Eliminate Unwanted
Modular kitchens are contemporary trends in the kitchen and are getting popular day by day. They include kitchen appliances, accessories, and storage cabinets to fit various cooking needs and are available in diverse materials and finish. As pre-built and having only standard units they may not be suitable for specific requirements of every person. Some elements may be missing or some might not be necessary. In the case of completely customized modular kitchens, we get many options and ideas to add our choices and eliminate the unwanted.
6. Convenient and Time Saving
Convenience is another benefits of customized modular kitchen. Nowadays more and more people are opting for modular kitchen, as they are very convenient. In traditional carpenter made kitchens, the house owner has to search and find wood and other materials for construction. There may not be a proper time limit to finish the work and one has to wait with patience until the carpenter does it. Materials for D'LIFE's modular kitchens are made in sophisticated factory under expert supervision. Moreover, it takes only 35 to 45 working days to complete the work starting with design till hand over. Lifetime service and limited period warranty are some of the benefits of modular kitchens.
7. Fit to the Budget
Customized modular kitchen final prices depend upon the storage spaces, provision for accessories, materials, and finish. Conventional carpenter built kitchen seems to be a reasonable solution in the beginning. However, in the end you will realize that the cost has reached beyond your budget and you may not get the finish, quality and look of a modular kitchen. Customers may disclose the budget to the sales consultant and discuss the facilities and size that can be attained within that. D'LIFE modular kitchen prices start at Rs1.76 Lakh including design, and implementation services. This includes Hettich (German Made with 15 year warranty), Kitchen cabinets and storage Hood and Hob and all other essentials.
8. Pay as Per Progress
Finely designed modular kitchens add fresh look and style to the home and adapt to available space. Its cost may vary depending upon choices. You have to pay in advance for traditional or readymade modular kitchens. Payment can be made as the work progresses starting with a nominal token amount to get the plan and design done. Half of the remaining sum should be settled before starting the production of materials. The rest in two installments at the phase of installation and final hand over.
9. Match to the Rest of Furnishing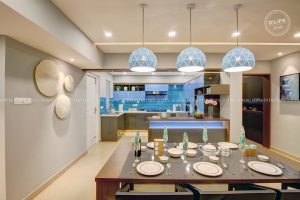 Modular kitchen has become a necessity in modern houses and is turning out to be a place beyond for cooking. For a better living experience in the kitchen, its finish, and color combination should match with dining, living, and other areas of the house. The open plan trend does not make demarcation between kitchen and living area. D'LIFE, a professional home interior designing company, can offer kitchen designs that perfectly match with your rest of furnishing.
10. P

reference and Desires Matter
Traditional kitchens are now transformed to modular kitchens as per time, new styles and choices of the new generation. Perspectives on home aesthetics also have changed a lot with attitudes and increase in income. Kitchen interiors should be done according to the preference and desires of the user rather than regretting later. Thus, space within a kitchen can be utilized the best way by proper planning and execution. Get your modular kitchen from D'LIFE Home Interiors in Kerala, Bangalore, Chennai and Coimbatore by discussing the requirements.