9 Accessories with Modular Kitchen at Ernakulam
Jun 05 2015
Essential Accessories with Modular Kitchen
Customized modular kitchen represents a modern kitchen that comprises various modules or units as per specific requirements. It includes a bottom or base storage, counter top or working area and overhead or wall storage. The storage units hold kitchen accessories whereas the counter top provides sink, hood and hobs, and gadgets like microwave oven. Above all, these units are made with diverse materials and assembled together to make a stylish kitchen. A modular kitchen maximizes work comfort and utilizes space efficiently in flats as well as villas. D'LIFE, the experienced interior design company in Kerala provides a modular kitchen at Ernakulam with accessories as per exact measurement of space. Moreover, they provide kitchen accessories like hood and hob, plain basket, cutlery tray etc. through their branches.
Useful Stainless Steel Accessories Available in Kerala.
A modular kitchen completely customized as per discussion with the house owner makes the framework that gives a beautiful look. For it should be fully functional we need accessories and appliances as per requirement, cooking habits and convenience. D'LIFE provides premium quality hoods and hobs for their customers. Accessories are of good quality stainless steel. In addition, the overhead and bottom cabinets are direct from the company's own factory. Customers need to choose useful stainless steel accessories with a modular kitchen upon completion of design.
D'LIFE offers 9 very essential accessories
Hood and Hob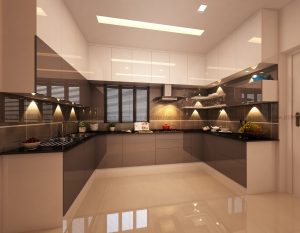 Hoods and hobs are the most essential components of any modular kitchen. Standard hob has a sleek design with tugged black glass finish that matches to any color variation. It comes with one multi-flame and two medium brass burners for different cooking needs and has a width of 60 cm. Enameled pan support and auto electric in-built under knob ignition are its other features. In modern-day kitchens, hoods act as traditional chimneys. They suck heat and stench and give the kitchen a pleasant feel. Premium quality hood has a suction power of 1000 m3/hr and a width of 60 cm that suitably aligns with hob with baffle filters. It also features an electronic soft touch panel for controlling its functions and two L.E.D for lighting.
Plain Baskets
D'LIFE offers 2 attractive and stylish plain baskets for all of its modular kitchens. They can accommodate any kind of item. It can be kept inside for kitchen cabinets and kitchen larder pullouts. Moreover, these baskets come with various dimensions and you can choose the required height and width that fits your cabinets. In addition to this, high durability and corrosion resistance are the features of these plain baskets.
Thali Baskets
Neat and tidy plates add to the dignity of a kitchen. Thali baskets help to arrange plates in a kitchen. D'LIFE provides one elegantly designed Thali basket with its modular kitchen. It is integrated into kitchen cabinets and operates like a pullout. Clients can select one with 15 cm 20 cm height that matches the requirement. They are available with 304 grade stainless steel for better corrosion resistance and have an electro polished finish.
Cup & Saucer Basket
Cup & Saucer basket available with D'LIFE modular kitchen is perfect for any modular kitchen. It comes with a height of 10 cm and thus clients can choose apt dimensions from many available according to requirement. This accessory fits perfectly with cabinet drawer slides. These baskets have stainless steel finish for long life and fit for rugged use.
Cutlery Tray
Cutlery trays suit all needs of a modern kitchen. They are available in different sizes and various configurations to fit on to any cabinets. These pull out cutlery trays provide an appropriate storage facility for various types of spoons, knives, and forks. Further, the super quality stainless steel finish makes them corrosion resistant and durable.
Glass Tray, Plate Tray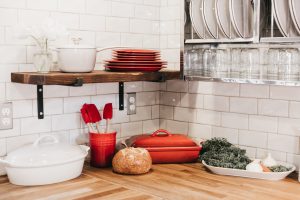 This glass cum plate tray that looks fashionable has a dimension of 90 cm and is apt to store glasses and plates in any modular kitchen. It fits to the cabinet above the sink for more convenience and has a glass lid with handle. Plates fit perfectly at middle portion and glasses or cups at the bottom. As plate and glasses are more likely to be in contact with water there are chances for corrosion. This tray is made up of industry standard stainless steel material for resisting corrosion and has a long lifespan.
Bottle Pull Out
Bottle pull outs are for storing bottles and other small packets under the counter in narrow spaces. They are suitable for storing items in corners, under the sink, and in bathrooms. Unbreakable transparent inserts offer an optimal usage of storage space and the closed base prevents small items from falling out. Typical dimensions are 200mm x 560mm x 650mm. These detergent holders store soaps and dish wash for household cleaning purposes. They have sufficient storage space with a sleek design and are durable. It aligns perfectly to wall cladding. Typical dimensions are 230mm x 200mm x 330mm.
Waste Bin with Auto Lid
Waste bins that are the parts of D'LIFE customized modular kitchen come with an automatic opening system for lids. It has a removable bucket inside for convenience. Use of nontoxic premium plastic ensures long life and has a stainless steel polished finish outside. The dimensions are 355 x 277 and have a capacity of 13 liters.
Additional Accessories available to purchase and add to modular kitchen
Customers can buy more modular kitchen at Ernakulam from D'LIFE if they require. Below are some accessories available from D'LIFE branches at Ernakulam, Kerala and Bangalore.
Hood and Hob 90 cm
Clients can opt for this bigger hob if the cooking needs are beyond the standard 60cm. This hob has 90cm width and has 5 brass burners. Two of them are multi-flame burners and the rest are medium burners. Like standard 60 cm hob this has also enameled pan support, auto electric in-built under knob for ignition and toughened black glass finish. This will be more than enough for a big family with a broad cooking habit. The hood suitable for this hob also has the same features of that of the standard hood and additional intensive speed functions. Further, common features of it include 1000 m3/hr suction speed, 90 cm width, Baffle filters, LED lights and electronic soft touch control with backlight.
OrgaWing for Pan Drawer
Orga Wing is a special feature for pan drawers that make your kitchen special. Here, two trays fan out when opening the pan drawer, providing access to the storage place. You can get it as an additional accessory in modular kitchens. This space allows storage for small items. Thus, this special accessory makes use of the space behind the pan drawer front panel and creates additional kitchen storage.
SS Cutlery Tray 90cm
D'LIFE offers a silver finish powder coated, stainless steel cutlery tray with an exquisite look as the additional accessory with its modular kitchen. It offers neat and tidy cutlery organization within easy reach, by the help of this premium accessory. As a result, this can be organized according to the needs of customers with variable dividing elements. It has a 90cm width with a pan drawer under a hob for easy access.
How to Buy Accessories with Modular Kitchen
You can get a modular kitchen at Ernakulam with facilities for all accessories from D'LIFE Home Interiors as a complete package offer. Thus, at Ernakulam or anywhere in Kerala, it is better to choose premium quality accessories with a modular kitchen as they are more trustworthy. Most importantly, look at the warranty and annual service arrangements before taking a buying decision. Accessories should fit perfectly into the kitchen cabinets. Therefore, it is better to finalize the accessories during the design stage.