A 3BHK Apartment Interior Design at Asset Anchorage by DLIFE Trichur
September 22, 2021
The owners brief for their 3BHK apartment interior design at Asset Anchorage, Thrissur was simple. They wanted a light, combination of clean and elegant interiors. Every nook and corner of the home was measured down and digitized with detailed planning. The front door opens to a realm of space with custom built-ins and luxury design elements. 
The Living and Dining Space that Opens Into an Outdoor Garden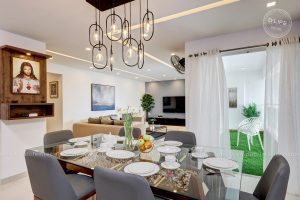 The front door of this 3BHK apartment interior opens into a living room with richness and texture. Our design philosophy is to create an apartment brimming with comfort, fine touch and freshness. With a bare minimum of colors and accents on the walls, the living space of this apartment welcomes its guests with a sleek all-black television console that refines and squares off the setting. Additionally an L-shaped sofa and entertainment unit placed in the living creates a cozy and comfortable retreat. In similar fashion, the right side of the living space has a cozy space that works as an outdoor garden. The dining room, like the living space, gives continuity to the design narrative with its grey six-seat grey dining chairs and decorative lighting. 
The Three Cozy and Eye-catching Bedrooms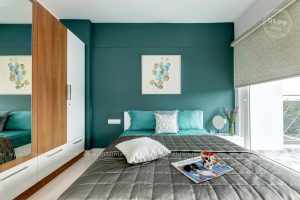 All the bedrooms of this 3BHK Apartment Interior design at Asset Anchorage is layered with artworks, contemporary decor and furnishings. A unique feature of the home's bedroom design is that it highlights the wall palettes through its decor. The master bedroom has hues of grey, wood, and white. The design is minimal, but it creates a relaxing ambience. All other bedrooms too resonate with a minimalist material palette.
Drenched in quirky green, the second bedroom has a dual-tone wardrobe and wall-to-wall glass windows on the other side offering an expansive view. Consequently, it successfully creates a soothing and non-cluttering as per the initial plan. 
Contemporary Kitchen
The dining room and kitchen lie adjacent to the living room. Kitchen is minimal and chic, and incorporates all contemporary needs.  Space inside the kitchen of this 3BHK Apartment Interior design appears bigger and brighter by cleverly reworking the layout. Likewise the designer opted to do something different and quite clean. Thus, they included a breakfast station that worked really well with the aesthetics of the apartment and color of the kitchen cabinets. 
Watch the full video of this apartment interiors,
Link: 3-BHK apartment at Asset Anchorage, Thrissur