Options to Attain the Best Finish for the Kitchen Cabinets
Aug 13 2021
Your kitchen cabinets take up a significant amount of space and are perhaps the most prominent element of your kitchen. Not only do they have a huge impact on the aesthetics of your kitchen, but also its health. Kitchen shelves are used relentlessly every day. Meaning they are bashed, clanked, slammed, and dented on a regular basis. Because of which they begin to look jiggered and tattered before long as their finish starts to wear off. Therefore, you should make sure to only use the most durable and sturdy material for your kitchen cabinets. Laminates doesn't only provide them with a better appearance, but also a protective layer. Let's take a look at some of the best materials available in the market today.
1) Lacquered Glass: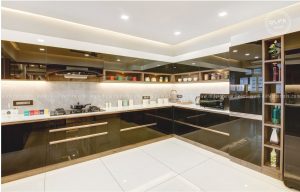 Lacquered Glass, also known as black painted glass, has an opaque appearance and comes in a variety of eye-pleasing hues. It is created through a special manufacturing process where a lacquer coating is applied on one side of a regular float glass sheet, which is then baked at a consistent temperature. In addition to brilliant looks, this finishing option comes with the admirable ability to resist moisture and heat. Additionally, it is also resistant to UV radiation because of which its color does not easily fade. Because it can withstand temperatures of up to 80-degrees, it's ideal to be used in humid locations.
Along with being exquisite and premium in looks, lacquered glasses are also low-maintenance and easy to clean making them an ideal choice for your kitchen cabinet shutters. Lacquered finish is for someone whose total kitchen interior budget is from 3L to 10L. Though with its sophisticated finish it looks luxurious, cost of modular kitchen with lacquered glass depends on various factors.
2) Mica Laminates:
Commonly used on modular kitchens, mica laminates are compound artificial materials. They are made by sticking layers of thin flat paper and plastic resins. The upper layer has a printed decorative pattern. Their manufacturing design, material, and technologies make them highly hardwearing and durable. The laminates are available in either glossy, matte, or ultra gloss finishes. Besides colors, you also get them in different textures like wood, as per your preference. Like lacquered glasses, laminates are also heat and moisture-resistant. To make the decision easier for you, when doing interiors, you can simply decorate your apartment interior space with exotic range of mica laminates for a stylish vibe. Additionally, they can also be treated for antibacterial properties. Laminates are practically maintenance-free as they are resistant to both dust and scratches.
3) Wood Veneers: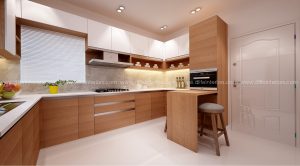 Wood Veneers may seem like an unconventional choice for modular kitchen cabinets, but they have become quite popular in recent years. First of all, they are a highly cost-effective option for you if you are looking to reface or refinish your kitchen cabinets. Among many of the benefits that it has to offer are its sturdiness, durability, maintenance, resistance to water, ease of installation, affordability, and aesthetic appeal. Engineered wood veneer can also be used on living room walls panels to increase aesthetic appeal and create a luxurious ambience.
4) UV Painting:
You can also use UV painting for cabinets in kitchen interiors. This finishing technique involves painting the wood boards and then covering them with UV protection. This along with giving the cabinet a shiny, glossy finish also increases its durability and reduces the odds of discoloration. UV painting is also an environment-friendly option.
You have a lot of options available when it comes to finding the right material and technique to achieve the best finish for kitchen cabinets. With so many choices, it can be overwhelming to find the one that matches the budget and requirements. It also depends upon the size and shape of modular kitchen. But, it's important to choose the right and best suitable one as it's a long-term investment.