This 3BHK Home Interiors in Kannur, Kerala for Comfort and Refinement
December 17, 2021
The brief on their need for contemporary home interiors in Kannur with ample open spaces was underscored by Mr Prasun and Mrs Nithya. Desiring their home to be minimalistic, unique and simple, they were willing to accept the ideas from the designer. All the furniture and storage facilities in the house are custom-made by design as per the requirements of the owners.
Welcoming Living and Dining Area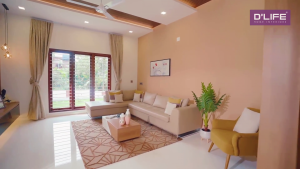 The main door opens to a foyer and extends to a living cum dining room on either side. On the left is the living room and, on the right, stays the dining. We can say that the front entry provides some division between the living and dining. However, the home features an open plan layout where the living, dining and kitchen areas flow into each other. Living space of this home interiors in Kannur exudes warmth and elegance. Room gets natural sunlight, filtered through the thin curtains. The patterned rug in neutral shade complements the heavy plush drapes and the soft-hued sofa. The Sofa offers a mix of seating styles while the coffee table and the planter near to it add to the aesthetics. This entire area can accommodate an intimate gathering with ease.
The dining area, though the home features an open plan layout, is separated from the living. Six-seater dining flanks a contemporary style to restate the narrative and elevate the welcome contrast. Our interior designers have used the wood finish as a subdued palette to create a monochrome look. We have made the dining room to be an organic extension of the living space with elegant and minimal furnishing which is comforting and stylish.
Quiet and Bright Bedrooms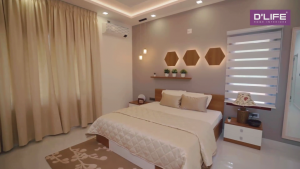 All the bedrooms of this 3bhk home in Kannur, Kerala has a minimal, sophisticated and elegant way. They are quite straightforward and are well arranged to be as efficient as possible. Bedrooms are airy and bright and are in a contemporary style furnishing and décor which complement the whole bedroom design aesthetics. Master bedroom of this house include a mix of frosty white and wooden themed wardrobes. Guest bedroom is ergonomically designed and has a sense of expanse. While the kid's bedroom design meet the growing child's needs. There is ample space in girl's bedroom to play and store her toys, books and treasures. There is also study unit cum wardrobe in this room.
Clever Kitchen Space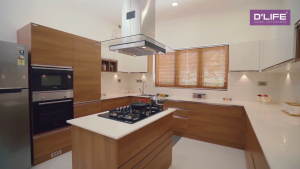 Kitchen situated just near to the dining, is an inviting corner for a comfortable working. Mr Prasun and Mrs Nithya wanted the kitchen to be light and perfectly functional in their home interiors in Kannur. Brief given to our designers by the client was to create an uncluttered kitchen. In addition to this, our talented designers have turned the kitchen into a cozy and light-filled space with top and bottom storage cabinets in wood finish.
Mr Prasun and Mrs Nithya Home Interiors: Interior Walk-through