Must have Furnishing and Decor for Modern Apartments
January 25, 2019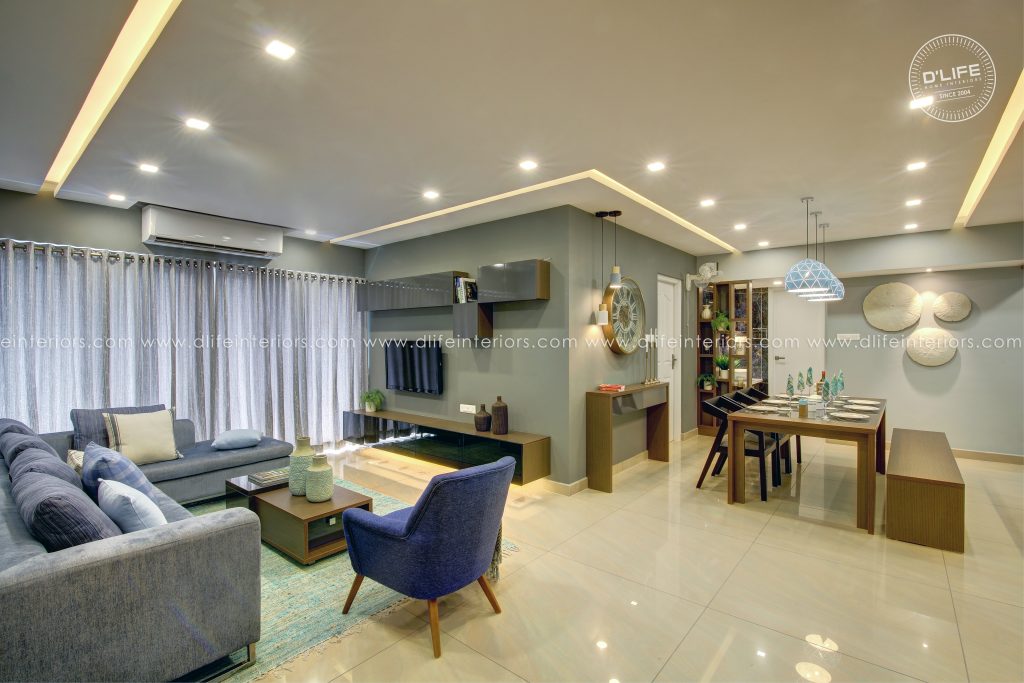 Moving from parent's house or from a rented apartment to your own home is one of the biggest leaps in one's life. Setting up a new house or apartment and its interiors involves long-term investment, time, and efforts. Picking up the right furniture that meets your needs and maximizes the space is essential. Here is a checklist to all the must have furnishing and decor for modern apartments to start fresh.
Living Room
Wall mount TV unit/console
Relaxation that a television offers towards the end of a tiring day is inevitable. A customized LCD display unit with space to keep your consoles and hideaway accessories are a must have for modern apartments. Wall mount TV units are thin giving an in-built blended look with the walls. They hardly stick out at all making it an efficient and stylish space saver for apartments.
Conquer with Living Dining Partition Units
Unlike independent homes, modern apartments have limited potential for alteration. A partition unit that incorporates exceptional aesthetics connects and distinguishes living space. They also act as an open shelf to display artifacts, plants and other valued possessions. The design aesthetics it carries makes it the perfect set of furnishing in living areas. If the division is for better appearance and usability it is always good right?
Rugs and sofa bed unit
Rugs and sofa units are a must have furnishings to modern interiors. Area rugs incorporate an artistic air, mood, and personalize any environment. Not only are rugs quieter to walk on, it also decreases noise from the air. Sofa beds are ideal for apartments with space limitations and are great for guests who sleep over. These can be converted into a bed and back to a sofa without consuming much space. Moreover, one can move the unit from one room to another with ease adding comfort, warmth, and beauty.
Dining Room
A Laid-Back Exotic Bar Counters
An exotic bar counter as part of furnishing and decor for modern apartments is something many would desire. Bar counters intensify any interior space with its sophistication. Modern bar counters come with several open ledges for placing decanter and glasses making it an ideal prep space. It creates the perfect tranquil environment for you to relax after a tiring day of work.
Planters for your green thumb
Living in an urban area leaves you with limited space but that does not mean you cannot enhance your green thumb. Indoor plants are becoming a must haves and the latest trend as it leaves a dramatic natural impression. Plants inside a house require low to medium light and light watering.
Dining Table and Wash Unit
A dining with aesthetically balanced wash unit must have furnishings for every modern apartment. Having a pleasing dining design can be  a delightful feast for your guests. An elegant dining offers the perfect setup to a comfortable and enjoyable dining experience.
Bedroom
Bring in new possibilities with Beds with storage
When it comes to bedrooms, space is always a constraint for modern apartments. Finding the right furnishing and decor  for a modern apartment bedroom to hide away all the unwanted stuff can be hectic. This can be limited to an extent with beds with bottom storage. Beds with bottom storage are like treasure troves that give ample space for storing books and essentials. Bottom storage beds come with easy hydraulic lift up and drawer mechanism. The ample storage space it offers makes it ideal to hide away and stash extra pillows, blankets, and accessories.
Warm Exotic Lamps
In the urban setting, the adoption of over the top chandeliers  and lights is often quashed. A simple exotic lamp that caters warm illumination to the whole space is one flick the metropolitan can adopt. Placing one in the living-dining space or the bedroom is the best practical option to bring in exquisiteness in homes. Invest in warm and exotic lamps that are versatile so that it boosts the elegance of furnishing and decor. It creates the right warm ambiance.
Wardrobes with full height mirror
Unlike the traditional freestanding wardrobes that take up space, Built-in wardrobes can fit in any kind of space. Customized bedroom wardrobes have become the latest solution to awkward spaces and odd corners as it makes the best use of any space.
Integrate the materials for wardrobes depending on the interior style. For sleek finishes, opt for stainless steel handles. However for traditional, choose designs with walnut wood themes. Built-in wardrobes give freedom to customize according to personal requirements. Integrating spotlights and LED strips for lighting, full length mirrors are some ways of making best use of it.
Kitchen
Make it Modular
One of the main advantages of a modular kitchen is space utilization. Even a small and narrow area can be shaped to a well-equipped and functional Kitchen. Customized modular kitchens are a must have furnishing as it offers more provisions and storage capacity. Aesthetics it carries boosts elegance and enhances comfort and convenience. The use of best quality plywood and hardwood MDF protects them from damage and makes the furnishing & decor long lasting.
Take the help of expert interior designers in Kerala to plan and install suitable furnishing and decor for modern apartments or independent houses. This way eliminates waste of time, money and uses energy in the right direction to get the best result.