8 Best Interesting Bedroom Interior Designs
May 10, 2019
A bedroom is a place where you get to echo all your sensibilities. It is the personal chamber that holds the perfect soporific furniture and decors. Besides, with elements like rugs, chandeliers, sofa chairs, and exquisite wardrobe designs, bedrooms create an air of coziness. Here are 8 interesting bedroom interior designs you will love to select from.
Dramatic Sunken Bed Frame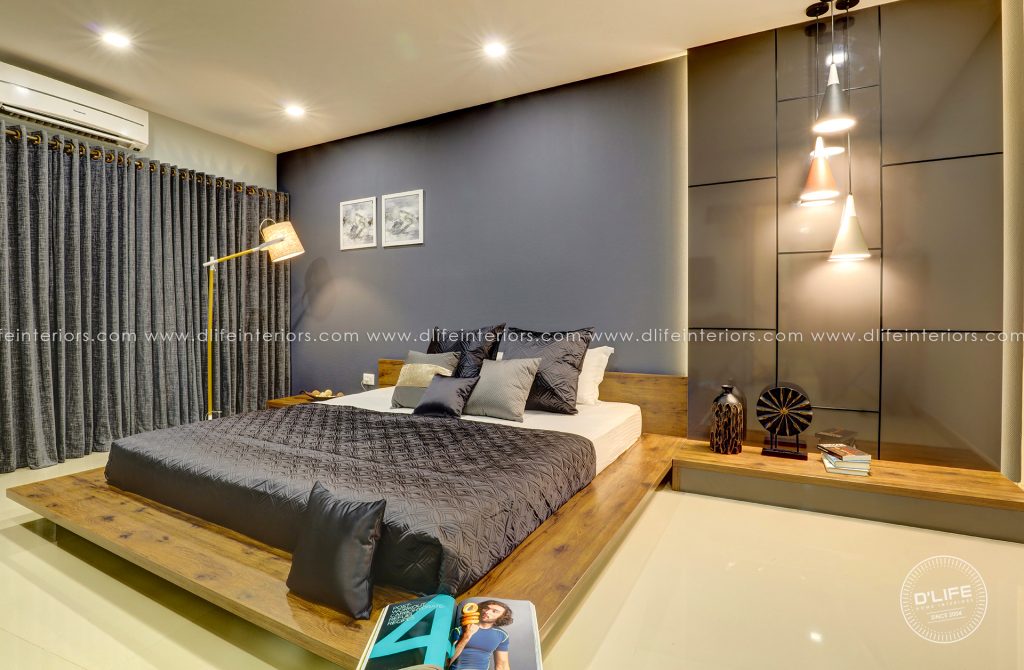 Everything looks good and sophisticated in this contemporary bedroom interior. Striking finish of walls and curtains create a well-coordinated soothing contrast to the low height bed. Use of dark paint scheme makes this bedroom decor look more of a high end. In addition to this, the bed crafted with Hardwood MDF ensures durability and comfort. If you are looking for a brighter or light-filled room decorating ideas, use dark colors only on the feature walls. Use of dark colors on feature falls still creates a chic look and a designer feel.
Beautiful Bedroom with Panoramic view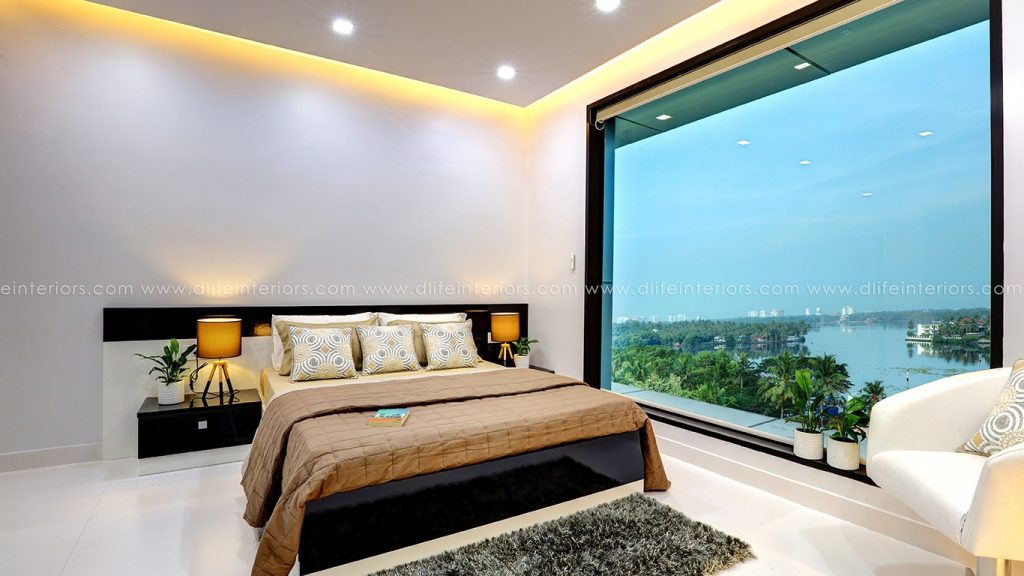 Designing a bedroom does not mean it should contain fancy decor items. Sometimes, even simple beautification ideas make dramatic difference. This minimal modern bedroom ensures there is no distraction between the occupant and the lush outside view. The wide windows with light shade curtains stream plenty of light and embrace comfort. The entire bedroom decor space gets a wraparound in white shades making it engulfed with the endless views. Besides, it also gets a sofa chair for relaxing to the tranquility of nature.
Mysterious Paradise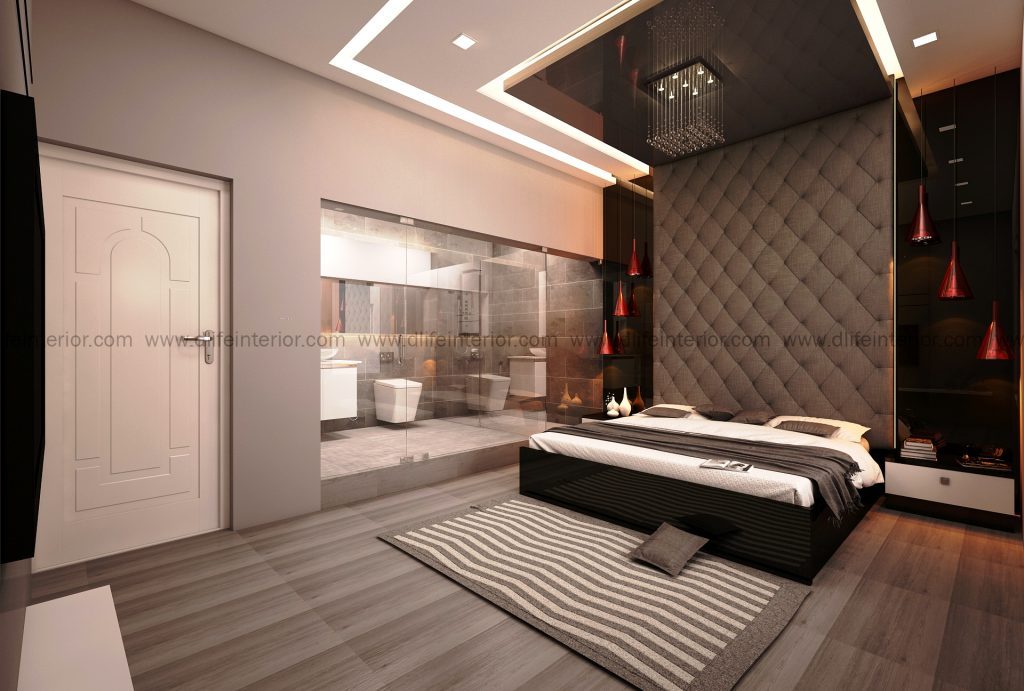 This modern bedroom gets a fun and playful vibe with its dramatic black aesthetics. The bold and striking space gets an attached bath with a transparent glass door. Perfectly suitable for a romantic couple hideout, this beautiful bedroom boasts a wide queen sized bed with cushioned headboards. Use of headboard makes the bed frame look luxurious. Thanks to the rich materials used, it makes one feel wonderful when reading or switching on to the favorite TV show. But most importantly, it adds that plush luxurious look any bedroom deserves.
The Morning Sunshine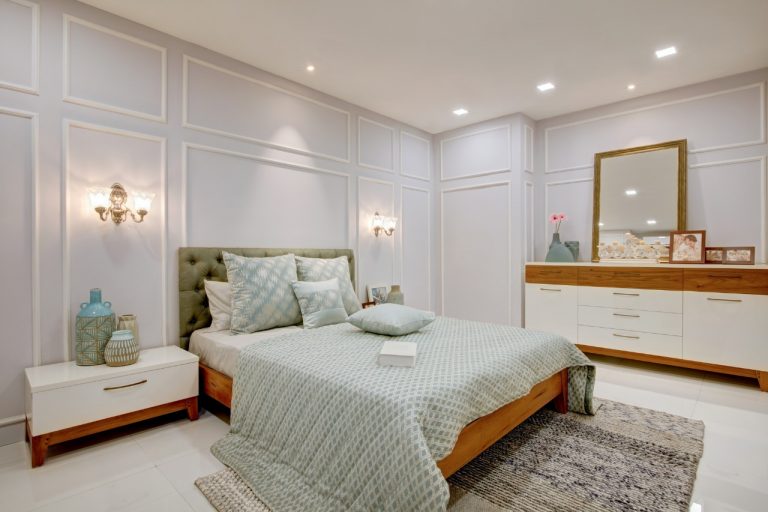 Indulge in a breezy exquisiteness in your own bed with ultra-fine home decor and bed with bedside tables. A luxurious master bedroom with bold and eye-catching elements boasts a well-defined decor. Carpet gets multi-color geometric design creating quiet disarray. Subtle decor infuses a visual variety which is even upheld by the white headboards and lighting. In short, this bedroom bursts a dramatic appearance and provides enough space for breezy breaths with its contemporary design statement.
Shades of Grey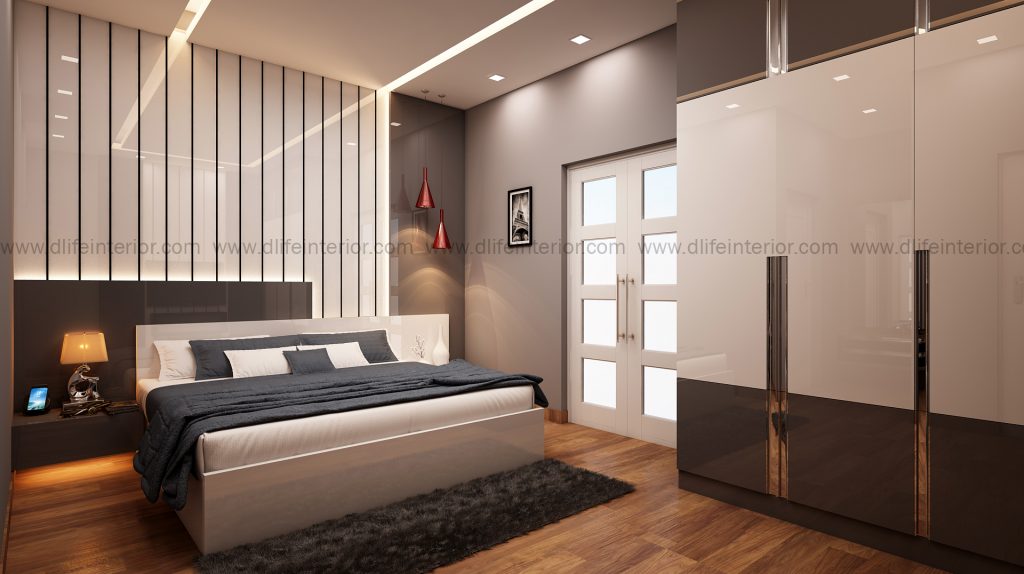 This is one tranquil bedroom design with extra storage options. Large windows and window seat makes this beautiful bedroom a relaxing nook while the slim-line bedside tables keep the room uncluttered. Design ideas in this space emphasizes that any bedroom can be turned stark luxurious with enough storage space and facilities. Here, the large customized wardrobe and bedroom decor in glossy white finish sparkles expensive feel. White glossy paneling behind the bed further adds an upmarket look. Furthermore, the use of French styled door and false ceiling creates a similar effect of elegance.
The Space Saver bedroom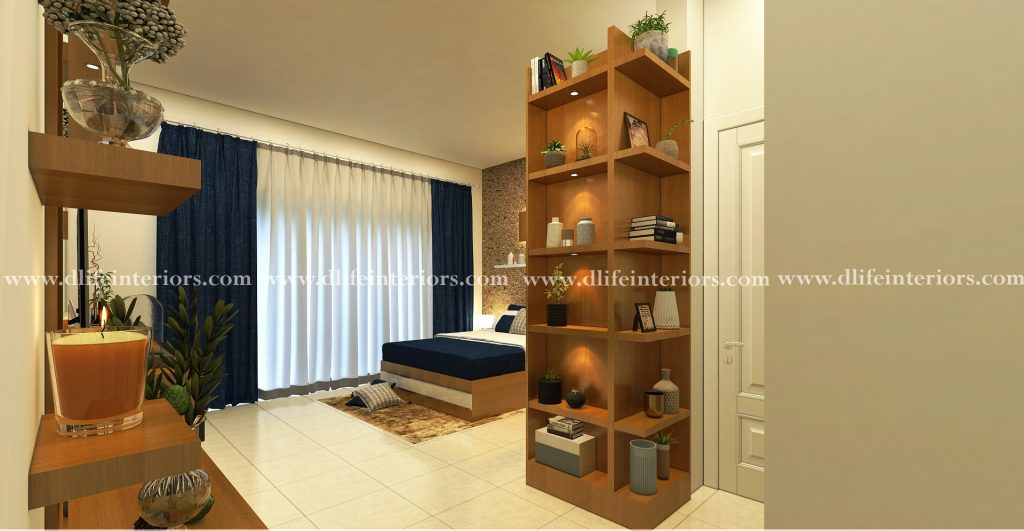 Look at these easy-to-steal bedroom ideas. This modern bedroom is dressed in brown toned wallpaper that compliments the color scheme of the interiors. Use of furnishings and color palettes is clever- enough to enlighten the room and breath openness. Decorative shelves with ambient lighting carefully display all the essentials. Patterned wallpapers on the walls form a great way for creating a designer touch. Doing it only in one wall cuts down cost but does not cut down on the exquisiteness.
Urban Glam Master Bedroom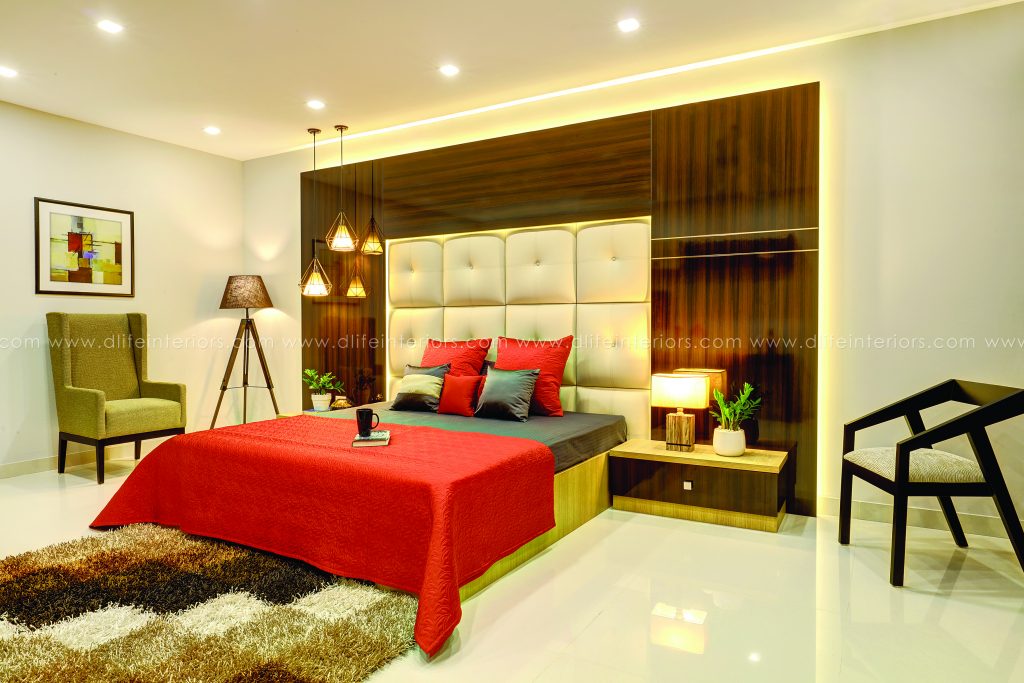 Interesting Bedroom designs by D'LIFE Home Interior Designers in Kerala
Layering of wood, white, beige, and red creates an undeniable sensuality in this delightful bedroom. The wide cushioned headboard and overhead chandeliers topped with floor lamp and table lamp create a well-textured luxurious finish. Mélange of textures, alongside the bed crafted with Gurjan Ply emanate fine decorating ideas. This home decor spells romance while the sumptuous rug whispers softness.
Dramatic Getaway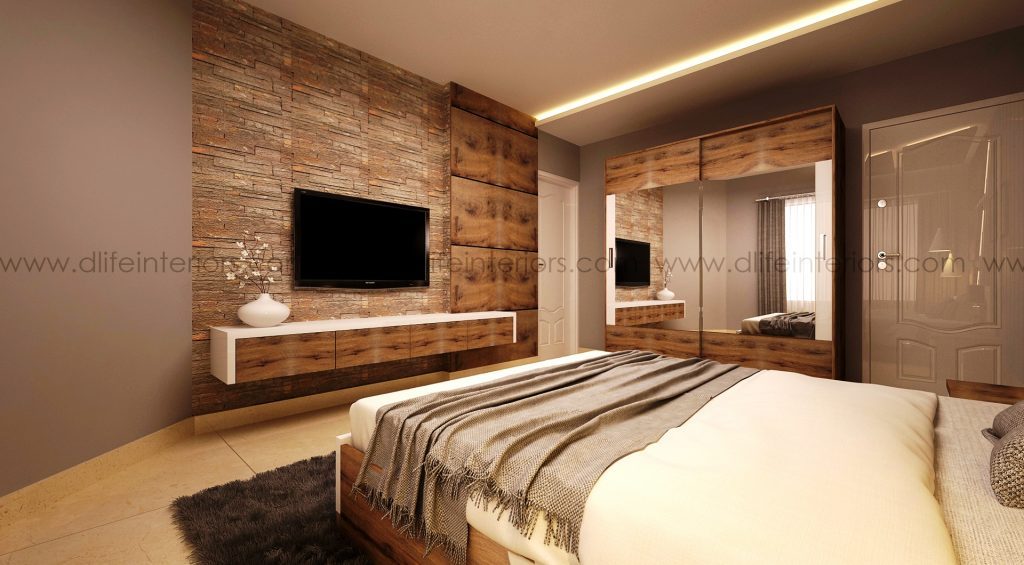 This grey and brown provides a contemporary feel and even gives ample design ideas and inspiration. Wooden cladding in wardrobe and walls give a designer feel and creates a big impact on appearance. Wide full-scale mirrors in the wardrobe give the interiors a sense of timeless luxury. The bed is equipped with bottom storage and gets a sumptuous look with textured blankets and bedspreads. If you are planning to revamp your bedroom/ home interiors you can contact interior designers in Kochi.