Alleppey Home Interior: A Kerala Home Finds Modern Expression
October 06, 2023
At D'LIFE, we recently had the pleasure of working on a home interior project in Alleppey, Kerala. The family entrusted us with their dream of having a home where each room had its own visual and spatial mood, yet everything had to come together to be simple and elegant. We were excited to take on this challenge and create a space that surpassed their wildest expectations.
Design Plan
For this Alleppey home interior project, we chalked out a design plan that would allow each space to shine on its own while still coming together to create a cohesive whole. Our goal was to create a modern expression that imbued elegance, memories, and functionality. Here are some of the design elements we incorporated into the project:

Blend of Contemporary and Minimal:
We took inspiration from the sleek lines and clean aesthetics of contemporary design, while incorporating the simplicity and functionality of minimalism. This combination allowed us to create a space that felt both modern and timeless.  
Customised Furniture:
We designed and customised furniture pieces that were not only functional but also added to the overall aesthetic of the space. These custom pieces were tailored to fit the specific needs and style of the project, ensuring that every element in the space was cohesive and visually appealing. Additionally, by designing our own furniture, we were able to ensure high-quality craftsmanship and unique pieces that couldn't be found elsewhere. 
Lighting Design:
We used lighting to highlight the unique features of each room and create a mood that was both relaxing and inviting. The strategic placement of different types of lighting fixtures, such as ambient, task, and accent lighting, allowed us to enhance the architectural details and focal points of the space. This not only added depth and dimension to the overall design but also created a warm and welcoming atmosphere for the occupants. 
Colors and Palete:
We carefully selected a color palette that complemented the overall design concept and created a cohesive look throughout the space. The use of soft, neutral tones helped to create a calming and serene environment, while pops of color were strategically incorporated to add visual interest and personality. The chosen colors also worked harmoniously with the lighting design, further enhancing the desired mood and ambiance of each room. 
The End Result
The end result was a space that was simple, elegant, and functional. Each room had its own unique character, yet everything came together to create a cohesive whole. The family was thrilled with the final result and felt that we had exceeded their expectations.
Living-Dining
The living room of the home is right at the entrance. With its custom l-shaped sofas at the living room, cement-finished walls, and artefacts, the room has immense style and memories. Next to the living room is the dining space. A rectangular, six-seater black dining table, surrounded by matching chairs, occupies the heart of the room. The dining space is elegantly illuminated by a modern chandelier hanging above the table, adding a touch of sophistication to the room. The open layout of the living room and dining space creates a seamless flow, allowing for easy interaction and entertaining between family and guests.
Elegant Kitchen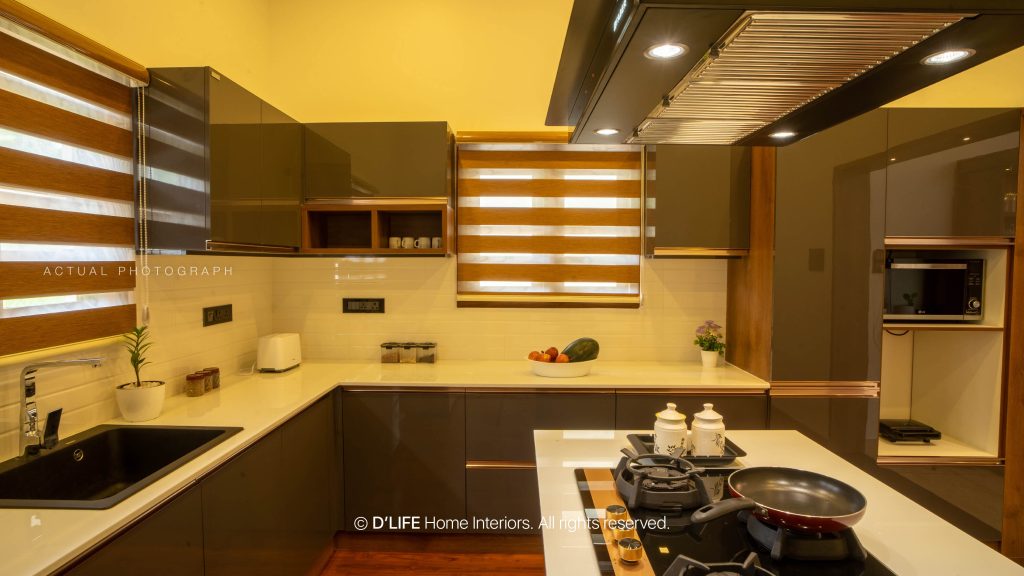 The kitchen of this Alleppey home interior project features a combination of grey cabinetry and white countertops. A neutral tile backsplash cloaks the back wall, while a kitchen island defines the centre of the space. The island not only provides additional counter space but also serves as a breakfast bar with sleek bar stools. The stainless steel appliances and modern fixtures add a touch of sophistication to the kitchen, making it both functional and visually appealing.
Mesmerising Bedrooms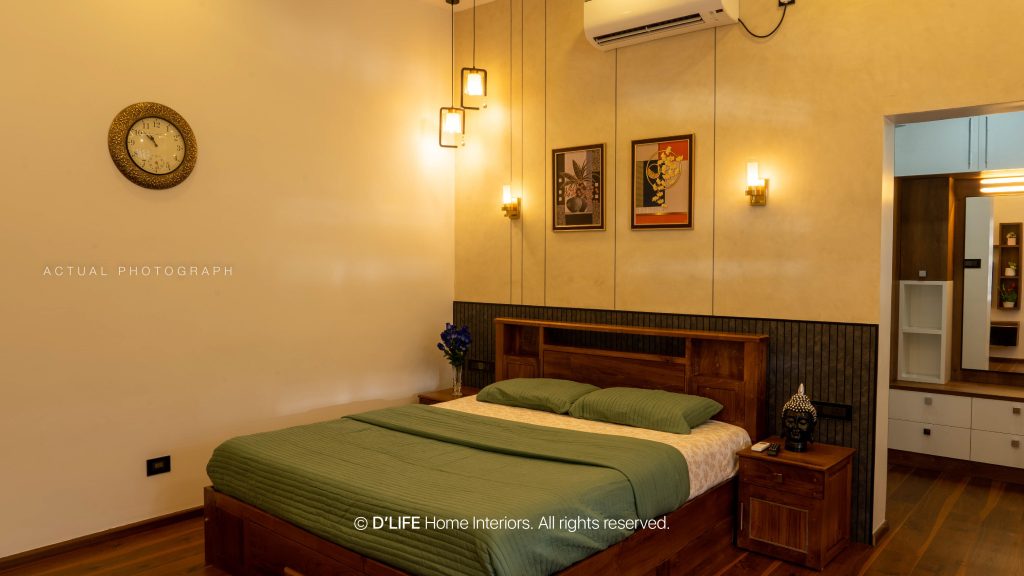 In keeping with the overall theme of the home, the bedrooms share similar design schemes and structural profiles. In the master bedroom, a king-sized bed with a plush headboard takes center stage, complemented by elegant bedside tables and soft lighting fixtures. The room also boasts a spacious walk-in closet, an en-suite bathroom with modern fixtures, and a luxurious bathtub.
With wood-panelled walls and lighting, the second bedroom echoes the aesthetic of the master bedroom. It features a queen-sized bed, a cosy reading nook, and a large window that fills the room with natural light. The second bedroom also includes ample storage space, an attached bathroom with sleek finishes, and a spacious shower.
At D'LIFE home interiors, we take pride in creating spaces that are not only beautiful but also functional. Our goal is to create spaces that reflect the personality and lifestyle of our clients while still incorporating our own unique design elements. If you're looking for a home interior design company that can help you create your dream space, look no further than D'LIFE.