An Apartment in Kerala with Contemporary Elements & Unique Design Style
July 04, 2022
Designed to make a statement, this apartment in Kerala had all the potential to create a space that was suitable for the new age family living. The entire home offered beautiful views of the Kochi city and adopted an open plan with connected spaces that transformed into an entertainer's dream.
Family Living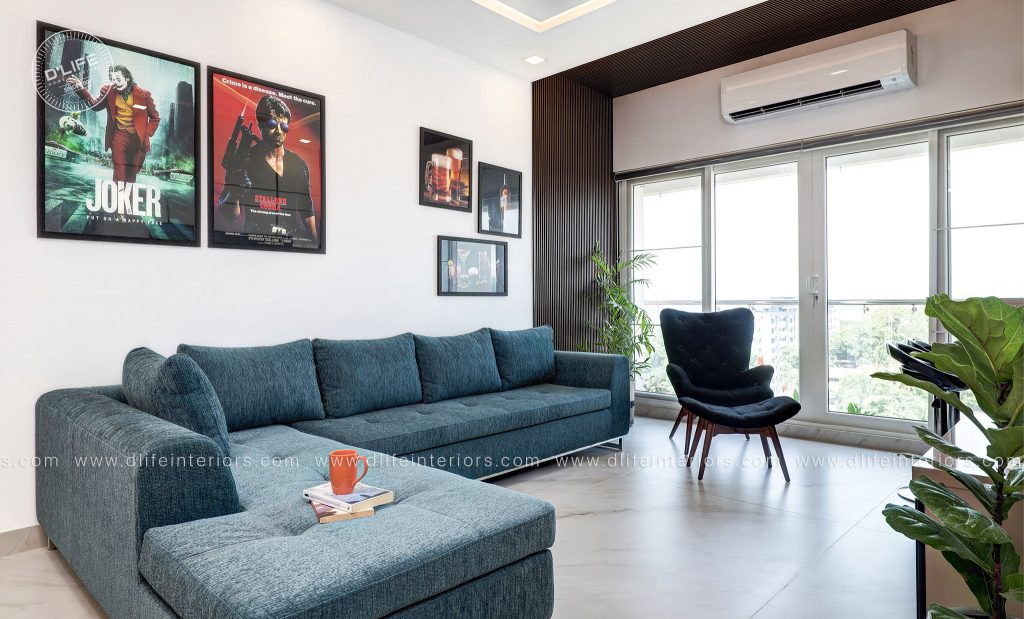 The apartment being on the top floor offered panoramic views and we wanted to make the most of it. With the great views and ample natural light, Mr Satish Rajan & his family's apartment in Kochi, Kerala was the perfect space for us to make an elegant statement. The client and family wanted a space that provides ample light. Thus, an open style living room gets glass windows and features blue-themed sofas that make a unique design statement.
This apartment has two living areas overlooking the beautiful city, and they are the perfect place to sit and have a cup of coffee. A little further along, the living room merges with the dining and kitchen. The living, dining and kitchen are open lending a breezy air to the space.
An Open yet Bold Dining and Kitchen
The dining space has been put out from the rest of the space to the kitchen. The dining table is custom-made with blue upholstered chairs. It is the expansive windows that bathe the space with natural light and creates a feeling of expansive dining. Adjacent to the dining is the modular kitchen. Kitchen cabinets in glossy black facing the dining making a bold statement. The monochromatic black kitchen has a strikingly modern form and also serves to capture the city views as it adorns an open concept.
Spacious Bedrooms
The bedrooms of this apartment in Kerala are of distinct contemporary schemes for a much more practical layout. Master bedroom with luxury accents and furnishings maintains the home's charm. It has a cozy vibe to it and the neutral color tone of the bedrooms makes an elegant statement. Master bedroom has its entry through a hidden door. As in the interest of the owner, bed space gets a walk-in closet. This spacious and elegant master bedroom has a subdued color palette. It also has a recliner to bring in subtle glamour.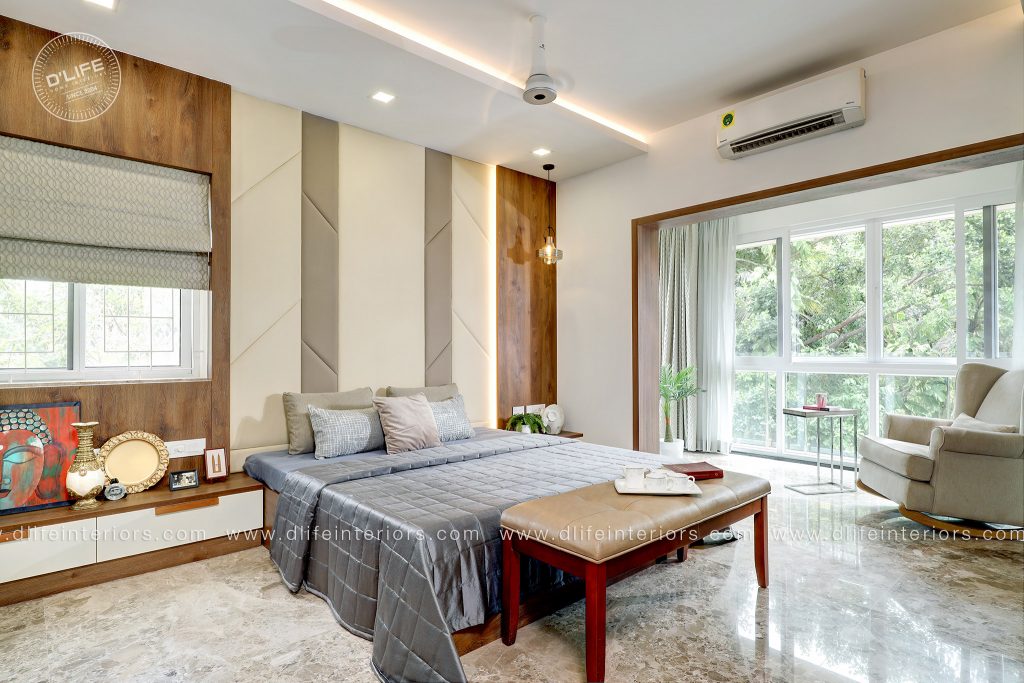 The paneled wall in the second bedroom accompanied by LED lighting behind the bed gives continuity to the design aesthetic of the home. This beautiful bedroom has a small study table tucked beside the wardrobe. It also features a cozy armchair that lends a sophisticated flair and makes it a perfect place to relax.
Take a visual tour to this beautiful apartment in Kerala.