Cost of Modular Kitchen in Kerala and Bangalore 
November 09, 2019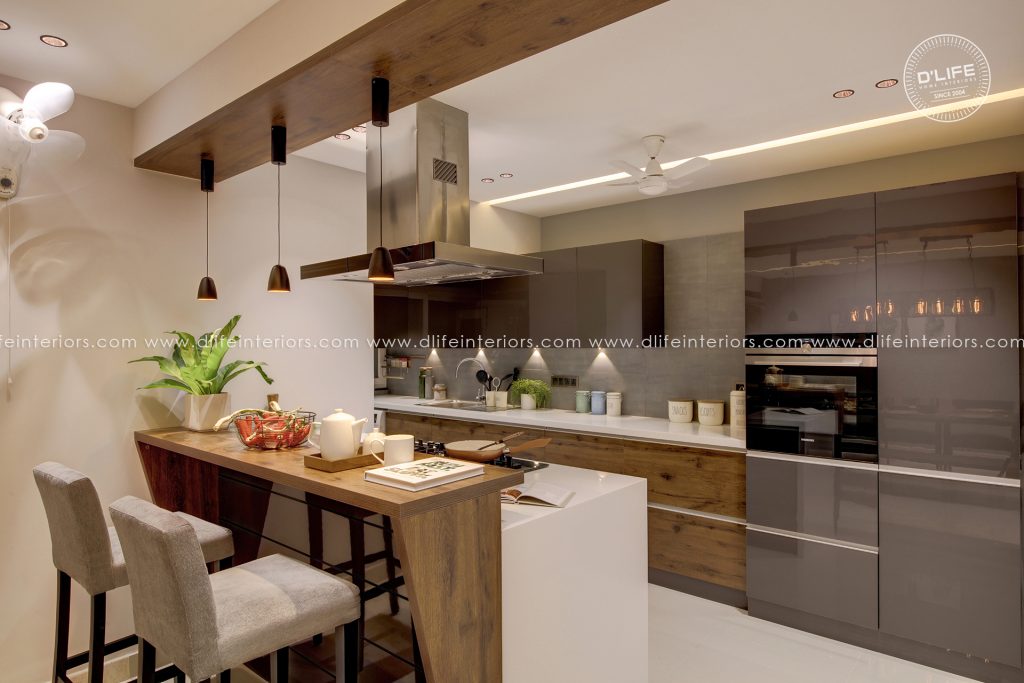 When planning for home interiors, cost of a modular kitchen is one of the main concerns for most of the house owners. Being the most important as well as functional area of a house or flat overall cost depends primarily on kitchen interiors. Contemporary modular kitchen designs are smarter in comparison with conventional kitchens by local carpenters. Sophisticated finish and sharp designs make it look even more luxurious than the regular kitchens. In addition, modular kitchens are one of the most important places in Indian homes. Therefore, careful planning allows budgeting inclusion of all essentials. Let's take a look at the various factors that influence the pricing of modular kitchens.
Factors Affecting the Cost of Modular Kitchen in Kerala and Bangalore 
Size
Cost mainly depends on the number of cabinets, measurement of area, loft, and facilities. A large kitchen can accommodate more modules than a small kitchen. Similarly, the number of cabinets and provisions for a straight kitchen and U-shape kitchen can vary even if the carpet area is almost the same. Hence, larger kitchen spaces and designs require more modules, which further add the cost. Calculating the square feet (sq ft) often gives a vague idea on the price of kitchens. This is done by calculating the width of the unit in feet and multiplying it with the height. Depth is usually taken as standard 22 inches.
One of the best ways to reduce the cost of a modular kitchen and make the most use of interiors is by identifying the usage. A full-time baker would need more than an average number of modules and cabinets. Whereas, a traveler or a person who eats out can opt for bare essentials.
Material
Another most important factor that determines the cost of a modular kitchen is the materials for cabinets and shutters. Material for modular kitchens can vary from very low-quality particleboard or it can be MDF / HDF or plywood. The material chosen also affects the cost of building a kitchen. The most common materials in use are Marine Ply, MDF, and HDF. However, when it comes to the kitchen, do not choose materials solely based on their price.
An MDF or HDF significantly lowers the cost when compared to Ply. However, for Indian kitchens, it is recommended to go for marine ply as it involves a lot of cooking along with heat, water, and moisture. MDF and HDF are not as strong as ply and have a tendency to absorb moisture and are prone to damage in the long run. In addition, the quality of hinges and handles also make a difference in the price of modular kitchens in Kerala and Bangalore.
Finish
When it comes to the modular kitchen, there are a plethora of finishes that would affect the cost. Though the material finish is highly inclined to the theme of the kitchen space, it surely has a great significance on the cost of modular kitchen and interior design for home. Laminate Matt Finish, Acrylic Finish, Laminate Gloss Finish, Glass Finish, Stainless Steel Finish, and Veneer Finish are some of the most common external surface finishes in Indian modular kitchens.
Accessories
Today's Indian kitchens facilitate easy meal preparation. Kitchens with flawless organizing and latest technologies simplify day to day cooking. It is essential to choose the best suitable accessories for modular kitchens that are highly functional and space-efficient. Some of the trendy and advantageous kitchen accessories that turn up the cost are drawer inserts and organizers, bottle pull-outs, corner unit, pull out pantries, and roll out cabinets. Each accessory has to be purchased separately as they are distinct modules of cabinets.
Appliances
Kitchen appliances have become more of an art than that meets household chores and interior design for home. Appliances make life easier and are crucial for a functional kitchen. Microwaves, Hobs and hoods, fridge, barbeque grill, and water purifier are some appliances incorporated with modular kitchen designs. Built-in options cut down on hassle and are highly useful and worth the money and space.
In addition to all the above factors, design process, work methodology and time frame for completion also contributes to the cost of modular kitchen implementation. Completely custom-made modular kitchen is surely  more expensive than the ready-made options. Similarly, after sales service, warranty and other support are factors that may add to the cost but ensure peace of mind at same time. Therefore, a professional interior design company may cost little higher than the unorganized. But certainly the benefits are much more…