Interiors for Houses and Flats at Calicut
June 05, 2015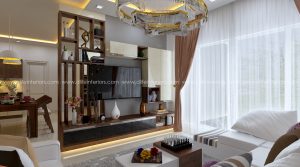 Calicut, also known as Kozhikode, with an illustrious history is a place of tourist attraction and a nice place to live in Kerala. City continues to be a center of flourishing domestic and international trade. The people are simple and down to earth. According to the data compiled on residences, earnings and investments, Calicut is one among the best cities in India to reside in. There are many flats projects, group villas, and rich independent houses in this place. A large number of people require interiors and finishing for their houses. But, they do not know who can give the best solution. They would be looking for a reliable company to get the desired result in Calicut home interiors.
Which Company is Reliable for Calicut Home Interiors Contract?
We can find many interior designers, architects and builders at Calicut. Among them, D'LIFE Home Interiors is the professional firm specialized only in residential interior design and execution. They started in 2004 at Kochi, Kerala and have more than a decade's experience of planning and executing interiors. This well established organization has a fully furnished showroom at Calicut. Company specializes in interior works that includes modular kitchen, wardrobes, LCD TV display units, crockery and bookshelves, cots, kid's wardrobe cum study table and many more.
People living here have easy access to the firm that has 5000 completed projects, and the best interior design company in Kerala. Factory in Cochin, supplying Calicut home interiors has a capacity to furnish 100 homes per month. Each project is designed by a dedicated interior designer and executed under efficient leadership of a qualified project manager.
Budget and Estimated Cost of Modular Kitchen and Other Furniture
D'LIFE offers custom-made modular kitchen and home interiors in Calicut district. Packages of 2/3 bed room flats and villas are available to understand the cost. Price of modular kitchen starts from Rs 176,000/- including cabinets, hood, and 9 accessories. As customers can choose their requirements there is more control over the budget. There are package offers including modular kitchen, 3 bedrooms, living and dining essential furniture. Customers can add or reduce any item from as per need. Also they get discounts up to 35 percent on M.R.P depending upon the volume of work.
Things to Remember While Doing Home Interiors in Calicut
You can think of a Calicut home interiors company under two circumstances. One is when you plan to buy a ready to occupy new home or flat. The other is one when you decide to build a new one. As home is the first space of our life which gives us energy, peace, and comfort we need to be careful while planning and executing interiors. Once done, it cannot be rebuilt easily as it is a permanent structure that costs money, time and effort. Therefore, it requires better planning and coordination with the company.
B. One company for design, production and execution avoids communication gaps between the architect and contractor.
C. Keep all requirements in mind and explain properly to the designer. Make sure that they understand the requirements before entering into a contract for Calicut home interiors.
D. The owner should have a clear idea of how much he is going to spend on the interiors, furnishing and decoration compared to the money spent on a flat or house.
E. Plan every detail of facilities required, space and check the drawings provided by the interior designer.
Time Required for Execution
All customers want their work within a stipulated time frame, whether it is only a modular kitchen or a turnkey project. Installation within the promised time range is one of the key features of D'LIFE Calicut. With around 600 dedicated employees and their own factories, they require only 35 – 45 working days to complete a project after finally approving the designs.
It is very easy to contact and deal with the D'LIFE Interiors Calicut office. Log on to https://dlifeinteriors.com/location/calicut/. Fill up the quick contact form from 'Contact to discuss' or 'Get an estimate' tab and submit it. A D'LIFE officer will contact you to discuss the needs and arrange a visit to the site when required. Or just call +91 956 723 11 11 to discuss details.