Kerala Modular Kitchen by Plan and Design
November 02, 2016
At this modern era, kitchen furnishing in Kerala is much more than creating just a cooking and storage space. Owner, if desires can get all the modern elements of style, color, utilities, comfort and appearance in to a kitchen.  Concisely saying, a perfect kitchen can create an ambiance for the whole house. An expert interior designer can help in building a suitable modern kitchen incorporating all luxuries. Here let us see the broad aspects about modular kitchen that the owner needs to consider at planning or structural stage. Urban method of adopting European styles leads to door less open kitchen. However, due to the specific food habits, open style kitchens are still prevalent across Kerala.
Open Type Kitchen & Custom Modules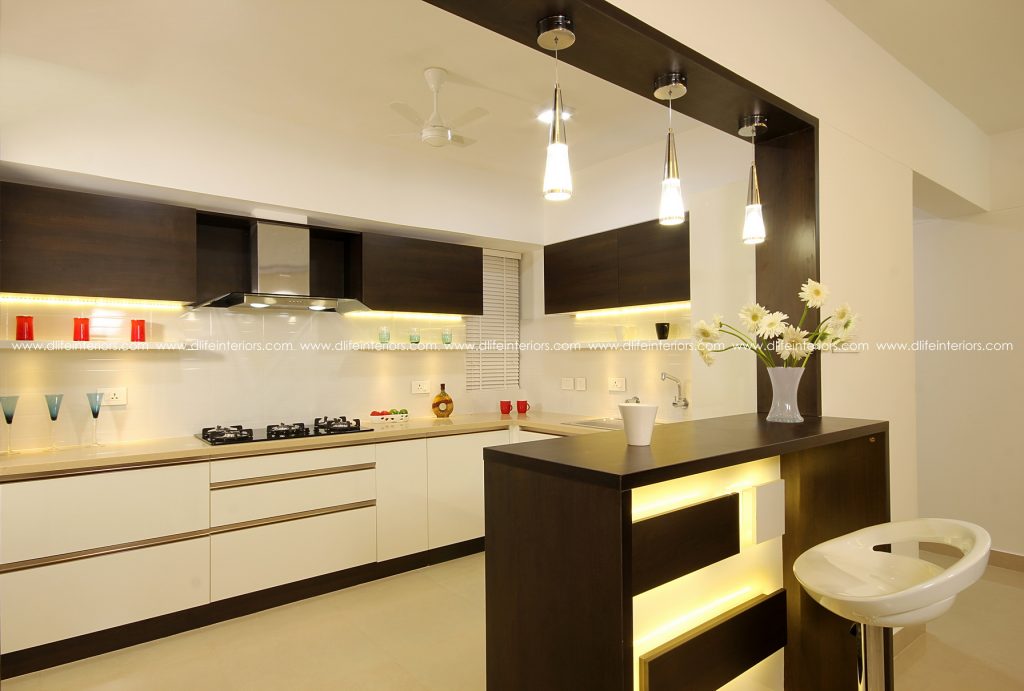 In this concept kitchen becomes an integral part of house and it is open to the most adjacent area, typically living or dining room. As there are no walls in between, the person working in kitchen can watch TV, care about the guest or give attention to kids. Here the color pattern of modular kitchen should match with that of living and dining rooms. Minimalist yet modern approach suits an open modular kitchen better than going for lot of storage spaces. Designer can help with ideas of show unit or breakfast table facing the dining area. Proper display of smart appliances and utilities elevates the appearance of open type kitchen.  Some of the apartment buildings have open style kitchen, whereas a few clients may convert to an open style.
 a)      Open by Structure
If the client prefer an open style kitchen it is better to plan ahead of completing structure stage and thus avoid demolitions. An expert interior designer can mention some important points to remember when planning to order a modern modular kitchen in Kerala.
b)      Convert to Open
If client wish to convert in to open kitchen by breaking the front wall, it is possible with some extra efforts and expenses. An interior designer can plan it for an expert company to execute the conversions.
Closed Type Kitchen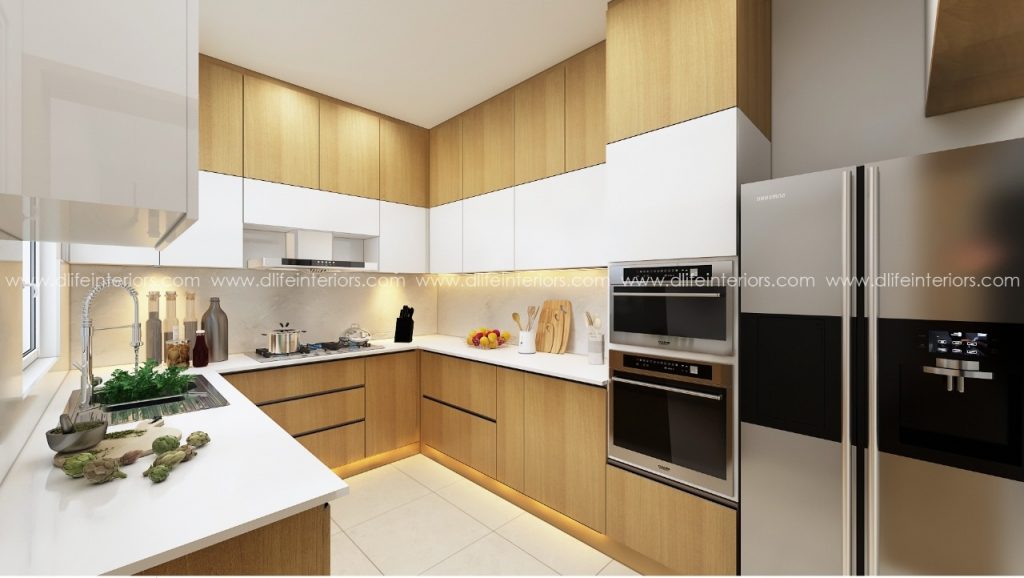 This is still the most preferred type of kitchens for flats as well as houses in Kerala. Closed type kitchen will have door like any other room, ensuring privacy, locking odor and sound to certain extend. This also allows ample storage cabinets on walls and thus ensures better utilization of space. There can also be facilities for cabinets, drawers, loft, shelves, utilities, accessories hood and hob in closed type modular kitchen by design.
Traditional and Modern Modular Kitchen
Most essential cupboards or shelves of wood are only there in a traditional kitchen. There is no such space planning or design applicable in this case. Overhead storage spaces with shutters are used in some traditional kitchens in Kerala. But nowadays, most of the new houses are shifting to the trend of modular kitchen. They are simple and effective system of using modules for each storage facility. It includes cabinets, drawers, and compartments with accessories. There can be space for everything in modern kitchen design by making provision by planning. Proper arrangement of hob, sink and work space ensure flawless movement. Custom made Kerala modular kitchens are built individually in accordance with personal interest of each client.
Why Modular Kitchen by Design?
For a sound functioning kitchen, proper planning, design and execution is essential. Customized kitchen interiors provides work space that keeps good atmosphere for work. There can be a work triangle that allows you to move easily between hob, sink and worktop. Another advantage is to choose the correct height and width of cabinets and place them conveniently. Moreover appliances like oven, dishwasher, and refrigerator can have appropriate places. Designer helps to utilize the best of the space as per your imagination, ensuring safety and cleanliness.
Brands of Customized Kerala Modular Kitchen
Brand names in modular kitchens are mostly in ready made segment. There are outlets in major towns offering design, production and implementation. All major Indian and a few international brands are available especially in cities like Cochin. Brands in completely customized Kerala modular kitchen segment are only a few like D'LIFE. Prior planning, design, production, choice of accessories and utilities as per requirement is the specialty of this leading brand. They also help to choose the right layout for your kitchen, determine electrical and plumbing points. D'LIFE provide 5 shapes and styles of modular kitchens through its 9 branches. To get in touch, just call; Kerala +91 956 723 11 11, Bangalore +91 999 551 77 77, UAE +971 56 665 64 14.